Whither modern mother's
Women in general speak of respect of nothing but the nature which is within themselves. But due to the increasing consumerism it shows how women's 'nature' is struggling to meet the values of the nature of 'mothering', such as lack of affection and sensitivity for their children. The economical, social and cultural shifts are taking place within a larger political context, especially in the developing countries.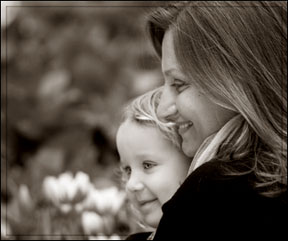 Majority of the people say that women are responsible for the well-being of a family. Modern women get caught to the waves of consumerism and they tend to forget their responsibilities as mothers.
Knowingly or unknowingly they get transformal into a modern mother where they begin to reach only for the materialistic things in life, As a result what ever the things that may come across in there lives they see it in a materialistic perspective.
Being a working mother is definitely a challenge. But there are ways and means to make it easier. Few examples to overcome are to try and find a bit more flexibility in your life, feel less guilty about working motherhood, make sure you know your rights and perhaps find a bit of time space to conquer your own mind.
The most difficult thing is guilt; learning to accept that the people will criticise you for being a working mother and not staying at home to look after your children. It is important to ignore the criticism and have faith in yourself that you're a good mother.
I once came across with a mother of one daughter. She is presently working abroad and came down to take her child there. I would see her now as a settled woman in the criteria of consumerism.
Few years back she was a woman full of values as a mother. Why I say so would be understood after reading this article. Few months back this particular mother I mentioned earlier decided to leave the country for good with her family.
On the day of their departure the daughter started vomiting heavily. As she couldn't controlled herself until she reached the bathroom she accidentally threw on to a bag which they were supposed to take when leaving.
The mother was more concerned about the bags instead of helping the child out. I remember the same mother few years back was rushing to the doctor at mid night with the same daughter as she had a general cough.
She gives the children right examples to be thrifty but she has forgotten to teach them the values to respect man kind. Does this mean that the materialistic things in life could give a complete world to them? Is this the fault of the modern mother? In western part of the world the people are not struggling with financial crisis like in third world countries.
In western countries until the age of eighteen they provide their children with all necessities and after reaching the age of eighteen they consider them as adults. Then they give them the freedom to decide what's best for their future in all aspects.
This does not mean the family ties would break. In such countries majority of the working women lead a balanced life as there is less stress when it comes to support their families financially.
In most of the developing countries the situation is the other way around where both parents are being forced to work, to over come the hard way of life.I have come across certain mother's who have refused to breast feed their babies.
These kind of mothers are more concerned about safeguarding their figure. They even consult the doctors to get advice to feed their children using artificial powdered milk. Most of the doctors do not allow the mothers to do so atleast for couple of months.
Few decades back the women gave birth to dozens of children without considering about their figures they were interested on values of motherhood.
There is no doubt the culture we have been brought up is ample with values of motherhood. The argument is, how we could protect the values of motherhood while accepting the world
Globalisation? The methods are easy as long as one is willing to follow it's steps. As long as your desires in life are limited and if one would not run after world luxuries it is not a hard task to win this challenge.
A simple way of living, following your religion whatever it is and mastering or rather be close as possible to mother nature would be the finest way to overcome the struggle between motherhood and consumerism.