Police gun down cop killer
Tit-for-tat: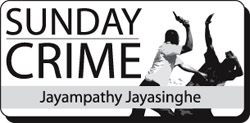 Wederalkalage Anura alias Suduwa (38 was a notorious criminal in Kalatuwawa in the Weerangula area. He was wanted by police in connection with causing grievous hurt to people in the area.
Suduwa had a vile temper and would not hesitate to stab any one who crosses his path. He led a rough and tumble life in the village and his presence was felt due to constant quarrelling. Suduwa ran a pig stye in his village and did odd jobs to eke out a living.
According to Weeragula police although Suduwa wasn't registered as an Island Reconvicted Criminal (IRC) he had a criminal track record. He was convicted of a criminal offence and had served a jail time.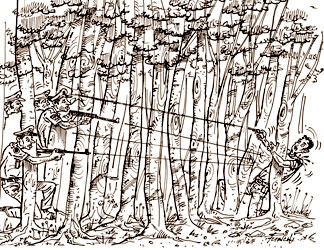 After his release, Weeragula police wanted to question him for threatening people in the village and his neighbours. Quarrelsome he was and people at Kalatuwawa did not mess around with him owing to his dangerous nature.
The misfortune occurred on May 12 when police Constable D.A. Dammikka on day foot patrol went to Kalatuwa in search of Suduwa around 3.30 pm to investigate a complaint of threat made against him by a villager.
It was a common practice for policemen go out daily to investigate minor complaints in their areas of jurisdiction. The idea was to prevent any breach of peace and to maintaining law and order in their respective areas.
Constable Dammikka having proceeded to Kalatuwawa met Suduwa regarding a complaint. He inquired from him as to why he abused a villager. At this stage Suduwa lost his temper and was nasty to the policemen. There was a heated argument between them and a scuffle broke out.
However, when things were getting out of hand the policeman called for help. He told the woman next door to bring a rope to tie up Suduwa who was behaving in a violent manner.
When the rope was brought Constable Dammika attempted to tie up Suduwa but he resisted. Meanwhile, both grabbed each other and were struggling together. But Suduwa with his brutal strength over powered Constable Dammika and wrapped the rope around his neck. With the rope around Constable Dammika's neck he pulled it hard until he grasped for breadth and became unconscious.
Due to asphyxia Constable Dammikka passed away at a spot near Suduwa's home. Knowing his fate Suduwa hurriedly left and sought refuge in a rubber estate in the Weeragula area. He knew that the policemen would soon be on his trail.
When the message reached the Weeragula police station about the fate of Constable Dammika, OIC Chief Inspector S.B. Magalegoda detailed a team of policemen that night to apprehend the suspect.
The policemen were tipped off that the wanted man Suduwa was hiding in a rubber estate close to Kalatuwawa. It was in the dead of the night when policemen combed the rubber estate for the suspect. While searching for the suspect a gun shot was heard in the dark and it narrowly missed several policemen. The policemen shot back in the direction from where the shot came.
There was a eerie silence for a moment and thereafter they heard the groaning sound of a man fallen besides rubber trees.
At a glance they were able to identify the man as Suduwa, the murder suspect wounded as a result of the police firing. They rushed him to the Wathupitiwela hospital as he was bleeding profusely. But Suduwa succumbed to his injuries on admission to the hospital.
The suspect according to police had served a jail term for two years and was released recently. Thereafter, he had committed several crimes in the area. The magisterial inquiry and the post mortem examinations were held last week.