Focus on museums
Have you ever visited the Colombo National Museum? If the answer is 'yes', you would know just how valuable a treasure trove it is. It houses such a vast collection of artefacts from areas as diverse as heritage, archaeology and science that you could explore it all day and still want to pay another visit.
Museums are an invaluable part of the world's culture; they display hundreds of exhibits related to history, culture, the natural world, science and technology and a multitude of other subjects.
According to the International Council of Museums (ICOM), the international organisation for museums and museum professionals, a museum is defined as "an institution in the service of society and of its development".
They play an important role in society by providing value to a community's cultural heritage and highlighting the role of individuals and groups whose unique features and differences are the cornerstone(basis) of a particular society. Museums make cultural exchanges possible, enrich cultures and develop mutual understanding, cooperation and peace among people.
Although initially known only for their collections, now most museums are well known for their active role in exploring social issues with communities to contribute to their development.
It is to recognise and appreciate this new role that this year's International Museum Day on May 18 has been organised by ICOM under the theme 'Museums: agents of social change and development'.
The day's activities have been organised to show how museums can help bridge the digital divide between rich and poor countries through the creative interaction between museum professionals. ICOM has invited its members all over the world to take part in the day's activities.
The special day has been celebrated since 1977 under a theme decided each year by ICOM's Advisory Committee. Over 20,000 museums representing 70 countries took part in the celebrations last year.
The ICOM, which is committed to the conservation, continuation and communication to society of the world's natural and cultural heritage, has its headquarters in the UNESCO building in Paris, France.
It was established in 1946 and provides services to its over 24,000 member museums in over 150 countries, co-ordinates the activities of its various committees and helps them carry out their programmes and organises meetings and assemblies. It works closely with UNESCO and carries out a part of UNESCO's programme for museums.
---
How agriculture affects biodiversity
The International Day for Biological Diversity, which has been declared by the United Nations, will be celebrated on May 22. The 2008 theme, as declared by the Secretariat on the Convention for Biological Diversity (CBD) of the UN Environment Programme, is 'Biodiversity and Agriculture'.
Agriculture is an example of how human activities have affected the ecosytem and its balance. The theme highlights the importance of sustainable (ability to continue) agriculture not only to preserve biodiversity, but also to ensure that we will be able to feed the world, maintain agricultural livelihoods and enhance human well-being beyond the 21st Century.
The special day has been declared to increase understanding and awareness about biodiversity issues. Biodiversity, comprising the three elements - genes, species and ecosystems - is the basis for sustainability, productivity and resilience (ability to withstand something) of agriculturl sytems, and is an important part of everyone's lives, providing food; raw materials such as cotton, wood and roots; incomes; and livelihoods.
The challenge is to manage agricultural systems and the landscapes associated with them in a sustainable manner to ensure that these resources and ecosystems continue for the benefit of future generations.
Some of the activities that have been planned with regard to this day are lectures, seminars, film presentations, cultural events, exhibitions and school outreach activities.
In Sri Lanka too, national celebrations are being organised by the government in collaboration with the Biodiversity Division of the Ministry of Environment and Natural Resources, the Faculty of Agriculture of the University of Peradeniya and the Department of Agriculture.
---
Protecting cultural diversity
There is this line of thought that the deterioration of cultural and traditional values goes hand in hand with increased development. This doesn't have to be so; development is not just about saving and improving lives, it is also about protecting cultures, communities and their dignity.
There is, in fact, a special day to commemorate this link between cultural diversity and development. That is the World Day for Cultural Diversity for Dialogue and Development which is observed on May 21.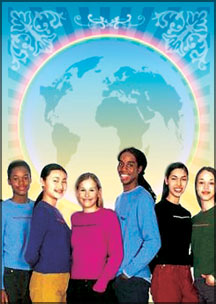 The special events of the day will be organised and spearheaded by the United Nations -Educational, Scientific and Cultural Organisation (UNESCO). Cultural diversity has been one of the main areas of focus for UNESCO ever since it was established over 60 years ago.
The adoption of the UNESCO Universal Declaration on Cultural Diversity (on November 2, 2001) has confirmed its commitment to the "fruitful diversity of cultures" in a spirit of dialogue and openness.
Poor countries are often culturally rich. When development projects are being carried out in such countries, often with foreign aid and expertise, they should be mindful about the culture that they are working in, whether what they are doing is appropriate for that culture or whether they are trying to impose their own cultural values on someone else. Cultural diversity needs to be protected and nurtured.
This could be achieved by good development work supported by dialogue among all the concerned parties.