Swim to meet goal
Heshan Unamboowe is an outstanding and stunning swimmer who has won many titles in swimming. He recently came to the Sunday Observer Sport Avenue to give the invitation for his birthday party which falls on May 19. There we had a pow -wow with the young swimmer.
Your full name?
Heshan Bandara Unamboowe.
School?
Trinity College, Kandy and Iím going to sit for my O/Ls this year.
Family?
My Appachchi, Dudly Unamboowe is an engineer in Saudi Arabia. Mother Priyanga is a housewife and I have only one sister. She is studying at Mahamaya College, Kandy. She is going to sit for her A/L next year is also engaged in swimming.
Why did you prefer swimming to other sports?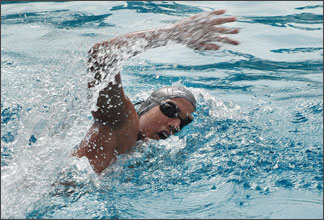 Actually some chose their particular sport because they are interested in that and because of their family background. But for me it is a completely different reason so as to why did I chose swimming. I had wheeze at my childhood.
When my parents took me to a doctor he has told that swimming can be a good medicine for wheeze. Thus my parents put me for swimming. When my sickness got gradually reduced my parents have decided to send me for swimming further.
When did you start swimming and who was your coach?
I started swimming at the age of four and the coach was Mr. Wilson who was once a national coach.
Where did you practice swimming at your childhood?
I first entered Dharmaraja College, Kandy. But at that time there was no sufficient facilities for swimming at Dharmaraja. Trinity was the best for swimming and my parents decided to send me to Trinity from grade 3.
I received proper guidance and training under national coaches at Trinity College since the time I entered Trinity College which I believe is the stepping stone and the secret of my victories. My coach is Mr.Premlath who se help is untold. Of course my dedication to it plays a major role. I believe 'no pain no gainí.
How is the support you get from your teachers and the colleagues?
The support I receive from my teachers and colleagues is enormous. When I have to practice for national and international events I often miss my lessons. It is a privilege to me that my teachers allow me to come to them and even to contact them over the phone at any time to clear any doubt regarding lessons.
My colleagues are never hesitant to render their support in providing me notes and even they help me to clear out any problem on my studies.
Do you have a big fan club?
My friends and family are my biggest fans. Other than that I have fans all over the country. They send me e -mails wishing me for my victories.
My Appachchi is as I feel is my biggest fan. Though he is working in Saudi Arabia, he takes leave from his work to make his presence at every major event I take part in. He calls me everyday from Saudi and encourages me. Itís due to my Appachchiís and Ammaís blessing which I was able to come so far.
Are you hoping to go abroad for further training in swimming?
Yes. I would like to go to countries like Australia or USA if I would get a sponsorship.
Would you plan to be a professional swimmer?
No. I hope to go abroad and study and become an Aeronautical Engineer.
How do you balance swimming with your studies?
I give priority to my studies. I get up about 4.20 am and get ready to go for swimming training sessions at 5 am at school till 7.30am.
Since I have to take part in swimming practice everyday in the morning, I hardly find time to study in the morning. I have training sessions in the evening as well, but not everyday.
When I donít have swimming practice in the evening I devote that time for my studies. I study till 10pm. I canít burn mid night oil because I should maintain good health in order to give a good competition.
I am getting ready for my O/Ls this year. I am working hard for that. I do past papers and prepare shortnotes. When Iím not busy I read shortnotes.
O/L exam is my goal for this year so I put my heart and soul for study in order to get good results.
Swimming isnít a barrier as long as I give priority to my studies.
Do you go for tuition classes as well?
Yes. Mostly weekends.
What are your hopes with regard to swimming?
The biggest hope is to compete for Olympics. Gradually I have to be trained for the Asian championship and then the world championship.