Entertainment
Young talent of a high standard
A pleasant surprise awaited the audience at the High Scorers' Concert presented by the Associated Board of the Royal Schools of Music last Sunday which was held at the Bishop's College, Auditorium.
The winners whose ages ranged from under 10 (Grade 1) to under 20 (Grade 8) displayed a high level of expression of talent which was at times unbelievable considering the age of the winner.
The choice of instrument for the majority of the winners was piano, but violin and cello figured as well and for the first time the saxophone was heard in a performance of Paul Desmond's Take Five.
Hope this is going to be the start of more students moving into the professional jazz field. It's difficult to pick out one or two winners who excelled far above the others, because all of them played their pieces with a great deal of panache which showed how disciplined and talented they were in their performances.
Credit I guess goes to their teachers for the hard work in moulding them to face the challenge of a live concert performance. But why I wonder can't music lovers see more stage performances by these winners as the months go by. After this High Scorers' Concert the winners go into oblivion often.
Hope the Board will encourage teachers to get together and present their best students at regular performances for not only the audience to enjoy, but for the students who can make a kind-of-a-career for themselves getting together as trios or quartets, instead of only falling back as future teachers of music. The commitment has to be there.
At this point I cannot pass by without handing out a bouquet to Soul Sounds for their opening act the two National Anthems with Neomal de Alwis at the piano, their finale and their rendition of Danno Budunge which saw them maintain the high standard set by their director Soundarie David.
Tim Arnold the Examiner of ABRSM who was in Sri Lanka at a media conference commented that he was highly impressed with the performances of the students and admired the teachers dedication to keep the music alive and also their keenness to improve the standards.
In South East Asia, six hundred thousand students are examined while in Sri Lanka, the Board examines two thousand students a year.
The Board overall funds eight major scholarships a year. The new piano syllabus for 2009 will contain jazz examinations and Choir assessments will be introduced which will we are sure be welcomed by musicians and singers in these fields, who will be the next generation of musicians in Sri Lanka.
---
Gee Tharu concert at the O2 London
The most popular Sri Lankan singers will be jetted across to London to perform for the first time at a world famous venue that they would had never dreamt would happen. The venue is The O2 - the Millennium dome at the Peninsula Square, London.
The concert is presented by Palinda Samarasinghe in association with Art Lanka whose dream it has been to fly into London the best of Sri Lanka's singers and musicians for a concert that will long be remembered by music lovers in London.
The matinee concert Gee Tharu 2008 on June 1 is going to be a magical four hours of scintillating songs sung by Neela Wickremasinghe, Sunil Edirisingha, Edward Jayakody, Ishag Baig, Nirosha Virajini, Lakshman Wijesekera, Nelu Adikari and Chandana Liyanarachchi.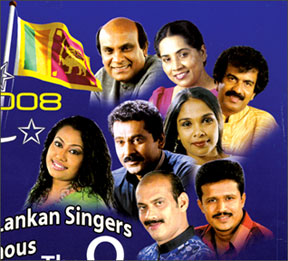 The music is directed by acknowledged Rohana Weerasinghe and his band of musicians will include Wijerathne Ranathunga - tabla, Hemapala Gallage - drums/tabla, Suresh Maliyadde - keyboards, Mahinda Bandara - lead guitar, Mahendra Pasquel - guitar, Kalani Perera - Violin, Susil Amarasinghe - violin and Priyantha Dassanayake - flute.
Sri Lanka's nightingale of song Neela Wickremasinghe expressed her happiness over this trip to London since this will be the first time Sri Lankan musicians have got the opportunity to perform at this prestigious venue.
"The concert programme will feature light songs, folk songs, classical songs and time honoured songs which will reach out to our audience. These people have been away from our country for more than 25 years and some of the selections will be nostalgic as they are songs that they have grown up with when they were in Sri Lanka.
What is going to be wonderful is that this concert is going to be a show for the whole family and the young one's too will come along with their parents. Each singer will be performing six songs.
I'm singing a duet with Sunil Edirisinghe and ofcourse I've included the hit song Master Sir. It's going to be a tight schedule for me because when I return from London, I have to catch the next flight to Dubai to be in time for another concert" reveals a happy Neela Wickremasinghe whose mellifluous voice has brought her unreserved fame.
Rohana Weerasinghe who has won acclaim for his music arrangements and direction is looking forward to the concert, since all the musicians who are performing are Sri Lanka's leading artistes.
"I won't be changing the original arrangements as far as possible but there will be extra embellishments to the arrangements.
The Sri Lankans who will be our audience would want to hear the 'oldies' since they are familiar with the songs, so I won't be adjusting those songs. I will be singing a duet with Nelu Adikhari. There will be other duets as well.
Nirosha will sing with Ishaq, while Sunil and Edward too will perform a duet.
All in all we have arranged an interesting programme and we are confident it will be well received by the audience" comments Rohana.
---
Nostalgia plus now
Entertainment at the Blue Water on a Saturday night is a relaxed, nostalgic affair with the band Sam the Man in action with saxophone old favourites and sing-a-long songs. He's accompanied by a young quartet comprising Chummy Mendis - drums, Angelo - lead guitar, Ranga - bass guitar and Thushara - keyboards.
The group sings the 'now' music and joins in on the standards tackled by Sam. A crusader of sing-a-long sessions Sam says that he's happy that other musicians have followed the art of presenting these sing-a-longs.
"I'm glad I've left a legacy," quips Sam, who has done 39 international tours, "and I'm also glad I was able to show the International community what Sri Lankan musicians are capable of." Pack your weekend with evergreen music by catching the sounds of Sam at the Terrace, Mount Lavinia on Sunday evenings.
---
Hidden Song Competition
Be a winner at the Hidden Song Competition which will be held at the Shippers Night on May 24 at Nightingale Karaoke Lounge. There will be many prizes for the winners and the Lounge offers you a wide selection of songs consisting of over 1,000 songs from the popular hits of yesteryear and the latest chart toppers.
The music range comes in a mixture of local and international music. Dance to music of the band Heart & Soul when they perform at the Margarita Blue on Fridays and Saturdays. Until May 30 you can avail yourself of the many fruit flavoured Margaritas and other specialities.