True love finds a second chance
Pamitha speaks of life with former minister Lakshman Jayakody:
Many do not let their first love to be revived once they get adjusted to their second love or to the marital status they enter later in life.
But, still one's pulses race if they bump into each other's old love in any corner of the world. Some turn on the light of the first romance and rejuvenate their lives along with it, but some let it die off not letting the bud re-blossom since it may create discord in life.
Love is like the embers of a dying fire, covered and hidden in the ashes, ready to enkindle two hearts. Hence one should have a high percentage of assurance if one to step forward in such a situation.
"That's true," agrees Pamitha with a broad smile.
"If the environment of your life is not ready, it's a risk to accept it...,"she continues. "I think, I took the correct decision at the right time though it was bit late.
Lakshman Aiya and I were second cousins, and we eventually fell in love. I was in my early teen and he was six years senior to me. We carried on for eight years, until my parents spied and declared war," recalls Pamitha, wife of Lakshman Jayakody, former Minister and the present Advisor to the President.
Pamitha Wijetilaka was the eldest to a sister and brother, born to Benet Wijetilaka, an Electrical Engineer hailing from Galle, who worked as a Director at Ceylon and Foreign Trades Engineering Company. "All in his family were educated. My mother was Chandra Jayakody from Balagalla, Divulapitiya.
Lakshman Aiya was related from her side," smiles Pamitha who celebrates her birthday on September 16 with her happy-go-lucky team of cousins while offering a `dana' (alms giving) to an elders' home annually. She is still with full of spirit with undying juvenile beauty even with the passing at many decades in her life.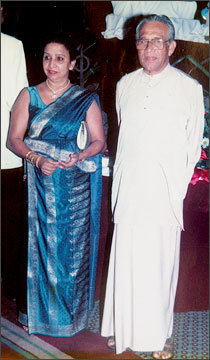 Pamitha has been residing at Polhengoda, Kirullapone, Colombo with her family since her birth, but constantly visited both Divulapitiya where her mother's land and property were, and also Galle, her father's native home. Ms.Pulimood was the Principal of Visakha Vidyalaya, Colombo during Pamitha's time.
Pamitha who was a Tom boy was involved in everything that took place at school whether it was sports, drama or choir, Pamitha's name was in the list. However, it was only up to the Ordinary Levels that she could reach at school. During that time girls from affluent backgrounds were rarely allowed to go to universities.
"Our elders thought we would elope or marry somebody that would not tally and pally with their class if we, the girls entered campus. So, after O/Ls I started following Home Science courses and continued my piano music lessons," recalls Pamitha.
Her carefree life erupted in war when the news of her affair with Lakshman leaked to her parents' ears. "If you want to go with Lakshman, you would get only the frock you are wearing, and nothing else," stormed her mother in fury. Pamitha was lost. She was immediately kept in the house as a prisoner.
"My parents didn't like Lakshman Aiya as he was not a professional. His father died on the day he had his University Entrance interview, so that he had to sacrifice his higher studies and look after his family properties. Since being the eldest of the family he had to abided by the family duties," says Pamitha.
Among the proposals that came to Pamitha, the young beauty with a torn heart with her loss love, said `ok' to her first cousin, a MBBS doctor, a professional that her parents were seeking for.
Concealing her pain in her heart with the wedding out fit `wrapped' on her she got on to the `Poruwa' with her groom. Pamitha who was mistaken for a Parsi girl at school because of her unblemished glowing fair skin didn't need any make-up even as a bride.
"However, my first husband was a nice person. It was he who taught me to drive saying I should learn to take the wheel to drive our son to school. My first marriage lasted only for three and half years as he died of cancer.
He was 30 years, I was 23 years and our son was one and half years then. It was a great shock! I fainted when I heard about his terminal illness. That shock might have hardened me, whatsoever.
We were brought up like flowers in our family background, and I was scared to move even from this room to the other. Children should not be brought up in such a way, because if things go wrong in life they would not be able to face life with courage. Thanks! I have had the spirit to convert myself to the changed conditions," she reminisces.
After a period of mourning, Pamitha turned on to a new leaf of life. "I went to learn Ballroom dancing, Tennis and swimming. But, wherever I went I took my little son and my cousins. I really enjoyed my `lonely' life that way," she smiles. Though she was surrounded and followed by many suitors asking for her hand, Pamitha had a strong will in her life.
"I have lost two loves. So, I was feeling repulsive over having `partners'," she recalls. BUT! the fate of people is like a wheel of a cart which rotates constantly towards unexpected directions. Pamitha was a widow for 14 years when destiny, knocked on her door. Her first love was at her door step once again. Lakshman Aiya was asking for her hand.
Lakshman Jayakody was born on August 24 in 1930 as the eldest to two sisters and a brother to a landed proprietor, Lionel Jayakody and Gwendoline Jayakody. Lakshman's maternal grand father was the famous stage play writer and a founder of Tower Hall, Charles Dias.
After studying at Trinity College up to the University Entrance, Lakshman was in-charge of the family properties. His first marriage took place a few months after Pamitha's wedding, and he had a daughter and a son.
There were two things that enticed him in his life; Pamitha and Politics. Both were his first love like the `pair of scales'. He had lost Pamitha temporary, so he decided to continue with politics. Lakshman joined the Sri Lanka Freedom Party (SLFP) on November 1, 1954, and stepped into active politics in July 1960.
He became the General Secretary of the SLFP Trade Union under S.W.R.D.Bandaranaike in 1959. He was elected as a Member of Parliament (MP) from his ancestral home town, Divulapitiya in July 1960 election and continued to be since 1977 when he lost with a few votes with the UNP crash.
Under Premier, Mrs.Sirimavo Bandaranaike, he was the Deputy Minister of Defence and Foreign Affairs and the Parliamentary Secretary to the Prime Minister. Lakshman contested Attanagalla seat and returned to the Parliament in 1980, and continued until 1989.
He was the District MP for Meerigama Electorate in the Gampaha District from 1989 to 1994. He became the Minister of Buddhasasana, Cultural Affairs and Religious Affairs in 1994, and rendered a memorable service to the country.
He gave up his 40 years of Parliamentary politics in 2000, and has been giving his finest support as an Advisor, firstly to President Chandrika Kumaratunga and presently to President Mahinda Rajapaksa.
Under the present Government, agriculture, land, irrigation, power and cultural affairs are the areas Lakshman Jayakody has been concentrating on. `Lakshman Jayakody Foundation' founded by him with his own funds in 2006, is working along with the projects and new researches done by the Agricultural Ministry, heading the agricultural development of the Northern Gampaha District - Divulapitiya, Meerigama and Attanagalla.
The Foundation gives support to food and field crop agriculture like paddy, coconut, rubber, tea, pepper, cinnamon and various other acrotic fruit cultivation like Kilo-guava (huge Malaysian guava), Dragon fruit, yellow varieties of Bananas, local yellow papaya and edible bamboo, aiming both the local market as well as the export market such as in Middle East and Japan.
After a stormy and turbulent period of his personal life, Lakshman was zooming back to his lost love. Pamitha was already a widow by then, living with her parents and only son. Her father who was down with a stroke was looked after by her for eight years. Once in a way she used to tease her Dad, `Thatha, you know a bit of astrology. So, hadn't you noticed that I would be a widow one day?'
"As soon as he got the verdict of divorce from his first marriage, Lakshman Aiya came to my mother proposing marriage to me. My mother who was once a `Hitler' and didn't like the sight of him, had a cooler attitude towards him, and told him to speak to me straight," she laughs. Pamitha was surprised, but asked for two months as she had to discuss it with her son who was about 16 years then.
"I kept my promise to my late husband to guide our only son Prasad Nanayakkara to become a doctor. I've already done it. He studied both at Ananda and Royal College, and practises at the General Hospital at present. He is happily married and I'm a grandmother of two boys," she smiles.
"My son was a very quiet person, and didn't mind me getting married to Lakshman." she smiles.
Though Pamitha had eradicated her painful past completely, Lakshman's plea softened her stern attitudes. "Actually I felt sorry for him as like me he was also alone and without a companion in life," she recalls. Pamitha and Lakshman finally came under a one roof turning a new leaf in life on June 30 in 1976. Love, happiness and tranquillity began to shower on the old lovers once again.
"We didn't hold a function, and only got registered. So, sorry, I have no wedding picture of ours to give you for your readers. He was the Deputy Minister of Defence and Foreign Affairs at that time," blushes Pamitha.
Question: You might have lead a cool life as a widow, whatsoever. How was it with a politician?
Pamitha: Ah! terribly busy, and enjoying both the benevolent as well as the malevolent experiences. It was like entering a second life of the same birth. Completely different chapters. Lakshman Aiya is a good person who has a great capacity of tolerance. He rarely raises his voice to somebody, if he finds a fraudulent act by his subordinate.
He loves old Sinhala Tower Hall classical songs, music and stage plays. He underwent several serious operations, and I was with him both during his ailments and his election campaigns. So I think I've done my duties by him, and are quite happy and proud about it. We'll be celebrating our 32nd Wedding Anniversary tomorrow (laughs).
Question: What are your future plans?
Pamitha: Both of us are in to the charity work helping the poor. It has been our hobby as well. I have been working for the Mallika Home, Colombo for the past 9 years. Presently I'm in-charge of the `Sethsevana' ward there.
In addition, I'm a committee member of both the Eye Hospital and Divulapitiya Hospital. So, my message is to lead a good life fulfilling your duties to your family; your husband and your children, mainly, and then to the society.