Sri Lankan Pradeeban is Canada's Greatest Asset
Bio
Peter-Paul, Pradeeban - Table Tennis
Born: 17th May 1977 - Colombo,
Sri Lanka
Residence: Ottawa, Ontario
Height: 179 cm/5'10"
Weight: 70 kg/154 lbs
Coach(es): Marles Martin
On team since: 1994
Event(s): Singles, Team
Club: National Table Tennis Centre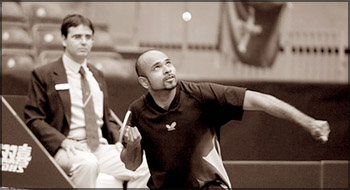 While many sporting greats are in fact, 'defectors' this time at the Bejing Olympics 2008, there isn't truth as to whether Sri Lankan-born Canadian player Pradeeban Peter-Paul is one too.
He joined three Chinese-born Canadian players but their team lost to Singapore and Germany in the table tennis preliminaries at the qualifying round. Many Sri Lankans would have thought that whilst not representing one's own home country, karma may have sealed his losing fate.
Even though Mayumi Raheem who grew up in Singapore decided to represent her country despite failing was considered an honour, especially after she brought home 10 medals (3 Gold, 4 silver, 3 bronze), a record for any athlete at a single game.
Pradeeban Peter-Paul is and will be the greatest asset to table tennis in Canada after his winning the title of North American Champion this year. He is a Christian Tamil who was born on May 17th in the year 1977 in Colombo, Sri Lanka.
When Peter-Paul was 11 years old, he emigrated with his family to Wurzburg, Germany and this was when he discovered the game of table tennis - that was very popular. His affair with the table tennis racket started and Peter-Paul found himself playing table tennis in school, local parks and recreational centres.
He quickly joined a club at age 12 and reminisces "I started playing, I liked it a lot and I was good at it," he said. "I just could not stop." When he left Germany in 1993, he was on the Bavarian provincial team and had won a junior doubles title. By the time he was 16 years old, Peter-Paul moved to Ottawa, Canada and attended the Rideau High School and then Algonquin College.
Pradeeban Peter-Paul can speak Tamil, German and English fluently. He is experienced in major competition, including eight appearances at the World Championships, two at the Commonwealth Games and three at the Pan American Games.
His self-acknowledged best accomplishments were bronze medals at the 1999 and 2007 Pan American Games, winning the North American Championships in 2007 and now, qualifying for Beijing.
Peter-Paul represented Canada for the first time at the English Open in 1996 and has been with the national team for the past 12 years. Upon moving to Canada and studying business in college, Peter-Paul now trains full time at the National Training Centre in Ottawa.
By finishing second in the men's singles event at the Olympic Qualifier in Vancouver, Pradeeban Peter-Paul met the qualifications for the Beijing 2008 Olympic Games. "I want to have the best tournament of my life there[Bejing]," the six foot player has said.
"I'm practising six hours a day plus doing physical training. It will be a very tough tournament, but my preparation is pretty good and a medal in the singles or teams would be absolutely fantastic."
Marles Martin, Canada's head coach, has put his faith in youth for the forthcoming Beijing Olympic Games; lining up alongside Pradeeban Peter-Paul and Zhang Peng in the Men's Team is eighteen year old, Shen Qiang, the youngest competitor in the table tennis events being staged at the Peking University Gymnasium. However, as fate may have had it, Canadian Pradeeban wasn't good enough for a Gold this year.
********************************
Career Highlights
First international competition was the 1996
Member of nine World Championships teams, with a best-ever finish of the round of 64 in doubles in 2005 in Shanghai, and top team finish of 21st-24th in 2000 in Kuala Lumpur
Represented Canada at two Commonwealth Games and three Pan Am Games
Two-time Pan Am Games bronze medallist (2007 team, 1999 singles)
English Open: Met the qualifications for the 2008 Olympic Games by finishing second in the men's singles event at the Olympic Qualifier in Vancouver.
Most memorable moment was winning the bronze medal at the 1999 Pan Am Games in Winnipeg.
************************************
Career Results
2008 World Championships - Team - 31st
2007 North American Championships - Singles - 1st
2007 World Championships - Singles - Round of 128
2007 Pan Am Games - Team - 3rd
2006 World Championships - Team - 42nd
2006 Commonwealth Games - Singles - Round of 32; Team - 7th
2006 North American Championships - Singles - Semi-Finalist; Doubles - Semi-Finalist
2005 World Championships - Doubles - Round of 64; Mixed Doubles - Round of 128
2004 World Championships - Team - 32nd
2003 Pan Am Games - Singles - Quarter-Finalist
2001 World Championships - Mixed Doubles - Round of 128; Team - 28th
2000 World Championships - Team - 21st - 24th
1999 World Championships - Doubles - Round of 128; Mixed Doubles - Round of 256
1999 Pan Am Games - Singles - 3rd
1997 World Championships - Singles - 2nd Round; Doubles - Round of 128; Mixed Doubles - Round of 128;
Team - 25th