Wimalaratne Kumaragama
The bard of Wanni
A poem is a piece of creative writing in verse, a writing arranged in lines, often with a regular rhythm or rhyme scheme, one expressing deep feelings or noble thoughts in beautiful language, written with the intention of communicating an experience. It is a metrical composition, especially one concerned with feelings or imaginative description. A poet should possess high power of imagination. It is a piece of creative writing in verse. To be poetic, is being graceful and authentically pleasing. In short, poetry is the work of a poet. It is an imaginative expression of emotion and thought or narration.
My most loved and favourite Colombo Yugaya Poet, or "Colombo Era Poet is late Wimalaratne Kumaragama, whose, name is identified with Wanni.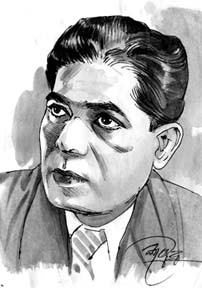 As this great poet Wimalaratne Kumaragama's 91st birth anniversary falls today (18, January 2009) I pen these few lines as a humble tribute to a man who shone like a bright star in the firmament of sinhala poetry.
He loved Wanni or jungle surroundings and its innocent villagers, like the famous Leonard Woolf. His poems were centred round Wanniand the people of Wanni. They emanate the life of the villagers and its characters, surroundings, environment, animals and their experiences. Kumaragama, centred his thoughts round the innocent lives of the villagers of the Wanniya.
Wimalaratne Kumaragama was born on 18th January 1918 at Narampanawa, Patadumbara, Pallispattu Korale West. His beloved parents were Punchi Bandara Kumaragama and Bandara Menike Kumaragama. He was the second, in a family of seven. He possessed a majestic, charming and charismatic personality.
He had his primary Education at Werapitiye school and later attended bilingual schools at Teldeniya and Sri Rahula Vidyalaya, Katugastoda. He ended his schooling at Dharmaraja College, Kandy, one of the crest-jewels of Buddhist Education in Sri Lanka. Even as a student, he was interested in Sinhala Literature and he used to write poems to the school magazine. At Dharmaraja, he was an outstanding student and passed the Matriculation Examination with distinctions.
After passing the Government Clerical Competitive Examination, he started his career as a clerk at the Kaccheri, Anuradhapura. In 1942, he was successful in the D.R.O. Examination. In 1944, he assumed duties as an Assistant Government Agent at Anamaduwa.
Some of his outstanding, famous and popular poems - "Wanniye mal", "Harak Hora", "Iiyanayake", "Yantamberuna", "Game-wewa" "Herath Hami" depicts the true life of the villager of Wanniya.
Kumaragama's poems sometimes portray the progressive intellectual thinking. A fine example is a poem from "Herath Hami", a name popular even today in Wanniya. This particular Herath Hami, assists Medical officers and Coroner, who attend on post-mortems.
Aliya Vetunu Wewa Siti Herath Hami
Ma Venniyaku Uwada mama Vedagath Veemi
Mini Kapana muth Ehe Herath Hami
Ohu mata vada visithis Gunayak Demi
Here, he gives due credit to Herath Hami, the man who assists the J. M. O. in dissecting, dead bodies. Further, he pays a tribute to him for his untiring efforts and his qualities.
In another poem, Iyanayake, Kumaragama in a subtle manner describes the beliefs of the poor innocent villagers. Although, he does not agree with the their beliefs , he never criticises the acts performed by the villagers.
Sanhinda langadi bareta kiri Ithireema
Kemmura Dewaswala Pahanin Seraseema
Vana atu kada gas debaleka Devateema
Ma nokeruvath nokelemi eya geraheema
A speciality of this great poet Wimalaratne Kumaragama, that he gives life to the environment and touches our hearts with poetic language. A good example is his Walas Dadayama.
Pulai Mai Palugas Debalaka Messe
Saima Samaga Kadiya Ketawala Assie
Mehi Ethi Hema Handata Mage Hadawatha Gesse
Ada Handa Paluwa Ada Wana Roda Matha Issie
This beautiful poem describes the environment and links with the characters of Vanniya. My mind goes to the African jungle safari I made in a couple of years back to Pillenesburg Game Park. The environment and the roar of the lion, high pitched giggle of hyena still echoes in my ears. Kumaragama's Walasdadyama which was etched to my mind came alive at the South African Jungle Safari.
In another poem, he shows his prowess in describing nature.
Sirimal Pipi Hema Turu Liyakama Bedde
Siribara Gathiya Yana Ena Pawanehi Pedde
Babaruni Kimada Ada Me Mangala Sadde
Eka Dawasakin Me Siri Komada Ladde
Wimalaratne was a fine student of English literature. He was a voracious reader and had a good knowledge on English Poetry. When he was serving in Sabaragamuwa District, the Government Agent of Ratnapura was an Englishman, On an official visit to Kalawana, he met Kumaragama - DRO. He knew that Kumaragama was a Sinhala Poet. The Government Agent, just to show his prowess in English Poetry, recited a poem and stated that it was written by T. S. Elliot. Kumaragama immediately corrected the mistake" Excuse me Sir, the poem you quoted belongs to William Shakespeare. The Englishman was taken aback about his knowledge in English Literature. His wide knowledge in English would have helped him and influence his Sinhala Poetry.
Kumaragama was a fine human being, a warm-hearted man. When he was serving in Anuradhapura, he was in charge of Kalagam Korale. Once a Fortnight he visits Anuradhapura Kaccheri. The general public loved his company. Sometimes the innocent villagers came in search of him to solve their private and confidential problems. He kept, everyone happy and sometimes recited "Hitiwan Kav", or Instant verses.
A villager from Mihintale once made a complaint against his wife. The old man, presented his case in two instant poetic lines, as he knew Kumaragama "DRO Hamuduruwo" as a popular poet in the island. His problem was that his wife is too old.
The old man mentioned his problem in two lines.
Gatthe Car eka Den Nam Eya Lorriya.
Loriyak Ellavanna Mata Den Neta Piriya
(I bought a car which is now like a lorry; I am not inclined now to drive a Lorry)
With a beaming smile, Wimalaratne Kumaragama gave his reply to the old-man.
Hulan gasa jak gahala hada ganin Loriya
Langata aran senehe sithin karan ithuru hariya
(Inflate and jackup the Lorry. Approach it, and do the needful)
(One lorry will be sure to perform better)
Unassuming Wimalaratne Kumaragama, whenever he visited Anuradhapura Kaccheri, he used to have his lunch in the canteen with the clerks.
Once, a young lady clerk said "Dear Sir, you are a famous poet in our country. Sir, I request you to recite an "Instant poem" about me."
"Dear Girl, you are still young. Therefore, I will recite only two lines considering your age.
Nangi Inna Heti Dekkama Meseta Ana Ana
Matath Wediya Pinkala Bawa Denai Mese Kona (Seeing the sister tapping on the Table, Methink the table is more fortunate than me)
The life of this Great Poet Wimalaratne Kumaragama was so simple, but, he was full of life. He devoted his entire life to uplift the standard of living of the poor villagers of Vanni.