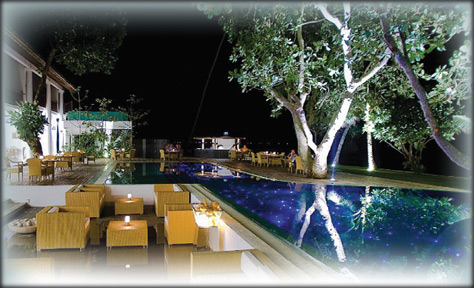 One of the best ways to propose to your loved one would be to order a `Stilt Fisherman Indulgence' at the Fortress Hotel, Galle and you don't have to bring a ring! Not sure if ordering the world's most expensive dessert would do the trick to get someone to agree to marry you but it's certainly worth a try! It's no surprise that the latest word on the US$ 14,000 dessert is that nobody's still purchased it but the good news is that you can take it home if you can't digest all.
Says PR Manager Shalini Perera Bandaranayake, "The `Fortress Stilt Fisherman Indulgence' is a dessert created beautifully with a gold and silver leaf Italian cassata flavoured with delicious Irish cream, served with a mango and pomegranate compote and a champagne sabayon enlighten".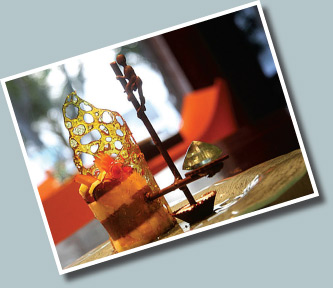 The dessert is decorated with a chocolate carving of a fisherman clinging onto a stilt which is a local fishing custom practised for generations with the most expensive gem of it an 80 carat aquamarine stone mined in Sri Lanka.
Obviously, the dessert is pricey because ingredients like Dom Perignon champagne, the gold and silver leaf and an 80-carat aquamarine which make the diameter of the head of a soup spoon is set into the dish. Shalini said, "We call it `The Fortress Stilt Fisherman Indulgence' because we wanted to give visitors at our boutique resort in Koggala, Galle a one of a kind experience".
In another sense of the word, in a bid to keep the ball rolling for generating interest, the Fortress Hotel really wants to get people to visit the snugly-located private retreat which is close to the museum of Sri Lanka's legendary literary figure - Martin Wickramasinghe. People from far-flung parts of the world like Japan have professed interest in it but have never actually bought it yet.
General Manager of the Fortress Steve Delefortrie said, "We need to know 48 hours in advance in order to make the creation because we have to obtain the special aquamarine stone that is infused in the dessert".