It was many years ago but her memory has never faded. I know many would think that what we did was wrong, unacceptable. But it happened. Love cannot be planned. She - Priyanga - came to our school as a trainee teacher, from a leading girls' school. She was the most beautiful creature any of us had ever seen.
I still remember how the cadets in the front of the cadet platoon battled with each other to say 'good morning' to her. But she never spared words with us. It was all an innocent infatuation till I was made the house games' captain and she, the house leader. We started getting closer from the first time she summoned me.
Among the many fond memories we shared, my personal favorite is the time I took her in my motorbike back to school from the grounds, on the day of our sports meet. My only regret is the grade nine girl who sat squeezed between us. But she was right, a teacher and a student could not be seen riding a bike together.
But even then we were not romantically involved. We took the same bus. She lived in Nugegoda and we often took the same bus home. One day she asked me whether I am getting off in Piliyandala. I said I could go all the way to Nugegoda if I wanted to since I had the season ticket. She asked to see the season ticket. When she gave it back I grabbed her hand and didn't let go. I said 'I rarely let go of something I take.' And I held her hand till we reached Nugegoda.
We had a few close calls. Once one of my friends from school saw us, but Priyanga was wearing a dress unlike her usual saree. He kept on pestering me asking who the girl was, I was in the beach with her that day. He could not recognize her. I could have spent my whole life that way.
But as always there was one hitch. She had a fiance. He came to see me once and threatened us a few times. But even if it weren't for him we were never meant to be. She was a teacher and I, a student. Last I heard she had migrated.
But for what it's worth I'd like to say I never loved anyone that much since.
Giving tears a break...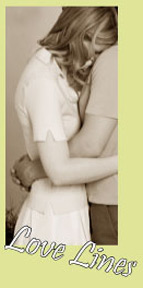 Oh my tears...
My precious tears...
Tears for him that I shed,
"I would always be with you;
Only with you"
That's what I really meant.
You made my face,
My pillows, my bed,
A sponge of tears those days.
When I was alone
And missed him
You shared my pain always.
But my dear,
It is time;
Time to give you a break.
'Cz now i've found
A loving heart,
That gives no heartaches...
Arisha