The beloved mother in Sinhala cinema
Having seen the era of studio cinema, Shanthi Lekha was privileged to witness the ups and downs in Sri Lankan cinema and also to play a memorable role in the first Sinhala teledrama `Dimuthu Muthu'. She is remembered as the most beloved mother in Sinhala cinema. The death of popular actress Shanthi Lekha born Rita Irene Quyn, in France came at a time when one of her memorable films `Gamperaliya' (The restored version of it) is released in France; Shanthi Lekha's adapted country for over four decades.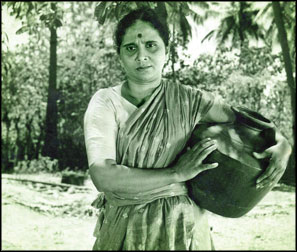 Lekha, who owed her screen name to her first husband Shanthi Viraj, first played a role in D.T. Fernando's play `Shantha Prabha' (1942) while attending Holy Family Convent, Kalutara. Although she was famous as a film-star, Shanthi Lekha commenced her career as an oriental dance girl in stage plays where leading roles were played by Dommie Jayawardena and Nona Subeida.
In 1935, she entered the arena of films when she played a role in `Sujatha' with Dommie Jayawardena, dancing to the song "Pem Rella Nagi" wearing a bathing suit.
Although Lekha was paid a sum of Rs. 500 for the role and a contract prohibiting her acting in films of other production companies, the producer K. Gunaratnam gave her roles in several films including in `Warada Kageda', `Radala Piliruwa' and `Dostara'.
Her role in `Sujatha' came in for criticism. The parish priest (Lekha's family was Catholic) told her mother that Shanthi had gone to the devil. However, looking back on her career, the role she played was not only a defining moment in her career, but one in Sri Lankan cinema.
However, Shanthi Lekha's memorable role of mother in Sinhala cinema commenced with Dr. Lester James Peries' `Sandesaya' in 1960. Subsequently, she played mother's role in over 350 films.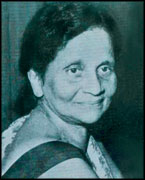 Shanthi Lekha won Best Supporting Actress Awards at the Sarasaviya Film Festival for Gamini Fonseka's `Parasathu Mal' (1968) and Mudalinayaka Somaratne's `Binaramali' (1969). She also won Presidential Awards for `Mayurige Kathawa' and `Ridee Nimnaya'.
Although she played diverse roles in Sinhala cinema, she cherished her roles in `Uthumaneni', `Eya Den Loku Lamayek', `Amal Biso', `Parithyagaya', `Hithawathiya', `Sasara Chethana' and `Sakvithi Suwaya'. Although unknown to many apart from being an accomplished actress, Shanthi Lekha was also credited to be the first Sri Lankan woman make-up artiste. During an illustrious career in cinema, she brought to the screen Bernard Ranasinghe whom she subsequently married. Following his death, Shanthi Lekha spent a couple of years in London where she helped Sri Lankan film producer J.D.L. Perera to find a British market for Sri Lankan films.
Thought it was not fruitful at the time, it would have been the first such attempt to find an overseas market for Sri Lankan films.
*********
Dr. Lester James Peries on Shanthi Lekha
(July 1, 1929-May 11 ,2009)
"When she started off, she used to play the vamp what they called female villainess. She would have played ordinary roles. When we were casting Gamperaliya, I had Irangani Serasinghe in mind. Unfortunately or fortunately Iranganie got pregnant, there was no possible way. I take chance and cast Shanthi Lekha and to our surprise Shanthi Lekha with a little bit of rehearsing I instilled into her that she does not need to act but to behave in those circumstances. She was very acceptable and I was quite happy and that led too her new career; not as vamps, but playing as good mothers. She had a very good flair for comedy because in Gamini Fonseka's films she was superb as an aggressive villainess. She was always first cast by Gamini. We thought that people who go to India and acted in studios will never ever pose for camera. But I would say that she was a fine example of person who grabbed across the board."
*********