Around the globe
China:
Keeping the cultural tradition alive
Representing the best of a time honored tradition more than twenty-seven centuries old in China; the Golden Dragon Acrobats are touring the United States once again.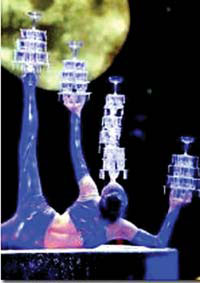 Coming directly from Hebei, China, these performers have been trained rigorously in the arena of acrobatics since early childhood.
Having been around for over two thousand years, the acrobats have become more than just a tradition, they are a favourite art form among Chinese people. Acrobatics in general has evolved over the years into various popular forms including dance, opera, wushu and sports. For China, however, the traditional form of acrobatics foregoes boundaries in an attempt to create a cultural exchange between China and Western nations such as the United States. Acrobatic troupes including the Golden Dragon Acrobats travel the world bringing the art and rich cultural history of China to the masses.
Come see incredible acrobatics, Chinese traditional dance, shocking contortionists along with jugglers and tumblers balancing human pyramids while riding tiny bicycles.
Celebrating their 30th anniversary of continuously touring the United States, experience the Golden Dragon Acrobats as they dazzle audiences with their powerful award-winning performances.
Take in the wondrous tradition of a culture far older than most countries today. The Golden Dragon Acrobats are proudly keeping their cultural tradition alive and are excited to share the experience with people both new and familiar to the incredible art form. This event could inspire you to learn more about Chinese art, culture and tradition.