The newest place to hit the music scene is the Zouk
A hip and trendy hangout to chill, the Zouk was christened after the worldwide chain which is a place to unwind, relax and let your hair down with maximum pleasure.
With the likes of singing sensation Liza and Gipsy, special resident DJ Dimo will be spinning records from dawn till the early morn. Special requests and even private lounge celebrations like birthday parties will be accommodated by Zouk to make it a memorable event.
Opened just last week, the owner Duminda said that there will be more happening collaborations to make it a feisty place. "We like to make it a popular stop because we have with the security a shuttle service to make it easier to get here", he said.
Speaking about the modern atmosphere with tasteful refurbishment, media manager Sumith Henry said, "Zouk is an everything concept where people can have a good time. We are trying to bring the international concept as much as possible by recruiting a team to serve our patrons".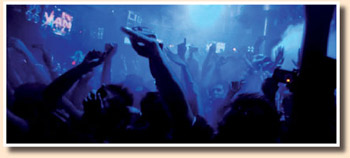 Internationally, the word Zouk means a style of rhythmic music originating from the islands of Guadeloupe, Martinique and Haiti. Zouk means "party" or "festival" in the local creole of French with English influences. In Africa, it is popular in franco- and lusophone countries. In Europe, it is particularly popular in France, and in North America the Canadian province of Quebec.
Compared to other places, the Sri Lankan Zouk is definitely geared to make things easier for their patrons.
"We even have special lockers for women to keep their handbags so that they don't have to worry about their precious possessions while they are having a good time," said General Manager Venura Jayaweera.
Keeping in with tradition, Zouk will cater to a crowd which is hip and happening. "We don't want any trouble-makers and we believe in keeping a good and clean spirit with minimum hassles" said Venura.
Playing the right way is Shafi and Chris (formerly Wildfire dudes) with their band 'Soul'd Out' that will make toes tapping when the DJ takes a break. "We will keep the momentum going with our mix of music encompassing R&B, Retro and popular numbers. We even have a amazing songstress Sam who will belt out great hits to set the mood right" he said.