*Strengthening the age-old Sinhala-Tamil friendship:
Love knows no race...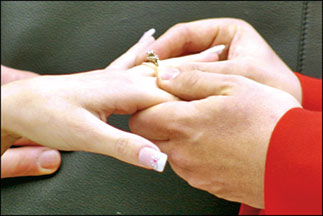 They met at the height of their youth to fall deeply and irretrievably in love with each other. Despite racial barriers, they realized that it was for the first time they have either of them loved with their whole heart and soul. They find it impossible to walk away from a strong bond that was powerful enough to make both of them feel as if they had never really lived before, only existed.
These are not romantic movies, but the real-life stories. For their happiness they depend on the love of those they love, not on their race, creed or religion.
Our history tells us of wonderful love stories where the Sinhalese and Tamils had strengthened their age-old friendship even further through inter-racial marriages.
As the decades old terrorism comes to an end, the mutual bond between the Sinhalese and the Tamils has been further strengthened. But even during the periods of war, even when they were caught up in the real-life horror of 1983 riots the mutual bond between the protagonists had remained unchanged. In their years of happily married lives the racial differences had never caused any argument, they reveal.
"Our family never felt that there is any difference between the Sinhalese and Tamils as we were brought up in the cosmopolitan way." says Mr. Ananda Kandaswamy who is leading a contented married life with his Sinhalese wife Kumari for the past 26 years. As he further reveals his decision to marry a Sinhalese girl never came as a surprise to his mother or siblings as they did not believe in racial or religious differences.
In fact, it was just a few weeks after the outbreak of 1983 communal riots that they got married.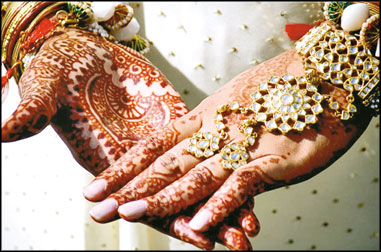 "We had the affair for 4-5 years. After the outbreak of riots some of the relatives of my wife had even thought that I would give up the affair feeling disgusted by the behaviour of a few Sinhalese. But I was broad minded enough not to give up my 'true love' for such petty reasons.." The contented husband and the father of three tells me with glee.
"Just think of India" he continues" there are several regions and multitudes of races. People from different regions, different races marry each other. But they are all Indians. Similarly we are all Sri Lankans. Love and understanding should be the foundation of a married life, not those man made barriers."
As Mr. Kandaswamy says up to now there had never been an argument between him and his wife based on racial grounds. "The only problem was that in the early years of my marriage, my mother-in-law was quite unhappy about my bad drinking habits." He grins. But today he is a contented man in his early sixties who is leading a peaceful married life shedding all his bad drinking habits!
"Anyway I was a little apprehensive about my children's future, he adds.
Once my eldest son was held up at a checkpoint for questioning simply because his surname was Kandaswamy. In fact he even cannot converse in Tamil as they have been brought up among the Sinhalese.
Another instance that shook me up was when my youngest son was verbally thrashed by his school teacher highlighting his race. "Though the teacher later apologized to my wife it did mentally affect my small son who did not even fully realise that he was a Tamil."
It is only those two incidents that had disturbed Mr. and Mrs. Kumari Kandaswamy over the years. Both of them are quite satisfied of each others relatives.
Mrs. Kandaswamy too had the same story to tell me. She told me in detail how they met each other way back in the early 80's at a Government department. "As we started the affair Mr. Kandaswamy visited my father to make the proposal. My father did not raise any objection. He was certain that my mother too would not object to this.
"But I have to get the permission of my mother (Kumari's grandma) " He had told Mr. Kandaswamy."
Initially Kumari was a little uncomfortable when her grand ma summoned her to inquire about the affair. "But I soon realized that my grand ma is quite satisfied with my selection." the Buddha had no caste, class or ethnic differences. We all are human beings. If we are genuine Buddhists we should never consider racial difference as a major issue,' she told me." As her grand ma said she found a good and caring husband with whom she could lead a respectable life.
"Though with dislike she recollected the days of communal riots when her father had to keep her fiance in hiding for a few days until the uproar subsided. We got all the support from our neighbours. But my father faced an untimely death out of the shock. We tied the knot a few weeks later at a simple wedding held in my house. Ever since we have been leading a happy life"
As she says she had never felt that her husband belongs to a different race. Just like the Sinhalese, Tamils too have their origins in India.
Girls should give priority to the qualities of their future husbands, not to their race- specially if he is a Tamil there is nothing at all to worry. "We both share almost the same cultural patterns and values.
We practise our own religions while respecting each other's religious beliefs. Racial differences are all man-made 'To prove her point she narrates another moving story of their youngest son who was adopted by her brother. "Except for a few, no one knows that his father is a Tamil. He speaks Sinhala and carries a Sinhala surname. Is not this yet another fine example which shows that racial differences are only man made?
Mrs. Ayoma Seneviratna nee Kandappu too has beautiful memories of her first encounter with her Sinhalese husband in the early eighties. When she first met him at a reputed government ministry where he worked as a research officer she might not have even thought that this encounter would cause her life spin in directions than she could never have imagined.
"It was my husband who made the first move", she smiles with a spark in her eyes. As they started the affair Mr. Seneviratne had visited her seeking his permission.
"Initially my father did not want to give me in marriage to a Sinhalese. But ironically the '83 communal riots changed everything for the better. As the riots broke out my fiance took immediate steps to take me, my sister, her husband and their children to their home where we stayed safely for a few days. In fact my parents and brother were safe in Jaffna, but they were not in a position to come to our rescue at that critical hour. It was my fiance's family who rose to the occasion and that gesture of humaneness was greatly appreciated by the entire family.
My brother-in-law who was highly taken up by the hospitality of my fiance's family persuaded my father to give his consent. So we tied the knot at a simple ceremony at the house we built in Jayawadenagama.
In fact, in later years it was my husband who became the favourite son-in-law of my father! Today, Mr. and Mrs. Senevirathne are the proud parents of two sons who are studying abroad . "Our affection for each other has grown tremendously over the years. I don't see any difference between the Sinhalese and Tamils."
Mr. Ramakrishna too talks high of Sinhala-Tamil newspapers. They met each other while working in the same newspaper about two and half decades ago.
Unlike in the above instances, parents of both sides had opposed their love affair. "For sheer pride relatives of both parties avoided attending the wedding. But later we 'shaped it up somehow' ,he chuckles.
Today, he is a father of two. The proud grandfather of two spends his time happily with his grandson who is just 1 and 1/2 years old.
When asked whether he is fully content of his Sinhalese wife he tells that he would not have got anybody better!From their first encounter they had always dreamt of the happy family unit they would surely build one day and today for all of them it has become a reality.
'Never give up your love simply because the lover belongs to a different race.' Each one of them want to give the same message.
The unison would only strengthen the age-old friendship of the Sinhalese and Tamils! Marriages are made in heaven , so the man-made boundaries cannot break them apart.!
Names have been changed.