President proposes Act of Parliament to resolve burning issue :
Swift relief for Sakvithi, Golden Key depositors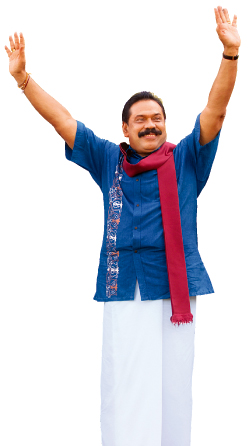 President Mahinda Rajapaksa has assured speedy repayments to all depositors of Golden Key/Ceylinco, Sakvithi and other failed finance companies at a meeting he held with representatives of depositors.
President Rajapaksa has instructed officials to explore the possibility of acquiring Ceylinco Properties through an Act of Parliament and totally settle all depositors. As a first step, the Central Bank has decided to compensate a further 2,505 Ceylinco depositors on January 15.
Vice President Ceylinco Depositors Committee, Dushanthi Hapugoda told the Sunday Observer that they together with victims of Sakvithi Investments and other collapsed financial bodies met the President for over three hours and he assured a speedy settlement to this burning issue. "The President had the time to listen to all our grievances and he gave instructions to Presidential Secretary Lalith Weeratunga, Secretary Ministry of Finance, Dr. P B. Jayasundera, Governor Central Bank, Ajith N. Cabraal, Attorney General Mohan Pieris, Additional Secretary to the President Gamini Senarath and top Police officials to follow up on the meeting," she said. Ceylinco depositors told the President that there were moves to pay back the deposits minus the interest and if this happens some depositors would have to pay out of their pockets.
"The President immediately instructed the Attorney General and Central Bank Governor to counteract this," she said.
Another issue raised by the Ceylinco depositors was to treat all depositors big or small equally and this too was addressed. The President also told the victims of Sakvithi and other collapsed financial institutions to lodge complaints with the CID so that speedy action could be taken to settle their dues. He instructed the IGP to follow this up.
"We are very happy that the President had the time to meet us. We are thankful for the responsible manner in which he brought solutions for this issue," a Sakvithi scam victim told the Sunday Observer. An official of the Central Bank said that 2,615 Ceylinco depositors having deposits less than Rs. One million were already paid Rs. 100,000 each last year. On January 15, a further 2,505 depositors having accounts of less than Rs. 2.5 million would be given Rs. 100,000 as the first instalment.
"The Central Bank together with the Golden Key Depositors Trust Fund is now accumulating more assets of the Ceylinco group so that more depositors can be compensated," the official added.
He said that though there were a total of 9,215 customers only 7,000 have registered with the Central Bank. Meanwhile an official of the Finance ministry said that Presidential Candidate Sarath Fonseka who met a few other Ceylinco depositors with JVP Parliamentarians has said that if he is elected he would settle all the depositors through Treasury Bills.
"This is a joke as the candidate is trying to use public funds without selling Ceylinco property," he said.