175 years of right ROYAL glory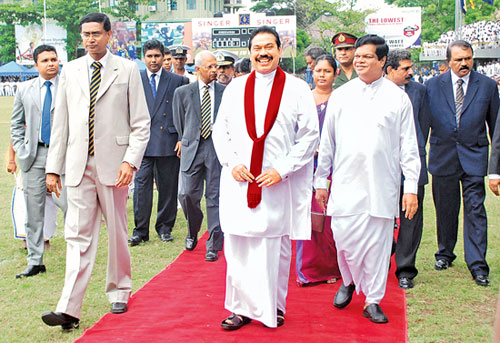 President Mahinda Rajapaksa with Education Minister Bandula Gunawardana, Presidentís Secretary Lalith Weeratunga and other officials enter the venue.
One of Sri Lanka's oldest and leading educational institutes - Royal College, Colombo marks its 175th anniversary this year and the main celebrations took place under the patronage of President Mahinda Rajapaksa on Thursday.
Founded way back in 1835 as the Colombo Academy, Royal College has produced many distinguish personalities in various fields. Awarded as one of the Best Innovative Schools of the World, Royal College has indeed produced great personalities not only to the country but to the world.
President Rajapaksa was accorded a Guard of Honour by the college cadet platoon on arrival at the venue. The cancellation of the first day cover and a new postage stamp also took place as a part of the program to celebrate the anniversary.
Addressing the special general assembly of Royal College, the President said the Royalists should be proud of their Alma Mater for producing outstanding personnel who brought international reputation to the country in their respective fields.
"Outstanding Royalists who showed numerous achievements in their respective fields, have spent their student life in a meaningful way," he said.
The President stressed that the students of the Royal College have unparallel opportunities to pursue many fields ranging from Information and Communication Technology to agriculture.
"Learning is a cumbersome process and all learned people laboured through many hardships to gain knowledge", he added.
He said that Royal College, Colombo as the first State school in the country should guide the nation. President Rajapaksa said that Royal College proved itself that it is capable of guiding the nation during the recent past. The President also commended the achievements made by the college in the sphere of IT sector.
The President added that the parents of Royal College students can check the arrival and departure time of their children to and from the school through the Internet.
He opined that the ICT should be utilised to propagate the country's centuries old heritage to the world too. "We can disseminate information of our indegenous medical system, local industry, Buddhism and the country's rich history to the world through the ICT, he added.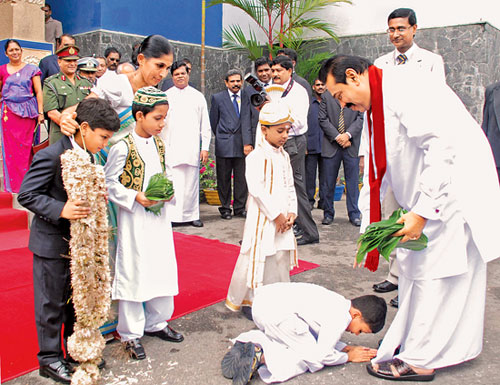 Traditional welcome to President Rajapaksa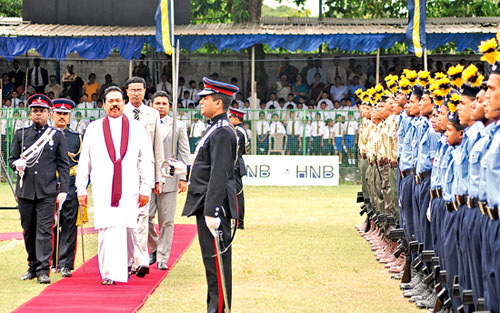 A guard of honour accorded to President Rajapaksa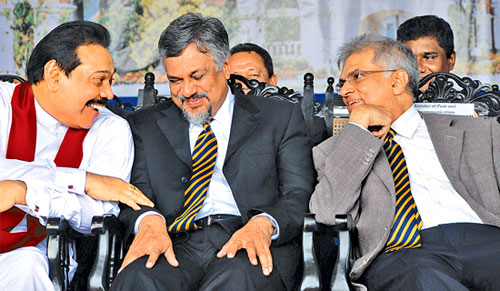 President Rajapaksa in conversation with Organising Committee Chairman, Ajith Peiris and Opposition Leader Ranil Wickremesinghe.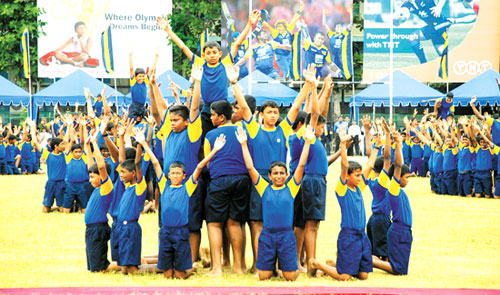 A drill display by students