Waka Waka - By Shakira
"Whenever Wherever" Shakira goes "Waka Waka"
The highest selling Colombian artiste of all time Shakira is the second most successful Latin singer having sold over 50 million albums according to BMI. She is the only singer from South America to reach the number one rung on the US Billboard Hot 100, the Australian ARIA Chant and the UK Singles Chant.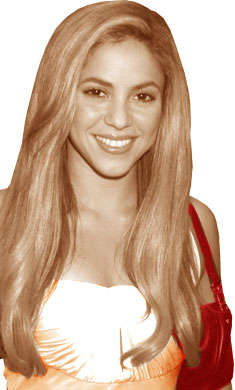 A singer, song writer musician, record producer, dancer and philanthropist she was commissioned by FIFA to compose the official anthem and choreograph the performance of Waka Waka at the opening ceremony. Now a big hit around the globe and on everybodys' lips Waka Waka embodies the excitement of South Africa and the thrills of the soccer matches.
In 2001 her music video "Whenever Wherever" broke through into the English speaking world when her album sold over thirteen million copies worldwide. Today Shikira Isabel Mebarak Pipoli has emerged as a Colombian music icon.
---

The FIFA World Cup 2010 Official Anthem
You're a good soldier
Choosing your battles
Pick yourself up
And dust yourself off
And back in the saddle

You're on the frontline
Everyone's watching
You know it's serious
We're getting closer
This isn't over

The pressure is on
You feel it
But you've got it all
Believe it

When you fall get up
Oh oh...
And if you fall get up
Oh oh...

Tsamina mina
Zangalewa
Cuz this is Africa

Tsamina mina eh eh
Waka Waka eh eh

Tsamina mina zangalewa
Anawa aa
This time for Africa
Listen to your god