Unique portrait artist
Today extremely individualistic art is almost the rule among serious independent painters all over the world. On the other hand, art that is popularly termed 'academic' and is described by its advocates as traditional - and sometimes as that which alone is 'sane' or competent or healthy - is indeed far from any seriously maintained academic tradition. In fact, the genuine academic painter, the painter who is able to express himself fully within a great tradition and with complete understanding of its possibilities and limitations, is a very rare bird indeed, and a fortunate one. Such a painter was J. D. A. Perera.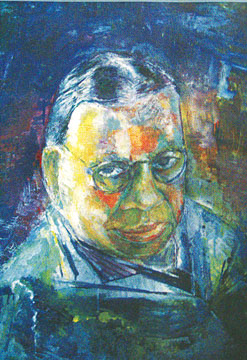 Born in Gampaha in 1897 J. D. A. Perera showed early talent as a young boy of 12 years age. He had his education at the bilingual school at Gampaha, and the village temple where he learnt Sinhalese and Pali. After completing his education at Ananda College and later at Wesley College, he joined the Ceylon Technical College since he had a natural flair for art.
He came under the influence of C. F. Winzer, one of the most competent English painters who came to Ceylon (then) to teach art. While following art classes at the Ceylon Technical College, J. D. A. was noticed by C. F. Winzer who told the principal "Here is one who can draw."
In 1923 he was appointed art instructor at Technical College and later art master in succession to the late D. John Perera. J. D. A. in 1946 was awarded the first government scholarship for art which took him to Europe where he came in contact with the foremost painters of his time. Most of J. D. A.'s work of art are on permanent exhibitions. Some adorn the treasure houses and salons of the world, others have been gifted or taken away as mementos and others have been sold. His portraits hang in many European capitals and in London and Rome. They are of the Royal Academy style.
Portrait painting was his special field. His portraits retained his natural simplicity. He surprises his sitters while they are in the process of thinking. The pictures seem to breathe and talk. His portraits are, in the trust sense, living pictures. They sit at ease in an unobtrusive background - a grey wall, a table, or a curtain. Some of these sitters are from the highest nobility - just ordinary human beings whom by an accident of birth have invested with extraordinary powers.
J. D. A. was known as Queen's House painter nearly every governor would commission him to paint a portrait. J. D. A. had two of his portraits of Sri Lanka personalities accepted by the Royal Society of Portrait painters in London. The portrait of Dr. Senarath Paranawitharana the archaeological commissioner and Donald Abeysinghe. These were hung along on the line at the exhibition art galleries of the Royal Society of British arts in London. J. D. A. was a portrait artist par excellence.
As a painter his best works of art in his 50 years are "The portrait of an old man (in London) and "Portrait of a poet" (in Rome). His paintings were hung in the Leicester galleries, the Paris salon, the National Portrait Society, the Royal Society of Portrait Painters and the galleries Bretan in Paris.
He also had the rare distinction of being made a member of the Chelsea Arts Club. He occupies the centre stage in the world of art education in modern Sri Lanka. He started the Government College of Fine Arts in 1953 for the teaching of drawing, painting, arts, crafts, sculpture, music and dancing. He later became the principal of the Government College of Fine Arts from which post he retired in 1956. He was fifty years a painter and half of the time a dramatist as well.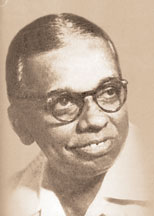 His theatre productions were melodramatically spectacular and in the Tower Hall tradition. Some of these were crowd pullers such as 'Vessantara', 'Siri Sangabo' and 'Harischandra.' They contributed greatly to the Sinhala drama revival of that era. All the well-known John de Silva plays were at that time produced by J. D. A. Perera. He also served as the president of the Sinhala Drama panel of the Arts Council.
It was at Ceylon Technical College he met his future wife Brintilda Karunatilaka. He later got married to her who under her stage name was known as 'Chandraleka', one of Sri Lanka's most celebrated dancers. Both travelled to India while she learned oriental dancing under the famous dancer Gopinath. J. D. A. travelled extensively in India and visited all the cultural centres including Uday Shankar's dance school at Almora. The Devan of Travancore Sir C. P. Ramasamy Aieyer sponsored a dance recital by Chandraleka at the palace of Maharajah of Travancore.
After his return to Sri Lanka he held a 3 man exhibition with David Paynter and Karl Kasman. Earlier his paintings had been hung at the Delhi Inter - Asian Exhibition. His sojourn abroad was of great help to the cause of art in this country. He kept at his task of creating beauty until the last stages of his life. And, to the curiosity of his countless admirers he left his pallette on September 7, 1967.
www.tissahewavitarana.com