TECHNOLOGY
Foxconn Corp to invest over Rs 50m
Foxconn Corporation will invest over Rs 50 mln for channel and development activities in Sri Lanka this year.
Computer hardware distributor eSys Technologies has strengthened their relationship with the world's largest electronic OEM manufacturer FOXCONN.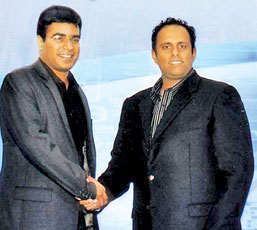 Sales Director, Foxconn Middle East, India and Africa Anish Rahman said that Foxconn has a strong focus on the Sri Lankan market through its exclusive partner eSys who is also Foxconn's key distributor in many regions.
Taiwan based Foxconn is ranked the largest OEM manufacturer in the world with a customer base that include Apple, Sony, Intel, Nokia, HP, Acer and Dell.
Apple iphone, iPad, Sony VAIO systems, Intel Motherboards, HP, Acer and Dell machines are all manufactured by Foxconn.
The company has more than one million employees worldwide with an annual sales revenue of over $ 85 bln.
Rahman said that the IT will be the most powerful industry for the next 100-200 years.
Chief Executive eSys Technologies Shafraz Hamzadeen said that though the world experienced a recession during 2008/2009 the company grew in stature as a distributor.
2010 was the most successful year as the company grew in revenue, people as well as offices and focussed on bringing quality vendors.
There were 1000 channel partners last year making them the only true technological distributor in Sri Lanka. Hamzadeen said that they will introduce many more products this year. He said that with the strengthening of their relationship in addition to Foxconn motherboards. eSys technologies intends to provide a diversified product portfolio such as Nettops, all in one computer, full OEM desktop systems, tablet PCs, 3-D LCDs for emerging IT businesses in Sri Lanka.
eSys technologies an associate company of Ezy Holdings have been distributing Foxconn motherboards since last year in Sri Lanka.
The company is the computer hardware distributor for many global brands such as Intel, gigabyte laptops, AOC LCD monitors, Samsung hard disk drives, optical disk drives, LCD monitors, transcend memory and other components that make up the computer.
SG
---
Schoolchildren to engage in agriculture
Children being educated in the schools in the Western Province will be involved in gardening projects to get an awareness on agriculture.
A MoU in this regard was signed by the Education Minister Bandula Gunawardena and CIC Agri Business Managing Director Keerthi Kotagama recently.
CIC Agri Brand Ambassador Wasantha Dukgannarala said that as the first step a pilot project will be launched in five schools in the Western Province.
The agriculture program for towns will be launched in all schools in the Western Province.
---
Metropolitan launches wide format ROWE machine
With the boom in Sri Lanka's construction industry, planners and architects have had the tough task of retrieving old town plans and infrastructure, and archiving new blueprints that are being developed.
Technology available in Sri Lanka to support this industry on the other hand has failed to keep pace to meeting the demands.
"It is timely that Metropolitan introduced this archiving and large format copying machines because for the construction and design sector to grow they need to have the essential technology and machinery available for support," said Deputy Minister of Construction, Engineering Services and Commmon Amenities Lasantha Alagiyawanne, at the launch of the ROWE large format copying and archiving machine.
The machine is especially made to meet the needs of the construction industry. It can scan large blueprints, clear any marks, folds and patches on dated maps and designs, archive any amount of files, catalogue files for easy reference and create editable soft copies of maps and architectural sketches for convenient editing and updating.
The A0 wide format ROWE machine (made in Germany) fills this much-felt void in the industry making it one of the most sought after equipment among top global town planners and designers.
"The ROWE machine copies formats as large as A0 unlike existing office copiers. Most copiers cannot copy anything larger than the A3 size," said, Head of sales and Marketing, Metropolitan Office Pvt Ltd Ali Asgar Roshanali.
Metropolitan the pioneer workplace solutions provider with 52 years of service excellence is the authorised distributor of the ROWE wide format copier/scanner in Sri Lanka.
A fixture in leading corporations the world over, the launch of ROWE in Sri Lanka will serve to enhance technical know-how and in turn drive greater productivity and efficiency, supporting businesses ably.
---
Free Microsoft software for NGOs
Together with the National NGO Secretariat which operates under the Ministry of Defence, Microsoft Sri Lanka is offering a wide range of genuine Microsoft software including Office 2010, Microsoft server products such as Exchange, SharePoint, Windows Server, and an upgrade to genuine Windows 7 operating system free of charge to all registered NGOs.
Gamata IT
Microsoft Sri Lanka, committed to breaking down barriers that restrict people from using IT in their daily lives, has initiated the campaign as part of their Gamata IT program to provide genuine Microsoft software to registered NGOs who are actively involved in empowering our communities.
Country Manager, Microsoft Sri Lanka Sriyan de Silva Wijeyeratne said, "We are committed to improve IT knowledge and provide IT accessibility across the nation through many far reaching programs we have carried out through the past years.
Some of them, such as our Gamata IT and Software for the 21st century have been truly groundbreaking, whereby we give away our latest and most innovative software absolutely free to rural community groups and university students.
The program which offers genuine software free of charge to registered NGOs is the latest in the Gamata IT initiative, through which we make IT and its numerous benefits accessible to more and more people each year.
That aim is one of the main reasons that we embark on through endeavours such as this where we take IT to rural areas or supply software and tools to those who work with rural communities."
Office 2010
The program offers latest software and application upgrades such as Office 2010, the latest productivity suite.
Office 2010 with its enhanced user-friendly features delivers productivity enhancements any organisation seeks that enable them to save time and money in their day-to-day operational work.
Also on offer is the latest Server products range from Microsoft that includes products such as SharePoint which is the most sought after collaboration technology that is ideal for the NGO type of scenario where they need to communicate and collaborate with multiple stakeholders and be up-to-date across geographical and physical boundaries.
Microsoft Exchange Server provides the advantage of operating a cost-effective and flexible communication platform that is safe and reliable.
The program also gives the opportunity for NGOs to upgrade their existing genuine operating system licenses on computers running on older versions of Windows such as Windows XP or Vista to the latest Windows 7 operating system.
Windows 7, the latest operating system launched by Microsoft simplifies the use of a computer making everyday tasks faster and easier.
Windows 7 also comes with the Language Interface Packs in Sinhala and Tamil, enabling the computer to be used in a more familiar local language.
A key advantage of this program is that by using genuine Microsoft software, NGOs have the opportunity to deploy latest and world class technology to run their day-to-day operations making them more productive and efficient which gives them the leverage to focus their attention on their core activities.
With access to the latest Microsoft technologies and applications, the NGOs will also have the option to open up new possibilities to serve the communities they serve.
Native languages
Another advantage this program affords is the ability to operate computers in our native languages of Sinhala and Tamil with the use of Language Interface Packs for Windows and Office that will enable the NGOs to reach out to more underserved communities in rural Sri Lanka.
This program is an extension of the Microsoft Gamata IT campaign to provide IT access to the most rural villages of the country.
The Gamata IT campaign has already reached many provinces in the country empowering students, youth and larger rural village communities so that they can become active participants of the knowledge economy.
Additionally, under the Software for the 21st Century program all state universities are provided with the latest cutting-edge Microsoft software absolutely free of charge, exposing their students and faculty to the best of world-class technology.
Barriers
Addressing the barriers of IT proliferation in the local context which includes geographic accessibility, finance and ultimately the most fundamental of all - language, Microsoft launched the groundbreaking Sinhala Language Interface Pack (LIP) in collaboration with the Information and Communication Technology Agency (ICTA) of Sri Lanka.
Registered NGOs
Microsoft invites all NGOs registered with the National Secretariat for Non-Governmental Organisations to register for the program and avail of the latest software and tools available to serve the communities or projects they are involved in with better skills and enhanced capability.
---
World's first Panasonic 3D camcorder launched
Panasonic together with Softlogic launched the world's first Panasonic 3D camcorder last week in Colombo.
Sri Lankan viewers can now enjoy the magic, mystique, and exhilarating appeal of the revolutionary Panasonic 3D technologies.
As a result of research conducted in collaboration with Hollywood film studios over the years, Panasonic developed a professional 3D system camera and succeeded in bringing high-quality FULL HD 3D images to the home for viewing on 3D compatible TVs.
The development of the world's first consumer 3D camcorder, the HDC-SDT750, which allows 3D images to be recorded at home by simply attaching a 3D conversion lens, is the next step.
Incorporating Panasonic broadcast technology, this new 3MOS System camcorder lets users easily create their own 3D movies, something that only professional image producers were able to do till now.
---
SLT launches Wimax l6e
Sri Lanka Telcom (SLT) will demolish the barriers of digital divide in Sri Lanka with its revolutionary products said CEO SLT, Creg Young addressing the launch of WiMax 16e of Sky Network (Pvt) Ltd., a subsidiary of SLT.
He said the launch of the first ever high speed broadband technology will mark an important milestone in the country's information technology.
"Sri Lanka has made great progress in information communication technology with the expansion and penetration of high speed broadband technology", Young said.
WiMax 16e popularly known as 4G technology is marketed under the brand name Skymax of Sky Network.Cost effectiveness, high performance, maximum functionality and efficiency are the key benefits of the product.
Russia, US, Taiwan Japan Malaysia and South Korea are some of the countries that use WiMax 16e technology.
Young said SLT's vision and strategy is to provide all Sri Lankans access to high-speed broadband connectivity that will help the country to keep pace with development.
Director, Sky Network, Himal Hettiarachchi said the target this year is to have around 25,000 WiMax customers and around 100,000 in 2013.
The coverage of WiMax 16e will comprise nine districts under phase one of the program.
LF
---
Silicon Valley innovation for Brandix
Latitude655, the leading technology consultation guru with access to the best of Silicon Valley Technology together with apparel manufacturing giant Brandix forged an alliance that seeks to tap the potential technological innovation has to offer; pioneering a veritable spring board for other companies of scale.
By using Silicon Valley technologies, Latitude655 empowers organisations and helps them achieve their business goals.
Brandix being one of the largest manufacturers and exporters of international apparel brands worldwide employs technology to increase the efficiency of their business processes and enhance business to business relationships, while leveraging their brand through product innovation.
In this instance, Brandix requested a thorough appraisal of its business process structure and use of technology and enterprise level applications in order to improve and propel potential efficiencies within the Brandix network.
By carrying out a detailed analysis of existing practices and technologies used in Brandix, the Latitude655 team was able to recommend a technological roadmap that would help Brandix reach its organisational goals.
This recommendation mapped out a ten year plan which covered business processes and sub processes as well as enhancements and upgrades to two core systems in use within Brandix.
This was the outcome of a twelve week assessment which included multiple interviews of key decision makers at Brandix and Brandix customers as well as an analysis of data from Brandix employees on the current technologies and processes used. The assessment and consultancy process for Brandix was close on the heels of another ground breaking project which involved the creation and execution of an executive dash board for Brandix's top executives which allowed them to gain enterprise-wide visibility to key performance indicators (KPIs) within the organisation.
This Dashboard has since been adapted to include additional features and has been rolled out to other executives within the Brandix network.
Latitude655 in partnership with Silicon Valley Innovator, Monvia has a proven track record of building solutions for both local and foreign clients and uses its technological know-how to empower businesses to increase revenue, while simultaneously cutting costs and increasing productivity in a manner that is non-disruptive to the business.
---
ICTA grants for IT programs in NE
ICTA will offer grants to IT companies which are planning to open branches in the North and East, provide inhouse training and carry out train the trainer programs said an ICTA spokesman.
The companies who already have branches or are planning to have branches in the Northern and Eastern provinces and the companies who have already received the above grants and carried out regular training of staff also can apply.
Grants of $2500 - 10,000 are available to subsidise the cost of inhouse training on e-learning and continuous improvement programs. Small and medium sized ICT companies with upto 100 staffers are eligible for the grant.
Grants upto $15,000 are available for domestic IT companies to subsidise the cost associated with obtaining the services of a specialised trainer to train the staff, said the spokesman.
SG