Anton Chekhov and Sri Lanka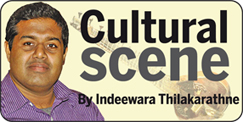 In this column, I want to focus on the life and times of Anton Chekhov and his overarching influence on literature in general and on Sri Lankan writers in particular.
Anton Chekhov's 150th birth anniversary was celebrated at the Russian Centre in Colombo on January 29. The 150th birth anniversary of Chekhov is not only an important milestone in assessing the lasting legacy of the master story teller, but also an occasion to reflect how and why he is still a powerful force on creative writing and drama around the world.
A lot of water has flowed under the bridge and many changes have taken place in the field of literature and literary criticism since Chekhov left the stage of world. Chekhov is considered as one of the greatest short-story writers of all time. He was also an accomplished playwright.
The universal appeal of Chekhov's work both in the field of short prose and drama has remained as a live wire around the world. It is believed that every week one of Chekov's plays are either staged in original form or as an adaptation in major cities around the globe.
Life and times of Chekhov
Anton Pavlovich Chekhov was born in the small seaport of Taganrog, Ukraine on January 29 in 1860. He was a son of a grocer and the grandson of a serf (slave) who had bought his freedom. Chekhov spent his early years under the shadow of his father's religious fanaticism while working long hours in his store. Chekhov's life straddled two landmarks of Russian history. He was born one year before the formal liberation of the Russian peasantry from feudal serfdom. He died (on July 15, 1904) months before the first Russian Revolution of 1905.
Chekhov worked for the theatre. His dramas include "Kalhas" ("Swan Song",1887), plays "Ivanov", "Leshy" ("The Wood-goblin", 1889, was altered later in the play "Uncle Vanya"), Vaudevilles "About a Harm of Tobacco" (1886), "The Bear", (1880), "Proposal" (1888-89), "Anniversary" (1891-92), "The Seagull" (1896), "Uncle Vanya", "The three Sisters" (1901), "The Cherry Orchard" (1903).
The plays such as 'The Sea Gulls', 'Uncle Vanya', 'Three Sisters' and 'The Cherry Orchard' are still popular around the world and they are either adapted or translated into numerous languages including Sinhala. His farces which Chekhov himself called "Vaudevilles' such as 'The bear', 'The Proposal', 'A Tragic Role', ' The Wedding', ' The Anniversary' and the farcical monologue ' Smoke is bad for you' have been widely acclaimed and still immensely popular throughout the world.
Anton Chekhov and Sinhala writers
His works such as 'The Cherry Orchard' became extremely popular through translations and adaptations. This play was first translated into Sinhala by Prof. Mendis Rohanadeera. Martin Wickremasinghe was one of the Sinhala literati of the day who was influenced by Chekhov's work. Wickremasinghe's short stories and novels which are still widely read and studied in Sri Lanka have been influenced by Russian literary works in translations. Gunadasa Amarasekara's early short stories also reflect an influence from Chekhov's work. For instance, Wickramasinghe's celebrated literary work 'Gamperaliya' which was recently translated into English and also made into a film by Lester James Peries is in some respect similar to the theme of Anton Chekhov's 'The Cherry Orchard'. In 'The Cherry Orchard', Chekhov portrayed the fall of feudalism and the emergence of capitalism through the ups and downs of a feudal family in southern Sri Lanka. Martin Wickremasinghe explored a similar theme in 'Gamperaliya' but in no way is an adaptation or imitation of Chekhov's work.
The fall of Kaisaruwatte Muhandiram (landed gentry) and rise of Piyal as a successful businessman is not a mere family saga but a depiction of a historical transition of Sri Lankan society from feudalism to the emergence of a market economy. Both literary works are in some respect similar in theme though they are set against diametrically different backdrops. What is important here is not the fact whether Martin Wickremasinghe had adapted 'The Cherry Orchard' into Sinhala as 'Gamperaliya' or not but the fact that Anton Chekhov, as many other writers of the era had influenced his work.
Like Chekhov, Wickremasinghe also liberally used the technique of stream of consciousness in his literary works. Considering the contemporary Sri Lankan Sinhala and English writers, Anton Chekhov's role in shaping the form and content of their literary work, particularly in the genres such as the novel and short story, is felt today more than ever before.
There is a lot our Sri Lankan writers could learn from Chekhov's work before advancing into the use of literary techniques such as non-linear narratives and application of de-construction, or half understood theories on post-modernism in their literary works.
Chekhov had a Sri Lankan connection! On his way from a trip to Sakhalin, Chekhov visited Colombo. During his brief stopover in Ceylon, he visited Kandy. Martin Wickremasinghe's booklet, Chekhov Ha Lankava (Chekhov and Sri Lanka, 1970) provides some useful information on his brief journey to Sri Lanka. It is well-known that his famous short story 'Gusev' which is set in a ship's infirmary was conceived on his way from Colombo to Leningrad in 1890. This story which portrays the thoughts and interactions of two sick prisoners and the end of their lives provides deep insights into human life, hopes and despair.
Unfortunately, some of the contemporary Sri Lankan writers' works sound more lop-sided and derailed in terms of their narrative techniques and depth of work. It may be useful for these writers to read and study Chekhov again and again, to learn the art of realism and how to portray the nature and complexities of human life.