Sunburnt Home - an Australian-Sri Lankan novel
Chapter 8: A tale of Buddhist meeting
As the first day of a new year arrived, Jayadeva was more concerned about insufferable hot weather than his failed attempts to find a job during the last eight months. The mercury hit 42 degrees centigrade warming up Perth as if in a furnace, and stayed relatively high throughout the night. The few pedestal fans they had purchased were not good enough to keep his family in tranquil. Both Sunitha and Malini complained of hot weather whereas small Asela changed his regular sleeping habits and started crying most of the day though he slept under a fan calmly at night.
Although the social welfare payments they received fortnightly were sufficient to cover the day-to-day expenses and rent, the income was not good enough to buy a car, thus prevented their movements. Having heard about the Buddhist monks and their activities in Perth, Jayadeva was very keen to attend Buddhist talks and meditation sessions on Friday evenings and weekends whereas Sunitha and Malini were keen to visit places.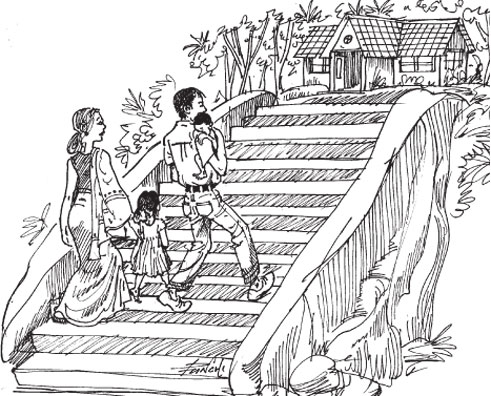 A person called Sirimal Chandrasekara, a Sri Lankan born psychiatrist he met at the Wellington Street fish market had also mentioned about the Buddhist Centre at Nollamara and offered him a lift on Fridays. However, Jayadeva didn't want to exploit his kindness as Sirimal lived in a suburb called City Beach in opposite directions to Nedlands. However, Dr. Chandrasekara was kind enough to come over and drive Jayadeva and family to his place for a Sri Lankan meal in November. During the encounter, he gave a few ideas to Malini about practising medicine in Perth and encouraged her to take a career path in psychiatry.
Sirimal had worked in New Zealand as a psychiatrist before coming over to Perth and his wife Nirmala was an English teacher and taught English at a high school closer to a suburb where they lived.
On the fourth of January, Jayadeva realised that in three days, Sunitha would turn five. When she turned four years of age while they were in Sri Lanka, Jayadeva drove all the way from Kekirawa to Kalutara and visited Kalutara bodiya and offered a Bodhi Puja [1]. Offering Bodhi Pujas on children's birthdays was an essential ritual for Gamage family. Jayadeva always found time to attend such rituals without fail as it was a habit, he had acquired from his parents who were devoted Buddhists.
When he worked in Colombo and Sunitha turned two, neither Jayadeva nor Malini had issues in finding time to offer a Bodhi Puja as they then lived in Ratmalana.
It was a less than an hour's drive to Kalutara. However, when Jayadeva got his new job in Mahaweli as a General Manager in charge of a large settlement area, it became a problem as it was a long journey from Kekirawa to Kalutara.
Malini complained about their last pilgrimage to Kalutara saying that the best place to offer a Bodhi Puja was Sri Maha Bodhi in Anuradhapura. However, last year, for two birthday rituals, she had to take three days leave for each birthday as the long journey consumed a day each for travel back and forth and another at Jayadeva's mother's house in Kalutara. With difficulties Malini managed to visit her parents in Mathugama after the rituals.
Jaydeva was unsure whether he could offer a Bodhi Puja this year, but Mrs Weerasuriya reminded them about the Buddhist temples in Perth.
She also told him that a group of Buddhist monks who followed Theravada tradition as practised by forest monks in Thailand were living in Perth, and that they had two centres; one near the city and the other in Serpentine hills off the Southwest Highway. Jayadeva wondered how to visit the far away monastery in Serpentine as they didn't have a vehicle.
Even the travelling to the Buddhist centre in Nollamara near Perth City was impossible as they had to take at least two buses to reach there, and the burden of carrying children.
When he enquired again from Mrs Weersuriya about the need to offer a Bodhi Puja for Sunitha's birthday, she said: "You should either go to Serpentine monastery or visit the monks in Nollamara on a weekend.
I could drive you to any of the places but seventh of January is not good as some of our friends are coming from the Philippines to meet Lankanatha. This is a crucial meeting for him. We'll tell you some news soon!"
Jayadeva realised that she didn't want to share more information on their friend's visits from the Philippines.
"Why not you rent a car from Perthwater Hire Cars in Subiaco? They also have two other branches; one in Fremantle and the other in Perth and she gave information in her usual efficient manner.
When he mentioned that he would to take Sunitha and the family to the forest monastery in Serpentine hills on seventh of August, Malini's reaction was negative. "How are we going there? I am looking forward to go to Cottesloe beach with kids. Damien's Granny said she is happy to drive us there on a weekend."
* * * * *
Jayadeva, took the bus to Subiaco and walked to the end of the Hay Street and found the hire car office. There was a large sign:
'We Offer No frill Car Hire'
The man at the reception was not friendly but he explained the conditions and cost of hiring a car.
"We can offer you a brand new Ford Laser for 25 dollars a day. This entitles you to travel 100 kilo metres per day and there is no cost if you keep to the limit."
"Oh, I want to take my family to Serpentine and it is far away from Perth," Jayadeva said sadly.
"Yes, No worries! You can drive up to Serpentine. What I mean by city limit is the Perth Region and you can even take the car up to Mandurah!"
How many people will travel in the car?
"Just me, my wife and our two children."
"How old are they?
"Five and two plus!"
"Oh, then you must also hire a safety capsule for the baby. There is an extra charge for that!"
"Why is that? You have an advertisement to say 'No Frill Hire Cars!"
"That's a Law, mate! I'm just telling you what to do. This is Australia and we have good road rules!"
"Okay, then I will hire a car for three days!" Jayadeva said calmly.
"The short term rates are different, and if you hire a car for less than seven days, the daily rate is thirty five dollars! You may have to take a collision insurance policy as you have an international driver's licence," the person emphasised.
"Alright!" Jayadeva said with a controlled tone.
"Could I have your credit card please?"
Jayadeva was bit puzzled and replied: "I have no credit cards!
"Oh then you have to leave a cash deposit; three hundred dollars and if you bring the car without any damage, we'll give your money back!"
Jayadeva calmly walked back to Subiaco town centre to locate an ATM to withdraw money from his Commonwealth saving bank account. It was another hot day. Although it was a short walk, he felt as if the sun was chasing him like a foe.
As soon as Jayadeva reached home, he rushed inside and called Malini and Sunitha.
"Look what we have got in the car port!"
"Dad is this a new car? Is it ours? It's small, but I liked it!" Sunitha said happily.
Malini realised that it was a hiring car as the trade mark of the car company was visible on the number plate.
"How much it cost you?" Malini enquired.
"Not much!" Jayadeva said as he didn't want to reveal the costs of hiring a car.
"Thaththa, as we have a car now, shall we go for a drive please?" Sunitha requested jumping up and down.
"Duwa, it is almost lunch time now, and we'll go for a long drive tomorrow to meet monks in a Buddhist temple as it is your birthday. Can't you remember last year, we drove all the way to Achchi Amma's [2] house and offered a Bodhi Puja for your birthday?"
"Where are we going for a Bodhi Puja in Perth!" Sunitha asked as she didn't know the existence of Buddhist monks in Perth.
Malini wanted to make two birth day cakes, one for the monks and one for Sunitha. After lunch, she sent Jayadeva with Sunitha to Charlie Carter's Super market to buy birthday candles and a few more items.
The long drive to Serpentine hills was pleasant and Jayadeva drove cautiously via Albany Highway to Armadale and entered the road to the Monastery through the Southwest Highway. The large farmlands with lamb and cattle herds looked like burnt picture post cards due to long dry summer. Jayadeva had to stop the vehicle several times at the request of Malini and Sunitha to take photographs.
The temple was located on a picturesque hill. He drove on a narrow road which spread through a thin space separating a valley on the left and a hill on the right. The long winding road looked liked a black rubber belt spread in between the hills and the valley below.
The Monastery was hidden among large gum trees and later they learnt that all the monks were living in separate kutis-huts-spread across a large forest land that spread over thousand hectares. The Buddhist monks depended on alms offered by lay people and lived with no modern amenities such as running water in their living huts.
Just after 10.30 a.m., the monks arrived and congregated at the meeting hall. As soon as the monks arrived, the lay devotees who were mainly Thais stood in a queue and offered rice to monks who came one after the other based on their seniority. After receiving rice, the monks went inside the food hall where they were served dana-alms-by Anagarikas [3] and Jayadeva knew that they were trainee Buddhist monks.
Afterwards, the monks carried their food bowls to the meeting hall upstairs where they usually have their main meal of the day. It is the Buddhist tradition that a lay person must offer sanga dhana [4] and all other meals; hence after the monk returned to the meeting hall with food, the devotees followed them where the Buddhist rituals were conducted before the monks had their meals.
After rituals of offering were completed the head monk said: "Now you have offered sanga dana and gathered enough merits. Please go down stairs and join us for a meal. If you want to see me afterwards, please do come back!"
--What a different kind of Buddhism these monks practise? Though their accent is different when they chant Pali Buddhist sutta, these monks must be practising the purest form Buddhism as followed by Buddha and his disciples for over two thousand and five hundred years. What a privilege for anyone to be a monk in a monastery like this!
After the monks and Buddhist devotees had their meals, Jayadeva and Malini went up and met the head monk.
"I'm Ajhan Buddawamso and our Abbot is away today. What can I do for you? You must be new to Perth as I have not seen you before! How are you and welcome to our monastery."
"Yes, Venerable ...Bhanthe..." Jayadeva got mixed up his Pali and English ways of addressing Buddhist monks but Ajhan Buddawamso sat calmly and serenely.
"We arrived from Sri Lanka in Perth only last June. We didn't have means of coming over. I'm still unemployed and we haven't got a car!"
"Do you know that all our monks are not employed in the job market?" The monk said pleasantly.
"Oh this is the fifth birthday of this young lady and I saw a cake with five little candles in the dining hall. Thank you for offering sanga dana."
This is our birthday girl, Sunitha who turned tuned five today," Jayadeva explained.
"Oh, she is then elder to me, as my birthday falls on tomorrow, eight of August! We would have met previously in Samsara for us to meet again in Perth," the monk said jovially but Jayadeva thought that there was a deep Buddhist philosophy in that simple statement.
"Venerable, when we are in Sri Lanka, we took both our children to a temple on their birthdays and offered Bodhi Puja and we came to do the same today."
"It is a great thing that you bring your family to a Buddhist temple on their birthdays. As Buddhist we must learn that birthdays are there not to celebrate! It's important for children to learn that they would go through many births in different forms in different lives. Let me give you blessings. Now please bow down three times for Buddha, Dhamma and Sanga," Ajhan said in a serious tone this time and recited a few stanzas from Maha Mangala Sutta.
"Please take your time and walk around. We normally close the gates at five o'clock. You must also come over to Nollamara regularly and meditate. It's sure a way to learn the path for liberation!"
Afterwards they found a Bodhi sapling to which they poured water reciting Bodhi Puja stanzas in Pali.
The family walked up the stone steps and reached the main Sangha meeting hall of the monastery. As soon as he entered the hall Jayadeva felt the deep silence inside. He sat on a corner and took a deep breath and attempted to mediate but his mind was like a kite without a string but his mind found the serenity of silence at least for a minute or two.
All Buddhist monks must be having this experience of deep silence. I wonder whether it is easy to be a Buddhist monk and meditate everyday to end all the sufferings of this life? What about my family and my commitment for them, I'm not only a husband but also a father!
Little Sunitha saw her silent father and came running from one end of the long hall to the other and took his hands and asked:
"Are you okay, Dad? Why are you closing your eyes? Shall we go home, Dad? I feel a bit tired. It's very hot day today!"
Jayadeva drove calmly and Sunitha looked around and gazed at the picturesque farms in Serpantine-Jaradale region.
"I think we should also have a small birthday party at least for a few friends from the kindergarten as Sunitha was invited for a few parties by her friends!" Malini said looking at sleeping boy in the safety capsule."
"Let's see," Jayadeva said and pressed the accelerator unconsciously.
"Yes, Dad, I would like to have a party with my friends at Hungry Jacks. I was invited to several parties there!"
Jayadeva felt as if the conditioned air in the hiring car paralysing his lungs. He opened the windows and attempted to breathe fresh air from the outer atmosphere. As soon as the hot air invaded his lungs, he felt as if warm water was filling every tiny air pocket in his lungs. He closed the window of the car to prevent warm weather invading him and his family.
Footnotes:
[1] Bodhi Puja -The worship of the Bodhi-tree (Sacred Fig; Ficus religiosa and Bo-Tree in Sinhala) has been a popular ritual in Sri Lanka from the time a sapling of the Bodhi-tree at Bodhgaya, India (under which the Sidhartha Gautama attained Enlightenment) was brought and planted at Anuradhapura during the third century B.C.
[2] Achchi Amma - The Sinhala word for grandmother.
[3] Anagarika - In Theravada Buddhism, an anagarika is a lay attendant for monks. The term also means one who has left the home life for a homeless life in a Buddhist monastery. The word implies relinquishment and renunciation.
[4] Sanga Dana - Offering gifts including food to the Order of Buddhist Monks.
For feedback and readers' response: [email protected]
Disclaimer: This is a work of fiction. Names, places, characters and incidents either are products of the author's imagination or are used fictitiously.