Army Commander of Pakistan due here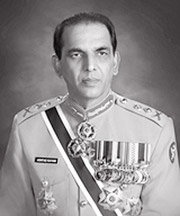 The Army Commander of Pakistan General Ashfaq Parvez Kayani will arrive in Sri Lanka on a three-day official visit on Wednesday.
During his visit, he will meet Defence Secretary Gotabhaya Rajapaksa and Army Commander Lt. Gen. Jagath Jayasuriya and the Commanders of the Navy and Air Force. He would also hold bilateral discussions on strengthening the security between the two countries.General Kayani is scheduled to visit the Defence Services Command and Staff College.
Being the former Director General of Inter-Services Intelligence, he was the Deputy Military Secretary to late Prime Minister Benazir Bhutto, during her first stint.
-SS