Eight ways to use social media
If footballers can be disciplined for their tweets and Facebook is a hotbed of anti-corporate campaigning, why would you use social media as part of your reporting strategy? Here are eight things to bear in mind as you weigh up 21st-century communications.
Stay in touch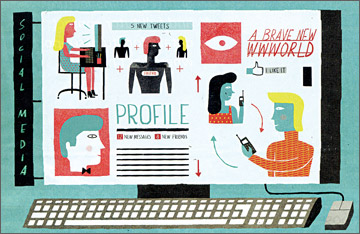 Social media is all about taking part in a wider community - interacting with investors, employees, customers and stakeholders. That means establishing a presence on social platforms. It is starting to look like a must-have, even for finance folk who are traditionally cynical about proactive networking.
According to a recent survey by Rober Half International, 28 per cent of CFOs in the US said staying connected through professional groups is the best way for accounting and finance managers to enhance their professional visibility. Using social media sites such as Linkedin and Twitter came a close second, with 22 per cent.
And bear in mind that many companies now look at your social media footprint as part of their recruitment policy. If you ignore Linkedin - and, to a lesser extent, other sites - you risk being less marketable.
You don't have to go public
Big brands, celebrities and campaigns set up Facebook groups to build a following, "crowdsource" ideas and get messages out quickly, simply and cheaply. Financial communications - internal or external - don't require quite that level of exposure. (Yammering on about your company's private, probably sensitive, financial data is bound to breach listings rules, too). But that doesn't mean you can't use social media.
"Some companies have established a kind of walled-garden community - so analysts and investors can communicate as people would on Facebook, without it necessarily being out in the open," says David Bowen of web consultancy Bowen Craggs.
"Facebook is a young person's medium, anyway. Companies can come across as 'begs' - playground slang for being desperate to be in with the cool kids."
Remember: it's just another channel
Social networks and blogs are just additional communications channels. There's no reason why you can't use them to promote news, talk about what's happening in the business and remind people that you've got somethings to say. If your CFO gave a great talk in an analysts' webcast, it can't hurt to tweet about it.
"Use social networks as extension to your company's traditional financial disclosure dissemination, such as news releases, SEC filings and email blasts," says Dominic Jones, who runs IRWebReport.com. "To start, your website needs at least one RSS feed that is updated with all new releases - then everything else becomes easier. You can attach a Twitter account, Facebook page or Linkedin page to this feed so that all new information you publish on your website is automatically sent in real time to your social network accounts. A free service called Dlvr.it makes it easier."
Don't lump it all together
"It's dangerous to think of social media as just one concept," says Bowen. "It's a tool bag, so it's important to separate out the different parts if you're going to use them all appropriately."
For example, many companies have experimented with senior management blogs. If your CFO's blog is just a rehash of analyst presentation or market announcements, it's going to be boring. Equally, your engagement with customers via a Facebook page will be different from an IR channel on Twitter that is aimed primarily at investors.
"Blogs work best in industries where the customers are also experts, such as IT and some of other B2B sectors," adds Bowen. "They don't have to talk down to customers and the conversation is engaging. GM manage it with vice-chairman Bob Lutz's blog (fastlane gmblogs.com/?s=lutz), his enthusiasm for cars was shared by readers, so it was much richer."
Think links
What unites social media - in fact, what makes the web what it is - is linking. Twitter's 140 characters won't allow you to say much about your swanky new invoice system or your quarterly results. But a headline works fine if there's also a link to a blog, company YouTube channel, a Linkedin discussion or your IR site.
So your mainstream communications need to be social media friendly, too. "For example, instead of publishing financial tables as PDFs or HTMI, use the Microsoft Excel Web App to publish them in an interactive online spreadsheet that investors can manipulate," says Jones. "This will also enable financial journalists and bloggers to embed the spreadsheet and use it to support the content of their stories."
The downside of that is bad news spread fast. "It used to be that an ugly rumour about your financial results on a blog would probably languish in obscurity," says Bowen. "But these days, every journalist and blogger keeping an eye on your company via Twitter will probably see it." A link in a tweet can spread like wildfire as it's "retweeted" (RTed) - and demands fast action by IR or PR specialists.
'Social' is two-way
Simply put, listening is more important than speaking. Bigger companies assign people from their communications or support teams to listen in on social media. Mention BT Broadband negatively in a tweet, for example, and BTCare will almost certainly get in touch within minutes.
For financial communications, it can't hurt to have someone in the team keeping an eye on what people are saying. And for management accountants working closely with sales or support functions, it's a great way to judge how well your operational charges are doing their jobs: just watch for mentions of product names or brands.
Most Twitter applications allow you to set up keyword searches, which are updated in real time, while Google Alerts will email you when keywords are used in blogs.
"Once a company is comfortable pushing information out, the next step is to begin interacting with the audience," says Jones. "Start with simple things, such as asking people to submit questions for an upcoming earnings conference call. But if you ask for input, be ready to acknowledge and act on it."
Experiment - and be sceptical, not cynical
There's no right or wrong way to proceed - "best practice" is constantly changing. "Twitter blurs your audience, for example," says Bowen. "It can be anyone, from investors to members of a pressure group. So it's worth experimenting to see what works."
Look at the big corporates to see how they're experimenting. (For a FTSE 100 list, see http://snipurl.com/ftsetwits) Also bear in mind that the big social network five years ago was MySpace; five years before that (in the UK at least) it was Friends Reunited.
This is a fast-changing environment, but writing social media off as a flash in the pan is a recipe for obscurity.
Whatever the platform, "have a social media policy in place," says Jones. "There are many online - Cisco's are particularly good."(blogs.cisco.com/news/ciscos_internet_postings_policy). Remember, some of the finance teams handle sensitive information, so your policy should be sufficiently flexible.
Lawyer up
"In this field, lawyers will stop anything they think even remotely skirts interesting areas," says Bowen. "It's one of the big challenges for social media."
There are the obvious reputational and even libel risks of, say, a financial controller using Twitter or Linkedin to attack a customer for late payment. Then there are the regulatory issues.
Jones explains one solution in the US, where corporate use of social media is most advanced.
"If you're a public company, it's probably best to use StockTwits as your route on to Twitter," he says. "Your messages will go to its own finance community, to Twitter, Yahoo! Finance and CNN Money all at the same time.
This wider distribution reduces the risk of something you tweet being considered 'selective disclosure'."
Financial Management