Maruti Suzuki India's Company of the Year
Maruti Suzuki, already a winner in international markets for making the Alto - the world's most popular small car, continued its winning ways grabbing Business Standard India's Company of the Year award for 2010, announced Business Standard.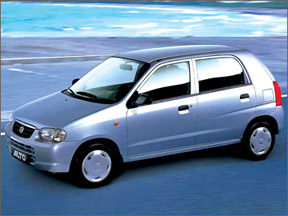 The Prime Minister of India, Dr Manmohan Singh gave away the awards at a gala ceremony in New Delhi which also feted P M Murthy, head of Asian Paints, whom the Business Standard had chosen as India's CEO of the Year, reported the announcement.
Business Standard, which publishes an annual list of India's top companies based on net sales, is one of India's leading business newspapers. Known for its heavy-weight judging panel as much as for the prestige it bestows on the winner, Business Standard India's Company of the Year takes pride of place in assessing the best of India's corporate world.
Overall performance of India's largest automaker Maruti Suzuki impressed the jury comprising some of India's best known leaders of industry, who noted several remarkable achievements as material to Maruti lifting the award this year.
Among them, the jury made specific mention of the Alto's singular achievement of becoming the world's largest selling small car. The unmatched rural reach and positioning of the brand in India, and the company's ability to provide consistent service quality and adopt new business models that suit customers were other factors that tipped the scales in Maruti's favour.
The six-member jury was led by ICICI Bank Chairman K V Kamath. The other jury members were Sun Pharma Chairman/MD Dilip Shanghvi, Thermax Chairperson Ms Anu Aga, KKR India CEO and Country Head Sanjay Nayar, Ernst & Young CEO and Country Manager Rajiv Memani, and Tractors and Farm Equipment (TAFE) Director Mallika Srinivasan.