Jaffna: Rehabilitation continues:
Rich harvest despite bad weather
Lives of people in the inner regions of the Wanni are returning to normal.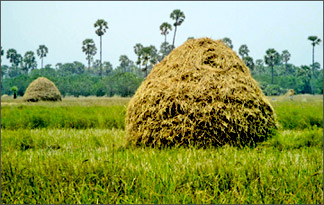 B. Mariyadasa, A. Sivambaram and V. Annakadi who I met at Poonagar Divisional Secretariat, spoke Sinhala fluently. They were waiting for their turn to face an interview for a bank loan to restart their livelihoods. After a stay of 18 months in Menik Farm IDP camp, they returned to their home town-Jayapuram in July last year.
Mariyadasa said that the people in Jayapuram lost everything they earned on two occasions.
The majority of the people living in Jayapuram are Tamils who escaped from the South after the 1983 July ethnic riots.
"I lived in Avissawella where I had a well established business. In 1983 we had to escape leaving everything" he said. Sivambaram is from Teldeniya, Kandy and Annakadi is from Matale.
At the final phase of the war on terrorism they again lost everything, including their houses and went to the IDP camp. They have started their lives again from scratch. They are hopeful of the future and have begun a new leg with courage. What they request from the government is to repair the irrigation network.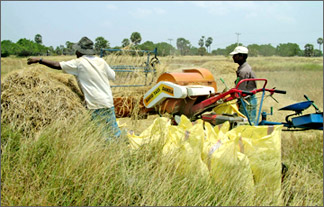 All forms of economic activity have begun at primitive level because infrastructure is not fully developed and most of the internal parts of the Wanni region are still isolated.
The filling station in Pooneryn is an example. It is a tin roofed hut that stored fuel in plastic cans for sale. Fuel is transported from Jaffna or Kilinochchi in cans by bus.
The smithy uses a generator to generate electricity for welding.
Aruwali Arts College based in a cadjan hut, conducts tuition classes in Pooneryn, K. Sandrapavan, a teacher of Nallur Maha Vidyalaya who conducts Tamil classes said that at last year's O/L examination, students of his class obtained good results. Over 100 children attend classes conducted for all subjects and are charged Rs. 50 per subject per month.
Government officials and the Army are assigned the difficult task of assisting rehabilitation in these conflict affected areas. Dr. Basnayake the only doctor at Pooneryn hospital is assigned a difficult task with minimum facilities.
He is the only doctor for 24,000 families and over 15,000 officers of the Army and Navy. The hospital is located in a rented house. There are no doctors' quarters, electricity or nursing staff. "The army provides me food and lodging and we have a generator to use in the night. Medicine and an ambulance are available. But due to dilapidated roads, it takes two and a half hours to send a patient to Jaffna or Kilinochchi hospitals" Dr. Basnayake said.
Dr. Basnayake said that the welfare of the people is mainly looked into by the Military and the Provincial Council is not doing the role expected of it.
However, things are getting better./ Eights months ago the situation was miserable. There was no water and sanitary conditions were awful.
People suffered with skin diseases, diarrhoea and respiratory diseases. Children were malnourished.
But today the situation is far better with people having food.The Maha season paddy harvesting is now ending and farmers said that despite bad weather the harvest is good.
The Pooneryn-Sanguppidy bridge which was opened recently has expedited recovery in this area.
The bus service between Mannar and Jaffna has recommenced and people have easy access to Jaffna.