Munchee renovates Ritigaha Oya bridge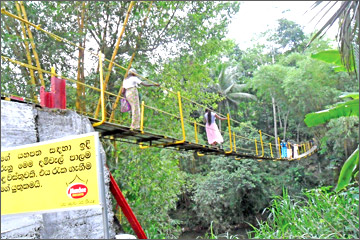 Kiriporuwa suspension bridge at Pannala in the Kegalle District was renovated under the Munchee Samaga Gamata Sarana , a CSR initiative of Ceylon Biscuits Limited for the benefit of the people of the area.
The bridge which is said to be over 100-years-old and is used by over 1,000 people including large numbers of schoolchildren, daily.
However, it was in a dilapidated condition as the planks laid for stepping were broken and people in Hapugammana, Ulwala and Kiriporuwawatte villages had to face numerous difficulties. According to villagers, a person had died and another was permanently disabled as they had fallen from the bridge while crossing it.
This issue was initially highlighted by the local media through its area correspondent.
The Munchee field sales team in the area also brought the matter to the attention of the management and recommended the company's assistance. The company not only agreed to provide financial assistance under the Munchee Samaga Gamata Sarana CSR initiative to renovate the suspension bridge, but also directed its area sales team to coordinate the task and to complete it in the shortest possible time.