AOD spearheads crafts for export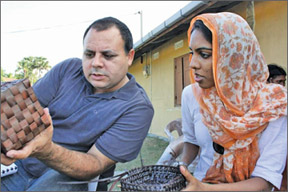 The Academy of Design (AOD), South Asia's design campus, specialises in professional creative education in the major areas of design including fashion, interiors, graphics, photography and jewellery.
AOD believes in exercising the power of creativity to its full potential, and has spearheaded the Sri Lanka Design Festival which plays a major role in the development of design in Sri Lanka and the South Asian region.
Understanding the crucial role that design could play in Sri Lanka's development, AOD has facilitated a special project involving those in the North and East regions.
The project 'Design Re-creation' places AOD's designers in direct contact with artisans.
AOD's alumni and student body, along with the college's Principal Karen MacLeod and Interior Design Program Head Joel Rapp visited the villages in the North and East to work directly with the artisans.
The project covers many traditional crafts like rattan, palmyra, fabric weaving and knitting. AOD's international design team is currently working with the affected communities in the villages of Marathamunai, Naruvizhikkulam, Paavulupattan and Kudiyirippu and in the Mannar, Jaffna, Batticaloa and Ampara districts.
"The Sri Lankan government and others have already set up craft centres in certain areas, but there has not been any consistent training or guidance in design or marketability to help these artisans match their products with market requirements," said Managing Director AOD, Linda Speldewinde.
The crafts produced through this project are to be marketed in the international market as high quality exports and will be given a special platform at the annual Sri Lanka Design Festival organised by the AOD.