Mystery shrouds slaying of brothel keeper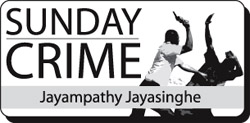 It all began at the weekly "Police Mahajana -Sahanadinaya at the police headquarters in Colombo where the public meets the Inspector General of Police and his senior police officers to discuss grievances not resolved by local police stations. It was at one of these meetings that a woman from Kantale complained to IGP Mahinda Balasuriya that her husband had gone missing for about a week in Colombo.
She further told him although complaints were lodged at Wellawatte and Kollupitiya police stations, police had failed to trace her missing husband. After giving a patient hearing to the woman's complaint, the IGP referred the matter to the Colombo Crime Division (CCD) for an investigation.
CCD sleuths recorded her complaint and began investigating. It transpired that her husband Sarath had a boutique in Kantale where he sold Visual Compact Discs (VCD) and Compact Disc that he purchased from Colombo. As time went by his business prospered and he became a wealthy man in the area. He was happily married, blessed with a son and daughter. But his frequent business trips to Colombo brought him into contact with women prostitutes who provided him with entertainment and pleasure.
He also began to drink heavily as a result of patronising exclusive brothels in the city. He was overawed with night life in the city that ultimately lured him to Colombo. Sarath was a shrewd businessman who started life from the bottom of the ladder. His business acumen was above average. His long-term plan was to set up business in Colombo so that he could indulge himself in sordid pleasures in the city. Having hob-nobbed with prostitutes for years, he thought of setting up a business in Colombo by using them.
He knew that by supplying prostitutes to five star hotels in Colombo he could earn much more than his usual business. He persuaded his wife to look after his business in Kantale and left for Colombo, four years ago. He told her that he found a job as a chauffeur. After arriving in Colombo he rented out an apartment in Wellawatte for a sum of Rs 40,000 a month. He also hired a car from a rent-a-car service for Rs. 35,000 a month. With the help of known prostitutes he launched a mobile brothel service targeting businessmen and executives of the corporate sector in Colombo. The venture was a tremendous success that made him rich overnight. Prostitutes were even given accommodation in his luxury flat. They were available for rich businessmen. He went a step further by supplying prostitutes to star class hotels in the city. The call girl racket developed into a booming business. He also set up an intricate network of agents from outstations like Anuradhapura, Kekirawe, Ratnapura, Kegalle, Awissawella to supply women to his brothel. Sarath became a noted pimp in Colombo. His business clients nicknamed him "Sudu-Aiya", who supplied women to Five Star hotels for dollars.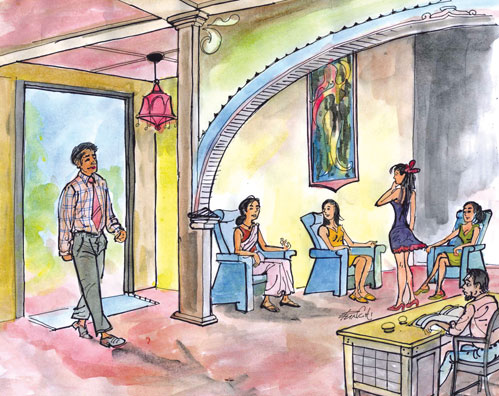 In a sudden turn of events, Rosy a pretty schoolgirl from a middle class family in Kuliyapitiya was bored having lived with her parents for so long. She studied upto the GCE Advanced Level at her village but was frustrated. She dreamt of being rich one day. With all her efforts she found a job in Singapore through a job agency in Kurunegala. She returned to Sri Lanka after one year, having earned enough money. As she was of marriageable age, her parents gave her in marriage to a man named Wimal in the Kuliyapitiya area.
There was a 14-year gap between them. She was only 19 years while her husband was 33 years old. After becoming pregnant she realised that her husband was a reputed conman who cheated five women by marrying them and later duping them. According to police her husband was a wheeler dealer who was involved in frauds. Disgusted with living with her husband, she left him and came over to Colombo to start a new life. While in Colombo, she lived at Borelesgamuwa at her husband's sister's home. The sister's marriage had also collapsed and she was living alone. Rosy soon realised that her sister-in-law was also involved in prostitution.
By then Rosy was five months pregnant and she was left with no money at all. Now she desperately needed money. She took to prostitution with her sister-in-law. After earning some cash she went back to her native village and gave birth to a son. Three months after the birth of her son she returned to Colombo while her parents undertook to look after the baby.
Meanwhile, she continued to stay at her sister-in-law's house at Borelesgamuwa and was once again involved in prostitution. By then she met a reputed pimp in Colombo named Ranmal who proposed marriage to her. She agreed to the proposal and soon they were married. They rented out a house in Pannipitiya and lived together for nearly three years. In the meantime she had another son.
But her happiness was short-lived, when she realised that it was a fake marriage attested by a bogus registrar. However both of them continued to engage in prostitution. While all this was happening, Rosy met a wealthy Indian national named Siva an import, export trader. It was love at first sight. He fell in love with Rosy and spent lavishly on her. Ranmal pretended to be Rosy's Chauffeur. With Siva's money Rosy started a business exporting copper which brought her wealth. Siva in the meantime bought her a brand new van for her business. With newly acquired wealth they rented out a luxury apartment in Wellawatte and moved in there.
Ranmal who had a 'voracious appetite' for sex was not satisfied living with one woman. Rosy became very envious of him and began dictating terms to him. She changed the birth certificate of her first born son and altered it so that Ranmal was now the legitimate father. Rosy gradually began dictating terms to Ranmal with Siva's money. Siva doled out money to Rosy to run her business enterprise.
As time went by Ranmal and Rosy fell out and Ranmal deserted her. Rosy made great effort to find Ranmal and sought the help of Nimal from Kegalle who supplied women to Ranmal. Nimal then introduced an underworld person named Saman who promised Rosy to find Ranmal. He demanded a sum of Rs. 250,000 to find Ranmal. The underworld element had a 500cc motorcycle and was willing to travel to any part of the country to find Ranmal.
In the meantime, now he (underworld element) attempted to cultivate an intimate relationship with Rosy but his efforts were futile. Due to the absence of Ranmal, the export business collapsed. She then went back to her old profession of supplying women to five star hotels in Colombo. She demanded US dollar notes for procuring women. The business flourished and she amassed a fortune once again. Last month, Rosy went to a money exchange dealer to encash her harvest of dollar notes. There she met Sarath, the man from Kantalai who also supplied women to five star hotels in the city. Rosy told him her tale of woe regarding Ranmal.
Sarath promised Rosy to help find Ranmal. In the meantime Sarath proposed that they amalgamate their businesses and run a brothel together. Rosy agreed and they rented out another luxury apartment in Kollupitiya for a monthly rental of Rs 55,000. Sarath by now was immensely rich. He rented out a luxury car for a sum of Rs 90,000. Rosy also had a luxury car and a van. Together they began supplying women to five star hotels in Colombo and to rich clientele. Both of them lived as husband and wife at the Kollupitiya apartment. Although Sarath was miserly he spent lavishly on drinks. His hobby was watching pornographic movies. He sold Rosy's luxury car worth Rs 4500,000 for a sum of Rs. 1,500,000 and appropriated the money. Their happiness however was short-lived. They began to quarrel frequently over their earnings. There were occasions when Sarath beat her during these quarrels.
She even threatened to expose Sarath's activities to his wife and children. This sent him into a rage and he threatened to stab her with a knife. However, Rosy managed to get out of the house and phoned Saman the underworld man. When Saman arrived at the flat she appealed to him to remove Sarath from the flat.
The underworld man demanded Rs 10,000 from her to bring a spray to immobilise him. Two hours later he returned to Rosy's flat and discovered Sarath lying on the bed. Saman used the spray to immobilise Sarath but it did not work. Sarath jumped out of the bed and beat the underworld man and Rosy and grappled with them. The underworld man then grabbed a knife lying on the table and severed Sarath's throat. Sarath bled to death a few minutes later. The killing took place on June 19, 2010. Saman and Rosi then wrapped his body with bed sheets and dumped the body inside a huge travelling bag.
Thereafter they shut the flat and carried the bag to the lift with the help of a man known to Saman. The bag was loaded into the dicky of Sarath's car and they drove away in the direction of Liberty plaza, in Kollupitiya. Rosy drove the car while the underworld man Saman sat in the front seat. The helper was seated in the rear seat. When the car approached Liberty Plaza they dropped him off and drove in the direction of Galle. After arriving at Unawatuna Rosy and Saman booked a room in a hotel at Unawatuna. Having dropped Rosy at the hotel, Saman drove away in the car. He met a friend in Galle and informed him of the turn of events.
They proceeded to a garage from where they purchased an armature and tied the bag containing the body to it. Thereafter they dumped the body in the Gin Ganga at Poddala and returned to the hotel. Saman's friend who helped dispose the body was paid Rs 5,000. Saman and Rosy spent the night at the hotel and left for Kuliyapitiya on the following morning.
Having dropped Rosy in Kuliapitiya, Saman drove the car to Kekirawa. Having parked the car at a tea boutique in Kekirawa, Saman boarded a bus and travelled back to Colombo. He also made it a point to throw away Saraths mobile phone into a lake in Kekirawa. The Kekirawa police found the abandoned car two days later.
They also found a telephone number belonging to Rosy. Meanwhile Rosy found a job in Dubai and went abroad two weeks later. A few days later Sarath's decomposed body floated in the Gin ganga. The unidentified body was later buried following an autopsy. While in Dubai, Rosy came to know that the Interpol was searching for her in connection with a murder in Sri Lanka. She then returned to Sri Lanka and was apprehended by CCD sleuths at the Bandaranaike International Airport (BIA).
Further Investigations are being conducted by Director CCD, SP D.R.L. Ranaweera and Inspector Priyankara under the supervision of DIG Crimes Anura Senanayake.