Pasindu Peiris wins triple at Fox Hill Supercross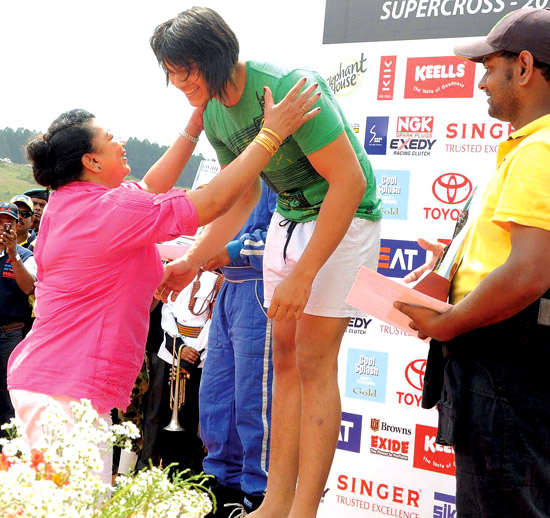 First Lady Shiranthi Rajapaksa congratulates her son, Rohitha Rajapaksa who won the Group SL-N Nissan March up to 1000 cc event.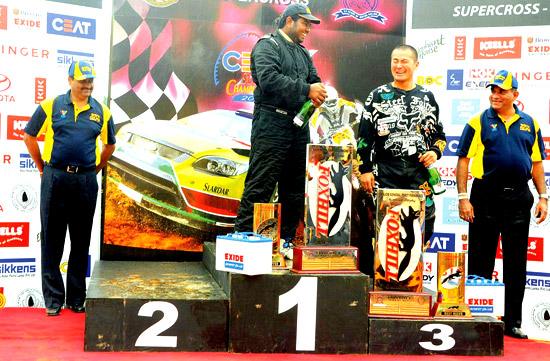 Champion Driver Pasindu Peiris and Champion rider Tomoya Suzuki on the podium after receiving their Fox Hill championship awards. Army Commander Lt. Gen. Jagath Jayasuriya
looks on.
Sri Lanka's young racing sensation, Pasindu Peiris won three events while outplaying Indian Rally Champion V.R. Naren Kumar on two occasions in his Mitsubishi EVO IX and provided maximum entertainment to over 60,000 spectators who witnessed the 19th edition of the Fox Hill Supercross which concluded at the Sri Lanka Military Academy yesterday evening.
Meanwhile, for the first time in the Fox Hill history, no Sri Lankan rider was seen on the podium at the presentation of the group MX Motocross Bikes up to 250 CC event. Tomoya Suzuki, the former Asian Champion from Japan, conquered the Fox Hill track,
leaving behind the last year's winner and Indian champion C.S. Santhosh who finished second in both the occasions. Sri Lanka's champion rider Gayan Sandaruwan could not find a place at the podium yesterday.
In the other highlights, Upulwan Serasinghe won both Ford Laser/Mazda 1300 cc event and the Ford Laser/Mazda 1500 cc events quite comfortably. The upcoming star Shehan C. Adhikari won the three events, both of the Motocross Bikes up to 85 CC under 16 events and Motocross Bikes up to 125 CC event.
Two of President Mahinda Rajapaksa's sons, Yoshitha and Rohitha Rajapaksa competed in the Group SL-N Nissan March up to 1000 cc event which Rohitha won comprehensively ahead of the second placed Ushan de Silva.
Pasindu Peiris won the champion driver's award while Japanese rider Tomoya Suzuki was named the champion rider. The Fox Hill Supercross was organised by the Sri Lanka Military Academy in Association with the Sri Lanka Association of Racing Drivers and Riders.