To contain diabetes and cholesterol:
CMC all out to provide Ayurvedic treatment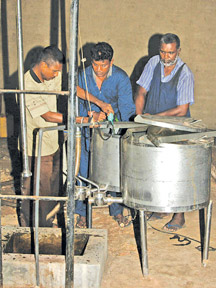 Living a healthy life is the wish of every citizen and they do many things to achieve this. Meanwhile many of them become victims of many communicable and non communicable diseases, due to various reasons whether it is their lifestyle, food consuming patterns or due to lack of cleanliness in their environment, one does not know.
While many trust Western medicine due to easy accessibility, a considerable section of citizens are now turning to many indigenous medicine.
Though Colombo City is a hub for Western medicine with the mushrooming private hospitals, channelling services and dispensaries indigenous medicine units of the Colombo Municipal Council are also rendering a yeoman service to ratepayers and citizen through its many clinics scattered all over the city.
At a time when people are looking for Ayurvedic clinics run by persons sans any qualifications, the 20 Ayurvedic Dispensaries run by the Indigenous Medicine Department of the CMC are manned by qualified Ayurvedic Physicians, providing diagnosis and treatment free of charge. There are four clinics headed by specialist physicians, for treatment on diabetes melitas, hyperlipidemia, vitiligo and arthritis.
"There is a tendency among people to turn to Ayurvedic treatment for diabetes, cholesterol and arthritis as we are conducting special clinics for them in our Dispensaries," Doctor Pathmashanthi, Head of the Indigenous Medicine Section of the CMC said.
"Through Ayurvedic treatment we can control high cholesterol levels and blood sugar levels of patients who attend our clinics, by conducting many Ayurvedic treatments to control blood sugar levels and cholesterol levels," Dr. Pathmashanthi said.
According to her, both the rich and the poor in Colombo were suffering from diabetes and high cholesterol.
"The rich are suffering from these diseases due to their food patterns and also due to lack of exercise. The poor are suffering due to lack of cleanliness and due to the quality of food they consume. Both the rich and the poor are now in the habit of consuming food from food outlets and restaurants," she added.
"We recommend that they should stick to good food habits and daily exercise to avoid such diseases.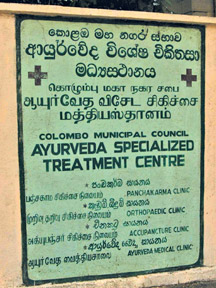 "We have been able to control cholesterol levels of people through shvethakarma (sweating) treatment at the Pachakarma treatment dispensary in Kollupitiya and at the newly opened Dispensary at Keselwatta," she added.
The Ayurvedic Department has also produced a special tablet to control cholesterol levels of patients who attending these clinics.
The Panchakaram clinics in Kollupitiya and Keselwatta have attracted many people from Colombo and is very much in demand. Diabetes clinics are being conducted at Kollupitiya, Kotahena East and Slave Island while paediatric clinics are being conducted at the Dematagoda Ayurvedic Dispensary.
Dr. Pathmashanthi said that the CMC Ayurvedic Department along with the Ayurvedic Hospital in Borella were also treating children suffering from cerebral palsy, loss of hearing and some diseases which have been categorised by many as disease which have no treatment.
"Through our Ayurvedic treatment we have been able to give back hearing to those who had lost their hearing and were in need of major operations. We along with the Ayurvedic Hospital in Borella have given treatment like Karnapoorna an Ayurvedic way of treating people," he added.
According to Dr. Pathmashanthi there is a tendency for parents to bring children who are suffering from cerebral palsy which affects the brain of children during pregnancy or during their birth.
"We are conducting clinics for children suffering from such ailments along with the Ayurvedic Hospital in Borella. For such children we start initial treatment at our clinics and send them to the Borella Ayurvedic hospital for indoor treatment," she added.
"Sometime, these children cannot move their body and will be bed ridden in many cases. They have been neglected without treatment being given. But we are trying our best at least to cure them partially," Dr. Pathmashanthi said.
Once they are brought to our clinics, we start treatment and refer them to the Ayurveda Hospital in Borella where they have to undergo indoor treatment for nearly one and a half months.
They have to take medication continuously both at the hospitals and also at home from time to time. They have to be treated for nearly one and a half years continuously.
"Through medication we can improve their health condition at least to stand on their feet, to take their own meals and to be able to go to the toilet by themselves", she said.
She said that her Department is now focusing more on the prevention of diseases by educating the people about ways of avoiding such diseases.
"We are planning to educate the people about diabetes and cholesterol through leaflets and educating them about proper food consuming practices We will be able to start this project soon," she added.
The Ayurvedic Department has its own Ayurvedic drug manufacturory in Dematagoda, producing 90% of the requirements of medicines, combining most ancient manufacturing methodology and modern technology to fulfil the drug requirement for all Ayurvedic dispensaries in Colombo.
"Through our dispensaries scattered all over the city we are treating more than 150,000 annually and provide them with Ayurvedic drugs ahich are produced at the Dematagoda Drug Manufacturing centre," she added.
The department also has Osu Uyana at Kirulapona with rare medicinal plants.
"We are going to have medicinal plants like hathavariya, iriveriya, adathoda, vara kola, attana kola which are required on a daily basis for drug manufacturing. We are going to grow these herbal plants in an 80 perch land area. In the middle of next year we will be able to make use of the herbal plants," she said.
On the other hand, the Ayurvedic Department also encourages to grow medicinal herbs like adathoda, nika, katu karanda in lands belonging to the CMC.
"To manufacture our ayurvedic drugs we have to spend nearly Rs. 6 million for dried herbal plants. By making use of these herbal plants we can at least save Rs. 1 million for the CMC," she added.
The herbarium at the Viharamahadevi Park which is being used as an educational centre for conducting awareness programs on indigenous medicine and visited frequently by foreign guests, schoolchildren and other interested adults will also be replanted very soon after identifying the plants which are frequently needed for studies.
Dr. Pathmashanthi said that Special Commissioner, Omar Kamil and Municipal Commissioner Badrani Gunawardena are extending their fullest support for the Ayurvedic Department to extend its services.
"We are hoping to expand our services to the public through various means but with the intention of preventing diseases among the people rather than curing them once they contract the disease," she said.