New chapter in Lanka's aviation history:
BIA to become regional hub
***********
The BIA developments along with Mattala as the second international airport and backed up with domestic and air taxi services would make Sri Lanka one of the best airport hubs in the region and would also take Sri Lanka closer to becoming the Wonder of Asia
***********
SriLankan Airline history would be rewritten by the end of next year when passengers from all over the world would be able to fly direct to any destination in Jaffna, Trincomalee and Hambantota without coming out of the Bandaranaike International Airport (BIA), Colombo.
By next year, a passenger would be able to purchase a Toronto-Jaffna return ticket; an investor could book a Colombo-Hambantota return ticket; or a tourist would on-line print a Heathrow-Trincomalee return ticket.
This would be a major incentive for investors who do not have time to travel overland to far away destinations. In addition Sri Lankans based in Europe, Canada and Australia too could fly home easily.
The key to this ground-breaking piece of history would be the opening of the domestic airport at the Colombo airport.
The old SriLankan Airlines Catering building would be used for this purpose, conversion of the building to a domestic airport is currently under way.
Minister of Aviation Priyankara Jayaratne said that they have already received many positive inquiries from local airline investors about launching domestic flights to Jaffna and Trincomalee. "We are currently evaluating these proposals," he said.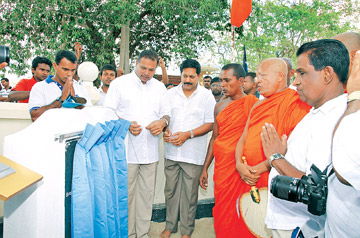 Minister of Aviation Priyankara Jayaratne and Chairman, AASL, Prasanna Wickramasuriya make a donation to the Nagadeepa temple yesterday.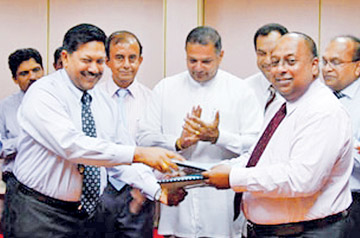 Chairman, AASL Prasanna Wickramasuriya exchanging the documents with CEO, SriLankan Airlines, Manoj Vass Gunawardane. Minister Priyankara Jayaratne looks on.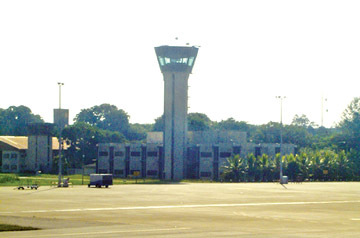 Colombo Airport control tower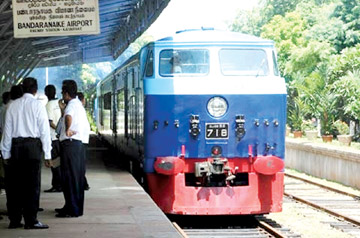 BIA - Colombo luxury train
The Minister said that the Mahinda Chinthana clearly spells out that Sri Lanka would be made a regional aviation hub. To meet this objective domestic air travel is very important. "A passenger can even now get a domestic flight from Ratmalana, but he has to travel for two hours to reach Ratmalana which is not practical. This was why the Government wanted to have a domestic passenger terminal within the Colombo airport" the Minister said.
He said that the conversion of the cargo building on the same side of the main terminal building would be ready by September 2012 and a passenger just has to walk a few metres to get there.
It is also proposed to build a domestic airport in Ratmalana to enable passengers to catch connecting domestic flights to several domestic airports which are being developed.
Chairman Airport and Aviation Services (AASL), Prasanna Wickramasuriya said that even local passengers could take domestic flights from the new terminal which is located further to the main terminal when travelling from Colombo.
Wickramasuriya said that he together with the Minister is currently touring Jaffna and also visited the Palali airport to see its progress. The Airport and Aviation Services Buddhist Society also made a donation of a water bowser to the Naga Deeepa island. They also installed 10 light towers and made a cash donation. "This is part of our social responsibility," he said.
Wickramasuriya said that they will soon extend the Colombo Airport train to the terminal and would also have the facility to transport cargo in the train.
"Cargo is presently being transported in several individual vehicles which add more expenditure to exporters.
With the extension of the rail track exporters would also be able to save on fuel and also on time as it takes less than 40 minutes to get to the airport." The Chairman said that plans are under way to operate more trains.
Exporter are keen to have this project under way soon and would also contribute.
With cargo being transported by train, a scheduled journeys would benefit the passengers. The AASL is also planning to open a ticketing office at the Secretariat railway station so that passengers could even book in advance. "Online booking too would be introduced."
SriLankan Airlines is expected to market the train so that it would have more journeys per day.
A first for the region
One of the other major projects the AASL is planning is an upmarket apparel park at the Colombo airport. "Passengers can visit this park located opposite the airport and make purchases. We are planning to have an overhead bridge to reach this proposed apparel park and the AASL has already talked to leading apparel exporters to open outlets at this apparel park."
This would be the region's first apparel park inside an international airport.
The sixth baggage conveyor belt system and the new building at the Airport were opened last January.
The baggage handling system at an airport plays a crucial role in keeping travellers happy.
It also makes the difference in an airport's ability to attract or be a major airline hub.
The main objective of having a sixth baggage belt system was to cater to the tourists arriving in Sri Lanka in an efficient and effective manner, especially with the increase in tourist arrivals after the end of the conflict.
With this project, the AASL hopes to provide a more efficient service to the users of the terminal car park.
The main highlight of this system is that it was developed in house by the Information Technology Division of AASL.
The transit hotel which was a long felt need to the Colombo airport is now shaping up.
The region's first star class airport hotel consisting of 300 rooms too would be built.
This would be a major attraction to the country as well and would increase the airport's capacity as a regional passenger hub.
Second runway
The BIA received a major boost with the introduction of a pier with eight aero-bridges in 2005.
This has added value to the destination and even some international airports in developed countries do not have this luxury; The low cost carrier terminal in Malaysia is an example.
In contrast, Sri Lanka's second international airport in Mattala would also have aero-bridges when it opens next year.
A new terminal with an additional eight gates is proposed to be built with an investment of US$ 300 million to cater to six million additional passengers.
A five-storey carpark too is being proposed along with a second runway.
The Colombo-Katunayake expressway too would be a major plus point for BIA passengers. The highway would take a passenger to the airport in less than half an hour from Peliyagoda.
The building of the sea plane landing pier at Ja-Ela too would give passengers the option of taking a sea plane to destinations such as Bentota, Kandy, Nuwara Eliya, Kotmale and even Ampara.
In a bid to have a better relationship, the AASL also signed an agreement with SriLankan Airlines.
This MOU between SriLankan Airlines (the national carrier of Sri Lanka) and AASL (the statutory service provider at civil airports, both international and domestic in Sri Lanka) marks the beginning of a sustainable journey in the civil aviation industry of Sri Lanka with a collaborative and symbiotic relationship between the parties involved.
The BIA along with Mattala as the second international airport and backed up with domestic and air taxi services would make Sri Lanka one of the best airport hubs in the region and would also take Sri Lanka closer to becoming the Wonder of Asia.