Protect motorists from private owners :
Call to convert bare lands into vehicle parks
The difference between authorised and unauthorised vehicle parks cannot be easily identified as at the timewhen a vehicle is parked, a person without any form of identity demands vehicle owners to pay the levy.
If anybody stops his vehicle by the roadside to have a snack without obstructing pedestrians or other vehicles, suddenly a person appears and demands parking fees, saying that the car park belongs to X (not the Colombo Municipal Council (CMC)) and forces vehicle owners to pay parking fees.
According to him, X is a powerful man and no one could argue with the park attendant.
Although X has legally signed a temporary leasing agreement with the owner of the land to collect parking fees, X later abuses the rules and collects money from vehicle owners in an unreasonable way.
A vehicle owner told the Sunday Observer that this type of incident is not second to what a group of unauthorised people at the Peliyagoda newly opened fish market do.
He said even police officers who are on duty at such places are helpless to take action.
This matter was brought to the attention of Special Commissioner CMC, Bhadrani Jayawardhane.
She said the CMC maintains over 2000 parking slots in the city. In addition nearly 16 large scale and small scale vehicle parks have also been established in the city by private persons.Quoting public complaints, she said there are a large number of illegally operated vehicle parks in the city limits that charge exorbitantly.
"It is the duty of the Police to intervene in the matter and crackdown offenders," she said.A businessman G.S. Gunapala said that when CMC attendants leave vehicle parks after 6.00 p.m. some of them were in the habit of collecting parking fees and demanding high charges.
The large car park in front of Lake House at D.R. Wijayawardene Mawatha is managed by a private company. The park charges between Rs. 250 and Rs. 300 from persons for parking their vehicles from 8.00 a.m. to 5.00 p.m.
A bank officer D.K. Gamalath was not happy with the way this car park charges from people.
He said that unless the CMC or the Government takes action against them, they will keep on increasing charges.
Establishing vehicle parks in the city was begun after the one way system was introduced.
A bank employee said that due to the high turnover from vehicle parks more and more people have begun establishing vehicle parks in every nook and corner of Colombo city. Vehicle parks are also seen at private gardens which are located close to main roads in the city.
Many of these private vehicle park owners pay taxes to the CMC while some others do not.
When the Sunday Observer visited several vehicle parks in Colombo Fort, Kollupitiya, Bambalapitiya and also the one opposite Lake House, it was revealed that private vehicle park owners earn a colossal sum of money in an unreasonable manner.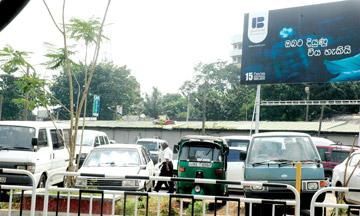 A vehicle park in Bambalapitiya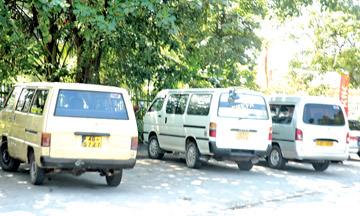 A roadside vehicle park
Some vehicle park owners charge Rs. 40 for the first hour and thereafter Rs. 30 each for additional hours.
Accordingly, if any one keeps his vehicle in the park for more than eight hours he has to pay Rs. 250.
A lawyer N. Ragunathan said these unfair earnings by private vehicle owners must be stopped by the authorities.He said it is pathetic that the authorities have kept a blind eye on this matter.
It is reported that over 200,000 vehicles come into the city everyday and 90 percent of them are parked in private vehicle parks.
Jayawardhane said the charges of the CMC maintained parking slots are very reasonable since the main objective is to provide facilities to vehicle owners and not to earn money in an unreasonable way.
The CMC wishes to introduce a Parking Regulation System (PRS) soon with rules and regulations in place. CMC Director Engineering (Traffic Design and Road Safety) K.A.D.N. Wickramaratne said "Usage of public transport by office workers is the best solution rather than using their own vehicles, so that less vehicles will be parked at parks."
The four-storeyed building at Wellawatte, constructed by the CMC will be used as a shopping mall and a few upper floors will be utilised to park vehicles at reasonable charges.
"We wish that many persons, especially office workers park their vehicles at this building and travel to Colombo by bus. The building is expected to open shortly," Wickramaratne said.
A hospital employee, D.P. Wijeratne said the majority of vehicle owners who come to the city everyday are aware that most private vehicle parks charge exorbitantly. They say that this is very unfair and the CMC or any other authority should immediately look into this.
A mercantile employee Nuwan Perera said he usually parks his vehicle in a private park, located near R.A. de Mel Mawatha, Kollupitiya and they charge Rs. 40 for the first two hours and thereafter Rs. 30 for each hour,".
"As there was no other alternative, I spend nearly Rs. 400 a day. I hope the CMC immediately directs the park owner to charge reasonably.
A school teacher said as there are many state owned bare lands in the city of Colombo and urged authorities to convert them into vehicle parks.
"They can charge a reasonable amount from vehicle owners.
"The vehicle park opposite Lake House is full of pot holes", he said.
A trader, Nimal Ranawaka urged the Western Province Governor who has more powers than the Colombo Mayor to look into this.
A female typist said she normally parks her vehicle in a state owned car park at Bambalapitiya and said that they too charge Rs. 120 as parking fee for seven hours.
"I have to spend over Rs. 2500 a month on parking which is very high, considering the monthly income received,".A priest requested owners of religious places in Colombo to allow people to park vehicles in their lands and charge reasonable amounts.He said that a temple at Timbirigasyaya has allowed vehicle owners to park their vehicles in its premises.
Two private car parks are at Station Road, Bambalapitiya.
The charges of one park is reasonable, but the other one charges exorbitantly.
Former Assistant Superintendent of Police, Nishantha Saparamadu wanted the Government and the Police to intervene in this matter and allow only state institutions to maintain vehicle parks.