Noise pollution - another menace in the making
According to statistics previously shared on March 6 with the Sunday Observer by the Deputy Inspector General of Police in charge of Traffic Administration, Road Safety and Western Province Traffic Operations, Asoka Wijetilleka, nearly 1300 motorists were due to be prosecuted after being detected within the period from February to March for tooting their vehicle horns unnecessarily.
A further exercise conducted on April 7 by The Central Environment Authority (CEA) and the Industrial Training Institute (ITI) resulted in horns of 250 more vehicles being checked in Malabe on April 7. These motorists may wonder this issue is being given such importance and why the authorities deploying staff to detect noise pollution caused by motorists and if they shouldn't be allocating the same staff to monitor industrial noise instead?
Industrial noise pollution is monitored stringently and is under control, Deputy Director, Technical Services of the Industrial Training Institute A.S. Pannila told the Sunday Observer. "It is the general public that need to be aware of how they contribute to noise pollution which is arguably becoming a menace and is proven to be one of the main pollutants. We conducted a similar exercise in 2005 too but then the project couldn't take off due to various reasons and it was constantly postponed. Now we have teamed up with the CEA to detect perpetrators of noise pollution. Vehicle noise is one of the highest contributors to noise pollution", he said.
Noise pollution is treated as a serious offence in the developed countries, industrial, automobile noise or even playing loud music in your own house could earn you a complaint against noise pollution. The health repercussions of noise is also often underestimated in the developing world.
Protesting to noise pollution is actually an indicator of a country's development because it uplifts the living standards of the country's citizens, says Pannila. "We are prepared to fight against industrial noise but we are backwards to fight it in our neighbourhood and the road especially when the perpetrators are known to us. Fighting noise pollution should begin from home and then extended to every avenue of our daily routine", he said.
Q: What were your findings from the operation conducted on April 7?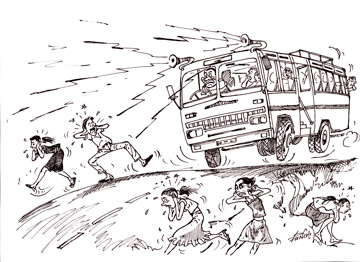 A: We were mainly looking for vehicles that had horns which exceeded the internationally accepted standards of noise. We tested vehicles from all categories, there were buses, three wheelers, cars and trucks. We also had tested brand new vehicles and old vehicles to ensure we conduct the test across a wide range of automobiles. We found that 90 percent of the vehicles out of that 250 which had original horns were still within accepted noise levels but the remaining vehicles failed to meet the required standards.
Q: There is a wide range of loud horns available in the market for sale though, what can stop vehicle owners from buying them?
A: The packaging in all these noisy air horns clearly state that they are not suitable for use in the metropolis. This itself can stop them from buying but it is conveniently overlooked. They are only to be used in areas known to have wildlife intrusions to deter animals from the driving path but they are misused now. It is just like using a fog light in Nuwara Eliya, you use it only if need be and it is illegal to use it otherwise.
Generating unnecessary noise is a nuisance to others hence everyone must be educated on avoiding noise pollution. Five to six years back, smoking in a bus or any other form of air pollution was tolerated but now people instinctively protest to such perpetrators, we are trying to promote a similar attitudinal change against noise pollution too.
Q: Have you recommended that a regulation against noise pollution be implemented?
A: Yes we are finalising the regulation at least by the end of May and then team up with the Motor Traffic Department and the Police to implement them accurately. We are reaching out to university students to help us create awareness about all of these too.
Q: Horns are not the only equipment that cause noise? How about some bus engines and silencers, they are more irritating than loud horns
A: That is a long-term plan, we need a regulation in place to check that all components of imported vehicles comply with the internationally accepted noise levels. The regulation should incorporate the provision to reject vehicles that do not conform to such standards from entering the country. It is impossible to check every single vehicle that enters the country, but I recommend that we devise a type approval system where vehicles belonging to a particular accepted models are allowed entry after they show evidence of compliance. Having said that we have been made aware of buses running especially in the rural areas which use mufflers on their silencers to enhance the noise so they can be easily identified by commuters even from a long distance. So both pre-entry procedures and post-entry procedures will have to be drafted to combat the issue.
The ITI and the CEA once again will have to work closely with the relevant authorities to detect violators and penalise them. This is going to be intricate but I am hopeful that we will succeed.
Q: The recommendations are quite optimistic but how can you ensure the implementation is going to be dealt with the same optimism too?
A: The rapid development that is taking place in the country now will inevitably leave room for noise pollution, we cannot eradicate it but we can certainly mitigate it.
The need for strategies against noise pollution is included in the Mahinda Chinthana too, so it has been foreseen. With the amount of highways that are scheduled to be constructed, the tyre noise of vehicles are going to contribute to noise pollution too, so they will be building concrete pillars to act as noise barriers, perhaps when constructing highways in the future they may use transparent noise barriers but this costs money. That is why it is important to educate people on noise pollution and let them know that even trees help mitigate noise to a great extent. We have not inculcated the need to prevent noise pollution so there is a desire to start afresh and we are taking the lead. The Chairman of the CEA Charith Herath and his Director General Ramani Ellepola have been instrumental in getting all projects off the ground relating to fighting noise pollution.
The health repercussions of noise pollution can be quite harmful. If someone is constantly exposed to noise of over 85 decibels (dB=the measurement of the intensity of noise) over prolonged durations, they can be affected by noise induced hearing loss. Heart problems and blood pressure levels are also subject to the affects of noise pollution. Mental patients find fluctuating noise levels extremely irritating and unsettling too and even hospital patients can be affected by noise pollution.
Automobiles and industries are not the only contributors but night clubs and other places where music is played aloud are also significant contributors too.
It is often misconstrued that noise pollution occurs in the city but rural areas are not exempted from the issue, because the background noise is very low in these areas, the probability of noise pollution does not differ significantly from the statistics of noise pollution in the city.
Many feel that focusing on noise pollution is a petulant state of mind, but it is not so, we are heading towards economic development and it will have to reflect in the living standards of our country's citizens and unless we unite to protest it, we will never escape the adverse effects of noise pollution.