Sunburnt Home - an Australian-Sri Lankan novel
To be or not to be: That is the question...
Chapter 20
"Dad, the Royal Shakespeare Theatre Company is coming to Perth. We were asked to buy tickets for the morning rehearsal. The drama teacher said that it would be a good idea to go with the family for the main show as well, so we can see the play twice."
Jayadeva looked at her face for a while and thought it looked very plain without earrings.
--Why couldn't Malini help her to have the ear rings Amma sent her?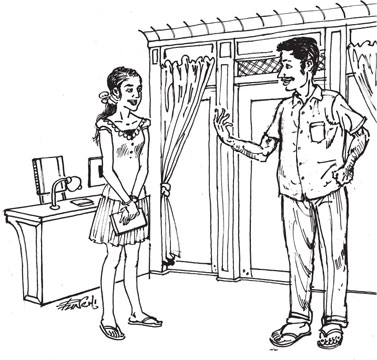 "What's the matter Dad, are you dreaming or seeing a ghost behind me?"

Jayadeva digressed and answered Sunitha's question.

"That's great. I'd like to see a Shakespeare play. A real one from England! I have never seen a play by Shakespeare!" replied Jayadeva.

"But there's a hitch Dad! The school tickets are only twenty dollars. That's for the special matinee show for school children, but the other tickets will cost you fifty dollars each."

'Do they have student's rate for you and Mallie?"

"I think, so, I can find out."

"What's the play, Duwa?"

"The Tragedy of Hamlet, Prince of Denmark!"

"Hamlet?"Oh, that's a great play. I have studied it at school!"

"It's great. Then you might be able to help me when I get stuck. Can you remember that famous lines from the play?" Sunitha recited:

"To be, or not to be, that is the question:

Whether 'tis nobler in the mind to suffer

The slings and arrows of outrageous fortune,

Or to take arms against a sea of troubles,

And by opposing end them? To die, to sleep,

No more; and by a sleep to say we end

The heart-ache, and the thousand natural shocks

That flesh is heir to: 'tis a consummation

Devoutly to be wished. To die, to sleep..."
"Dad do you know that Hamlet is Shakespeare's longest play? The full text of Hamlet has 29,551 words and 4,042 lines! Did you know that Dad?
"No, Duwa, I don't know any of these. We didn't have an English teacher!"
Jayadeva was worried that he could only recite some passage from Shakespeare in Sinhala. He wished he had the same ability as Sunitha to quote from Hamlet by memory and to know all the details about the works of Shakespeare in their original form.
"If you had studied Hamlet, you should know those famous lines. Everyone in our class know them."
"No, Duwa, I read the play in Sinhala! We only studied it in Sinhala."
"Oh, have they written Hamlet in Sinhala? I didn't know that!"
"I don't know, Duwa! I don't have answers to all your questions. But we studied Hamlet in Sinhala; a translation. We studied the play as a subject for Sinhala literature. I did literature because I liked the subject. I was one of two students in Science stream to study literature. You know Seeya [1] was an admirer of good literature."
"I didn't know that Seeya knew English. Achchi [2] of course doesn't know English."
"Seeya didn't know English either. In Sri Lanka we have a literary tradition which is over 2500 years old, unlike the Australian or British Literature!"
"Wow, how cool is that. I didn't know that!"
"Duwa, there are a lot of things that you don't know about Sri Lanka!" He sighed and continued,
"No Duwa, no one has written Hamlet in Sinhala. Someone translated it into Sinhala. We studied a translation for our Ordinary Level exam."
"What's 'Ordinary Level'?"
"That's an island-wide exam we had to sit for when we're in Year 10. After that exam, you have to choose what stream you would be studying in Year 11."
"So, what did you study?"
"I had to study Maths to study engineering as that's what Seeya wanted me to do although he loved literature.
wHe taught Sinhala as a teacher until he became a school principal. Seeya was a very practical person. He wanted me to study Engineering or Medicine. I'd have studied literature instead. But then we wouldn't have come to Australia!"
"What a great thing that you did study Engineering. I'm going to study literature for my TEE with science subjects but I want to be a lawyer." "Oh now you want to be a lawyer! That's good. Study what you like to study. Had we lived in Sri Lankan, you wouldn't have chosen literature with science subjects.
"Why couldn't you do that in Sri Lanka?"
"No, Du, we couldn't study everything."
"Sri Lanka is a funny country, isn't it?"
"It's not the country. It's the system! We got all these from the British as they ruled the country for over a century."
"So, why didn't you change? Australia got the same system from the British. Then, how come things are different here, Dad? Anyway, you must sign this form to reserve the tickets. I need to drop it in at school tomorrow."
"Okay, let me sign the form."
"Dad, what about the money?" "Ask Amma to give you a cheque. She controls all our money! She is the Treasurer!"
Sunitha came back with a long face.
"Mum says that it's waste of time and money to see a Shakespearean play."
She said that it's enough for me to go to the matinee show. But, I need to see the real production and not a rehearsal. I am writing an essay also on Elizabethan Drama and Hamlet. I want to get good marks."
A little while later when Jayadeva approached Malini and she said: "What's this mala kolama? [3] Why all of a sudden having an interest in Shakespeare? You only studied Sinhala literature for ordinary level. In fact, I must be the person to go.
We even did the play Hamlet at our Ladies College. It's useless and waste of money. It's more than half of our weekly expenses.
I haven't budgeted any money for entertainment this month. I need to buy tickets to school gala function and it will cost us money."
"What's your problem with spending 150 dollars?! It's a great play!"
"Oh, did you study Hamlet?" I didn't know that you were a Shakespearean scholar! Did you really study Hamlet?" Malini questioned Jayadeva who changed her sarcastic tone into a serious one this time.
"Yes, I did!"
"How do you know Shakespeare's work?"
"Anyone who has an open mind should know about Shakespeare. He doesn't belong to one nation!"
Jayadeva thought of Wimal who was a distant relative from mother's side. Wimal who enrolled at the Peradeniya University and studied Sinhala, Sanskrit and English and later won a Commonwealth scholarship to the Cambridge University where he studied Elizabethan Drama.
Jayadeva went to the back yard and look at newly planted Araliya-frangipani-trees. A full moon was hiding behind a cloud. Jayadeva tried to remember who translated Hamlet into Sinhala.
--. Who did the translation? Was it Sunnanda Mahinda or K G Karunatilake? I think Mr K G Karunatilake translated Othello... not Hamlet!
Jayadeva tried to recall the first lines of the play that Sunitha quoted a few minutes ago.
"To be, or not to be: that is the question..."
That was all he could remember though he knew the play as he studied in Sinhala.
The full moon that was shining brightly a few minutes ago had disappeared. The darkness had taken over the world. Jayadeva sat on a back yard bench and gazed at the darkness for a while. The moon emerged again, but moved directionless appearing and disappearing in the distant sky.
He looked at the sky and tried to track down the moon without a success. He remembered how he would have seen the same moon from home in Sri Lankan as a child. He wondered whether Sunitha and Asela would develop the same feelings that he had developed as a child towards the moon and appreciate the stories that he had learnt about the moon related Buddhist folk-tales.
The moon was not there to be seen. It was covered by a thick layer of dark clouds.
He didn't want to blame the darkness and walk back to the house aimlessly.
[Foot notes]
[1] Seeya - The Sinhala word for grandfather
[2] Achchci-Sinhala word for grandmother
[3] Mala kolama - Sinhala slang that may be translated as 'an absurd thing' or 'a very stupid act.'
The quotation from the Skasepare plays is from Hamlet (Hamlet, III,i,56.)
For feedback and readers' response: [email protected]
Disclaimer: This is a work of fiction. Names, places, characters and incidents either are products of the author's imagination or are used fictitiously.