Cultural Diary
Book launch:
Dharma Vijaya Kavantissa Rajathuma 1 and 2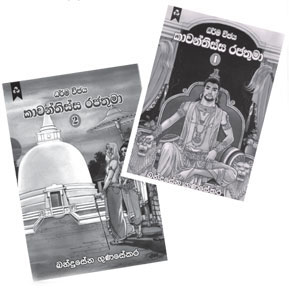 Prof. Bandusena Gunasekara's Dharma Vijaya Kavantissa Rajathuma 1 and 2 will be launched at Dayawansa Jayakody Bookshop, Colombo 10 on April 26 at 10 a.m.
Prof. Gunasekara is the author of several other books such as Suvanda Patha Nala - Veera Dutugemunu, Senadhipathi Nandimitra, Veera Gajabahu, Subahu Hevath Mahanila and Gajaba Puvatha. Dharma Vijaya Kavantissa Rajathuma 1 and 2 are Dayawansa Jayakody publications.
---
Kapuva Kapothi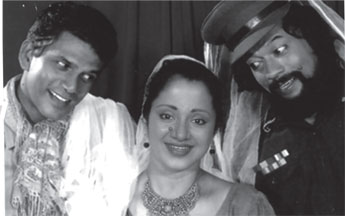 Prof. Ediriweera Sarachchandra's drama Kapuva Kapothi will go on the boards at the Elphinstone Theatre, Colombo 10 on April 30 at 3.30 p.m. and 6.45 p.m.
The cast includes Nihal Fernando, Deepani Silva, Sarath Kulanga, Ariyaratne Kaluarachchi, Lalith Rajapakse, Kumudu Prashanthi, Kumari Menike Attanayake, Ravindra Ariyaratne and Upamali Ranathunga.
The new production is directed by Lalitha Sarachchandra.
---
Somalatha Subasinghe in multiple roles on 'Celeb Chat'
Somalatha Subasinghe's first public appearance as an actress was in the late 1950s in Prof Ediriweera Sarathchandra's 'Raththarang" at the University of Peradeniya. Bad enough she was a raw fresher … worse still or better still … she was a fresher who was honoured with the female lead.
Twenty-four year old Somalatha played an old woman and was greeted with a five minute long unwavering hoot from the male members of the audience. It was literally a baptism by fire by she unflinchingly carried on … undaunted. There was no turning back. Somalatha Subasinghe has since then played a diverse array of characters on stage, on screen and on television … with great aplomb and infinite ease.
Listen to her recall memorable landmarks of a 50 year old career, the different roles she has played in real life – leading light of the 'Playhouse for Children and Youth', wife to Lionel Fernando, mother to Kaushalya and Shyamalika, grandmother cum confidante to two grandsons and two granddaughters.
Added to this is also her 'stint' as wife of Sri Lanka's ambassador to Malaysia, the Netherlands and France … her phobia for snakes and her revulsion for durian. Somalatha Subasinghe turns 75 on July 02 this year, but still has the fire to command audiences with her electrifying presence on stage and screen. Catch it all on Celeb Chat at 9.30 pm on Monday 25 April on CSN.
Repeat : Tuesday 26 April at 8.00 AM.