Cities for people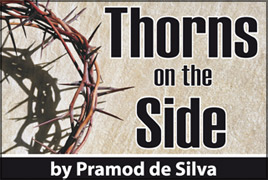 Last week, I participated in a parley on Challenges of Air Quality & Mobility Management in South Asian Cities, Organised by the Centre for Science and Environment (CSE), India and TVE Asia Pacific, Sri Lanka, at the SLFI, Colombo, where I realized the gravity of the problem confronting us, in terms of the ever expanding vehicle numbers.
As the speakers at this parley pointed out, it is not only a question of traffic and the construction of roads at the expense of everything else. The worse problem is air pollution. The denser the city, the bigger the traffic, air pollution gets worse.
Let's put it in another perspective: The region is suffering from serious technology lag and is far behind the global clean emissions benchmark. Colombo has initiated Euro I/Euro II technology that is 20 years behind Europe. India has a combination of Euro III/Euro IV, which is not enough. The region can beat its pollution problem only if new vehicles emit as little as possible and technology improves as quickly as possible.
It is thus essential to move in this direction without delay while improving the quality of fuel available at our filling stations. The region needs to fast track its transition to meeting Euro V and VI emissions standards.
There are also serious health concerns over the increased use of high sulphur poor quality diesel. Such a diesel car or truck can emit seven times more air toxics, some of which are carcinogenic, than petrol cars.
The parley was told that Sri Lanka incurs Rs. 22-17 billion in health damage costs owing to auto emissions in Colombo alone.
One reason for this situation is that Sri Lanka's motor vehicle fleet has doubled in just one decade (1991 to 2000). Last year was a record breaking year for vehicle registrations. The country incurs a massive financial (primarily fuel costs) and human-hour loss due to severe traffic congestion. In Greater Colombo, this loss was as high as Rs 32 billion per annum in 2009.
Sri Lanka is losing 1.5 per cent of its GDP due to traffic congestion, with traffic flows increasing at around 10 per cent per year. Peak hour journey speeds in Colombo are steadily declining.
But building more roads may not always be the answer. It was pointed out that New Delhi has not been able to solve its problem of pollution and congestion by building more roads and flyovers for vehicles. The city has more than 21 per cent of its geographical area under road space, yet its roads are totally gridlocked. Peak hour traffic has slumped to below 15 km/hour.
But isn't there a way out? There is. It is called public transport. Public transport buses in Colombo are less than 10 per cent of the vehicles per km, but they carry 60 per cent of the passengers per km. This means they use much less road space, but meet a significant share of the travel need of the city. On the other hand, private vehicles - cars and two-wheelers - make up 60 per cent of the total vehicles per km, occupy more road space, but carry just about 25 per cent of passengers per km.
This means that with improvements in public transport, Colombo can easily make the transition to the low polluting and low carbon mobility model that the world is trying to achieve. A study carried out by the Asian Development Bank has shown that an increase in bus share from 76 to 80 per cent can save 104,720 tonnes of oil equivalent. It would mean 5 per cent reduction in total number of vehicles and freeing up of road space equivalent to removing 62,152 cars. Many countries also impose a congestion charge on vehicles entering the Central Business District of their capitals with less than four people and restrict parking.
Colombo should seriously consider the establishment of a Bus Rapid Transit (BRT) system, whereby a separate lane is reserved for buses and in some instances, buses can even move against other one-way traffic. It goes without saying that buses should be cleaner, more comfortable and punctual to make motorists leave their cars at home. Currently, Sri Lanka has no buses running on alternative fuels such as Compressed Natural Gas (CNG) which are cleaner. This possibility should be explored here to reduce fuel costs and keep the air clean.
Railways are usually forgotten when we talk of public transport, but it is the best by a considerable margin, especially if electrified. Sri Lanka already has plans for a Mass Rapid Transit rail system in the Greater Colombo area.
More lines are to be double tracked to enable more trains to run. Again, a MRT or similar system must be clean, efficient and organised in such a way that motorists will feel tempted to leave the cars at home. Freight transport by train is another neglected aspect - just imagine the benefits of taking most of the prime movers away from our congested roads.
Our attention should also turn to non-motorised transport - mainly cycling and walking. Unfortunately, there is a very limited space on our roads for these activities - to the point where they have become highly dangerous.
While widening the sidewalks and taking hawkers away from them is commendable, we are yet to move towards cycle lanes. These are essential to popularize cycling as a commuting medium, not just as a recreational pursuit. Helmets should also be made optional at first and mandatory later for safety reasons. Cycling has another hidden benefit - it uses no fuel, which is good news for a net fuel importer like Sri Lanka.
Reducing personal vehicle usage, upgrading road/rail public transport, walking and cycling, leapfrogging vehicle technology and fuel quality, encouraging electric, LPG, CNG and hybrid vehicles and getting cleaner diesel and petrol are among the key options. Keynote speaker Anumita Roychowdhury, Executive Director of the Centre for Science and Environment, encapsulated these ideas in just a few words: "Plan cities for people, not vehicles". That should be the ultimate aim of our city planners.