Steady expansion for Laksala
Haven for local craftmen woos more customers: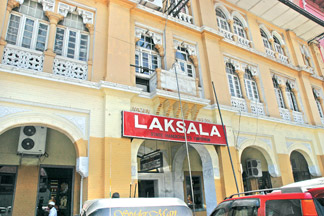 Laksala building at Colombo Fort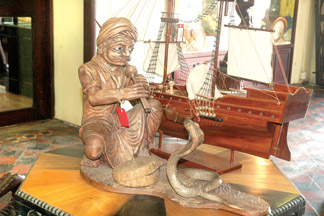 Wooden products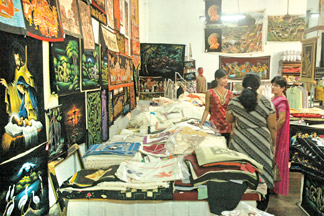 Customers at Laksala in the Fort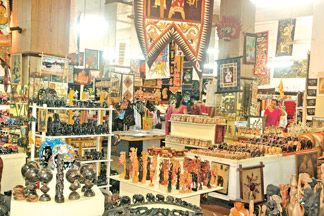 Products for sale
Pix. by Vipula Amarasinghe
A traditional mask manufacturer of Ambalangoda, the 72-year old Suranimal Rajapaksa said he earns about Rs. 40,000 a month by selling masks to `Laksala'. He said there is an increase in his monthly income during the festive season between November and February with the arrival of tourists to Sri Lanka.
G.H. Podihamine of Mirissa in Matara also related the same story. She said she earned around Rs. 35,000 a month by selling her home manufactured `Kolam' masks to Sri Lanka Handicrafts Board (Laksala) at Thummulla Junction and the Fort in Colombo.
She also said even local customers visit her small mask factory at Mirissa to buy various kinds of masks. She said 80 percent of her products are sold to `Laksala' and other 20 percent purchased by local and foreign customers.
"Although, I have regular customers to sell my products, I prefer Laksala, as this State-owned gift shop always helpsself-employed people like us,".
A regular goods supplier, K Nandadasa said he has been in the business for the past 35 years and manufacturing various items with bamboo trees and also ekels.
"Laksala is always extending us a helping hand to manufacture traditional items which foreign tourists like very much,".
Nandadasa said he generally earns around Rs. 50, 000 a month by selling his products to Laksala and some tourists hotels.
A handicraft supplier, 69-year old Gamalath of Avissawella highly commended the service rendered by Laksala for local producers in the country by purchasing their items.
"The Laksala also encourages us to manufacture more items,".
When Sunday Observer last week met a number of local craftsmen to ask about their views on the encouragement extending by Laksala for their traditional products, they highly commended the service rendered by Laksala for local craftsmen.
Even during the colonial days kings, queens and also foreigners commended the Lankan traditional crafts. They paid a large sums of money to our local craftsmen for goods.
This situation prompted the then Government of Mrs. Sirimavo Bandaranaike to open a gift shop of traditional items under one roof in the heart of Colombo. The former Premier was encouraged to open this gift shop by Mrs. Siva Obesekara and also a former Member of Parliament Maithripala Senanayake.
Mrs Bandaranaike opened this gift shop on November 5, 1964, at Millers Building in Colombo-Fort. The opening ceremony was held with the lighting of the ceremonial oil lamp. Several key Parliamentarians as well as local and foreigners attended the ceremony.
On the first day the gift shop was named as `Laksala'. It means the Sala (shop) belonging to Lankans. History reveals that `Laksala' was named by the late Ven. Mapalagama Vipulasara Thera. The administration work of Laksala was done under the guidance of P.H.P. de Silva.
According to statistics, the Laksala building was purchased at Rs. 1.7 million by the then Government in 1964. The tenth anniversary of Laksala was held at Colombo Art Gallery. Meanwhile the 25th anniversary was held at the BMICH with an exhibition of traditional products.
In an interview with Sunday Observer, Laksala, Executive Director (Administration), C.N. Dahanayake said Laksala is always extending a helping hand to local manufacturers and promote Sri Lankan handicraft. We have two major centres at Thunmulla Junction in Colombo and at the Cargills Building in the Fort.
In addition, Laksala branches are established in Galle, Kandy, Nuwara Eliya, the Airport at Katunayaka, Battaramulla, Molagoda in Kandy, Waragoda in Kelaniya, Moragalla and Katubedda at Moratuwa.
New Laksala showrooms will be opened at Colombo Museum, Trincomalee and in Jaffna.
The Laksala is a popular name among foreign tourists. Around 4000 tourists visit Laksala every month to purchase various handicrafts.
Among the Handicrafts various kinds of masks, wooden statues of persons and animals, mats made of reed, cane products, brass and silver products, gold plated statues, bronze products, iron products manufactured by blacksmiths, Wall hangings, Batik clothes are sold at Laksala showrooms.
The goods are provided to Laksala by registered local craftsmen from all over the country.
Laksala Manager, Devika Kumari said foreigners come for various kinds of our masks including Daha-ata Sanniya, Makara Muhuna and Gara muhuna.