BIZ Briefs
EFC supports visually impaired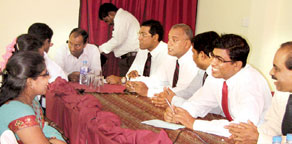 The Employers Federation of Ceylon (EFC) and ILO held a ceremony hosted by The Organisation for Rehabilitation of Handicapped (ORHAN) in Vavuniya last week to celebrate the completion of the four-month ICT course by five visually impaired trainees from the district. This opportunity gave them the potential to lead a new life.
In addition to awarding certificates, the EFC made it a memorable event by inviting leading corporations to interview them to provide employment in Vavuniya. Cargills (Ceylon) Plc., Singer (Sri Lanka) Plc., Hatton National Bank, People's Bank and Bank of Ceylon stepped in.
---
Nations Trust Bank maintains growth momentum

In the interim financial statements released to the Colombo Stock Exchange, NTB closed the 9-month period ending 30th September 2011, with post-tax profits of Rs.1,170 Mn, up 38% over the corresponding period in 2010, while pre-tax profits grew from Rs.2,020 Mn to Rs.2, 127 Mn, an increase of 5%.
Group net interest income was below the previous year due to narrowing margins which was anticipated for the current year and visible across the industry. Its impact, however, was mitigated by the sustained growth in business volumes especially in the 2nd and 3rd quarters, timely re-pricing of deposits and a shift in the deposit mix towards low cost funds.
---
What Apple's drop means for Nasdaq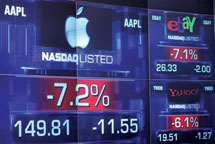 Apple (AAPL) has been a stellar performer ever since the market lows of March 2009, and has been a principal reason for the out performance of the Nasdaq 100. With a weighting of more than 14 percent—the highest of any stock in the index—its moves have outsised effects on the NDX.
Today AAPL broke significantly below its 50-day moving average, which was last at $395.31, more than $10 away from where the stock is currently trading.
Although it is by no means a certainty, a break of this size could signal a retest of support ahead for the stock. The most probable downside objective would be to the 200-day moving average, last at $362.43. That moving average has been breached only once this year, back in June.
---
Euro leaders stand by single currency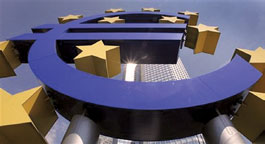 European governments and the European Union's executive commission have tried to quash reports of a possible shrinking of the eurozone, as debt worries and political uncertainty continued to feed financial turmoil.
German Chancellor Angela Merkel on Thursday rejected the idea that her government might favour a smaller eurozone after Reuters reported that German and French officials had informally discussed creating a smaller, more integrated single currency area.
"For months, since the very beginning of the euro debt crisis, Germany has had only one goal, that is to bring about a stabilisation of the eurozone in its current form, to make it more competitive, to consolidate budgets," said Merkel.
---
Carrickfergus consultancy signs joint venture in Sri Lanka
BRC Partnership in Carrickfergus recently signed a joint venture to provide management training and coaching to top business people in Sri Lanka, following an Invest Northern Ireland (Invest NI) trade mission to India and Sri Lanka in April this year.
The consultancy agreement was made by Alan George, BRC's Business Development Manager, and welcomed by Dr. Vicky Kell, Invest NI Trade Director.
BRC will work with Anil Wijesinghe, Past Chairman of the Council for Business with Britain (CBB) in Sri Lanka.
---
Ceylinco Life opens second branch in Kurunegala
Sri Lanka's life insurance leader Ceylinco Life has opened a second branch in Kurunegala to enhance service facilities and better serve customers in and around the area. Located at Raja Pihilla Mawatha, Kurunegala, this is Ceylinco Life's 29th branch in a purpose-designed building owned by the company. It was built at a cost of Rs 50 million, the company said. The new branch comprises of 10,275 square feet of space on five levels. The lower ground floor of 2,016 square feet and the first and second floors comprising 4,162 square feet have been allocated for the offices, while the upper ground floor of 2,016 square feet is assigned to Customer Service.
The third floor is a training room cum auditorium. For the benefit of visitors and occupants, the office is fully air-conditioned and is equipped with a passenger lift and a standby generator. Among some of the other features of the building are a rain water harvesting system, net metering and solar panels, tube well, inverter air conditioner units and LED lights.
---
'Minute Maid Apple' flavour launched
Coca-Cola Sri Lanka launched the new Apple flavour under Minute Maid brand umbrella. The latest offering from the Coca-Cola Company (TCCC) is a apple juice-based drink and has been developed for consumers in Sri Lanka keeping in mind their taste preferences. Minute Maid Apple aims to provide consumers with an unmatched taste and the brand's innovative consumer proposition is explained by the tagline – Jeewithayata Rasayak - a taste of life.
Minute Maid Apple is available in 200 ml returnable glass bottles (RGB) at retail outlets islandwide and is affordably priced.
The latest innovation after Minute Maid Orange, and Minute Maid Mango is targeted at consumers across all age groups.
---
Agro Harapan Lestari strategic partner for ICASL


The Institute of Chartered Accountants of Sri Lanka (ICASL) recently recognised Agro Harapan Lestari (Pvt.) Ltd as a strategic level training partner.
At a ceremony held recently, the institute awarded the strategic level training partner certificate to Jeewantha Sanjeewa of Agro Harapan Lestari welcoming the organisation as a strategic level partner.
As a training partner, the organisation provides practical training which assists the long-term development of the accountancy profession in the country.
---
Nawaloka Hospitals to mark World Diabetes Day
Diabetes kills an estimated 3.8 million persons annually, a figure that is higher than those dying as a result of AIDS.
In an attempt to create a greater awareness of this disease, which is fast increasing in pandemic proportions, even more than HIV/AIDS, Nawaloka Hospitals? 'Serene' Diabetes Centre will commemorate World Diabetes Day ( November 14, 2011) with a special program where a series of Diabetes related activities will be held at the hospital premises on November 16, at 7.30 a.m.
---
Union Bank revives The Finance & Guarantee

Union Bank of Colombo PLC (UBC) and an International foreign investment Fund ShoreCap II Limited of USA acquired over 98 percent of the voting shares of The Finance and Guarantee Company Ltd (TF&G), infusing new capital to resurrect one of Sri Lanka's oldest finance companies at a total investment in excess of RS 1.1 b source s said. Previously Union Bank acquired National Asset Management Limited (NAMAL) Sri Lanka's pioneering Asset Management Company. This acquisition further highlights Union Bank's focused diversification plans taking positive strides in a short period of time.
Chairman of Union Bank Ajita De Zoysa said that the Bank together with ShoreCap invested in excess of Rs 1.1 b to recapitalise TF&G.
---
KPMG Sri Lanka opened in Hambantota
KPMG Sri Lanka branch in Hambantota KPMG Ford, Rhodes, Thornton & Co. ("KPMG Sri Lanka") opened its fifth branch office in Hambantota recently. Coordinating Partner for KPMG Sri Lanka's branch offices in the southern province Jagath Perera said that recent developments in the region had brought to the forefront the importance of Hambantota as a key regional trading and business centre and that the Firm is privileged to have established itself in this key area.
M.S. Usuph, President of the Hambantota District Chamber of Commerce (HDCC) was the Chief Guest. Guests of Honour were Azmi Thassim and Suresh De Mel, Director General and Director of the HDCC.
Staff partner of the firm Yohan Perera said, "We are delighted to expand KPMG Sri Lanka's reach across the island and the opportunity afforded to us by establishing ourselves in Hambantota is tremendous".
---
Multibond awards dealers and end users for loyalty













Sinwa Marketing Private Limited - marketer of Multibond range of adhesives, awarded its dealers and end users for their loyalty towards the Multibond Brand.
Titled "Multibond Saviyen Idiriyata" loyalty campaign, the loyalty program was designed to appreciate the two main categories. Firstly end users in the footwear and leather products, upholstery cushion and furniture industries. Secondly the hardware dealers located islandwide.
With over sixty years in customer service, high quality product offerings and innovative bonding solutions, Multibond this year too reflected its market leadership position through the awards which were presented to winners including an all expense paid air ticket to Malaysia, motor bikes, laptops, home theatre systems, mobile phones, sports bicycles, microwaves, steam irons and other consolation prizes.
---
Haycarb's 1H revenue- Rs. 3.8 b
Haycarb PLC has reported revenue growth of 21 percent Rs. 3.8 billion for the six months ending September 30, 2011, with stable demand in global markets and the company's reliable supply stream of high quality carbons with a product mix of value-added carbons protecting its top line in a period of narrowing margins.
The Hayleys Group's activated carbon manufacturing business reported profit before tax of Rs. 334 m and net profit of Rs. 279 m for the six months.
Haycarb Managing Director, Rajitha Kariyawasan said these profit figures, were lower by 21 and 19 percent over the corresponding period of the previous year where the price pressure on charcoal was less significant, reflected a stable level of profit in the context of the unprecedented increases in the prices of coconut shell charcoal, its principal raw material.
---
PCH provides IT help desk for Sabaragamuwa University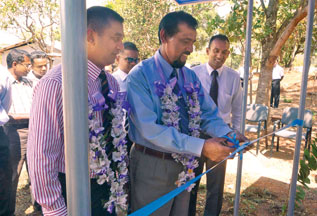 PC House PLC provided the first ICT solutions provider to open a free service and repair help desk at the Sabaragamuwa University in Belihuloya. The help desk which serves over 2000 students as well as the faculty provides free maintenance for all computer labs, and offers training and free demonstrations of hardware and software for students. S.H.M. Rishan, Chairman PCH said, "This pilot project in the Sabaragamuwa University is the beginning of what we are planning for universities across the island. Our long-term objective is to provide IT assistance and services and to empower the future generations of our nation with tools and services like this.
---
Siddhalepa opens Spa at BIA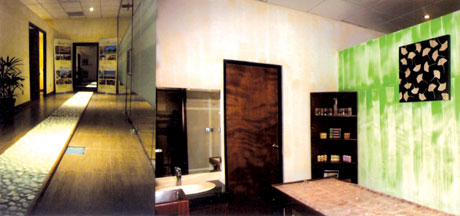 Allowing travellers to relax, energise and refresh with minutes prior to boarding, Siddhalepa opened its newest Spa Centre at Transit Hotel, Level 2, passenger terminal building B.I.A., Katunayake.
Well-trained therapists perform a range of treatments specially designed for the frequent travellers embracing the true essence of Ayurveda to provide relaxation and body care.
Chairman of Airport and Aviation Services (Sri Lanka) Ltd Prasanna J. Wickramasuriya was the chief guest.
Officials of Airport Aviation Services and Siddhalepa Group Chairman Dr. Victor Hettigoda, Managing Director Asoka Hettigoda and board of directors were also present on the occasion.