Sharp drop in tobacco smoking in Sri Lanka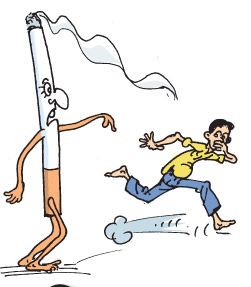 Tobacco smoking has dropped drastically in Sri Lanka during the past five years due to various steps taken by the Government to discourage smoking in public, a spokesman for the National Authority on Tobacco and Alcohol (NATA) said. According to the latest NATA statistics the percentage of daily smokers in Sri Lanka, especially youngsters has dropped to 18 percent the lowest rate among 140 countries.
NATA Chairman Prof. Carlo Fonseka told the Sunday Observer that banning the publication of tobacco related advertisements in newspapers and television, increasing the tax on cigarettes, banning smoking in public places, prohibiting cigarette sales for underaged children and holding smoking related awareness programs for school children are the main cause for the drop in tobacco smoking in the country. Quoting National Cancer Institute (NCI), Maharagama statistics, Prof. Fonseka said over 72 percent patients seek treatment in hospitals for oral and lung cancer caused due to cigarette smoking.
The remaining patients seek treatment for heart disease and other ailments, also caused due to tobacco smoking. He said that 22,000 Sri Lankans die annually due to smoking.
NIC Medical Officer Dr. Samadhi Rajapaksa said 18,000 new cancer patients seek treatment in hospitals every year and added that the authorities should launch more awareness programs on the negative aspects of smoking to reduce this number in the future. He said that cigarette smoking among the younger generation in the country has dropped to a large extent due to various steps taken by the Government.