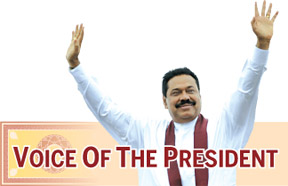 Love your country with same zeal as parents
Paying tribute to a father is a great moment in one's life. A father means a lot to a son, who learns his ABC of life and learns to become a great person. It is a memorable moment for a son to pay tribute to a father who was of immense strength and helped him to stand on his own feet. No one can dismiss the fact that the most courageous leader in this era didn't shed a tear, when he was placing floral tributes at the foot of the statue of his father last week.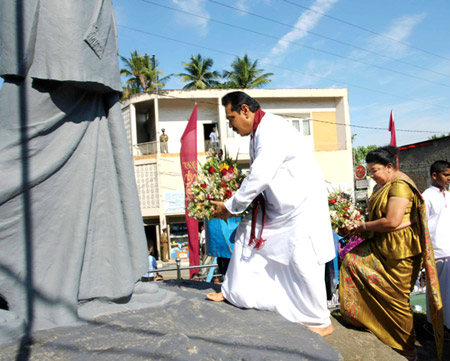 It was the moment that a heroic son paid tribute to a great father who was the former Deputy Speaker and Minister D A Rajapaksa, the 'Lion of Ruhuna'. The son- President Mahinda Rajapaksa, who learnt to be an ordinary man from his father, has followed his footsteps to create a better Sri Lanka for all its citizens.D.A Rajapaksa, who paved the way for the less fortunate, down-trodden masses to live a free life without being a burden to others, did not take a red cent from the people or the country but served the people without expecting rewards and profits.
The 44th commemoration of renowned politician D.A. Rajapaksa, a pioneer in the formation of the Sri Lanka Freedom Party, was held in Tangalle last week. Rajapaksa, who followed S W R D Bandaranaike, had initiated awareness for a new era for the country and his son - President Rajapaksa - implemented the Mahinda Chintana concept taking forward his father's vision to develop the country.D.A. Rajapaksa was born on November 5, 1905 and passed away on November 7, 1967.
A native of Giruwapattuwa he represented the Beliatta electorate in the Hambantota District.Coming from a wealthy family background, during his last years in politics, Rajapaksa who had spent his money on looking after the poor and developing his electorate, had even to mortgage his house.He was one politician who believed in creating a domestic economy based on agriculture.
President in Male
The President arrived in Male on November 9 to attend the 17th SAARC Summit to be held from November 10 to 11 at the Hithadoo Convention Centre in Addu and the Fuvahmullah City on the theme 'Building Bridges'.President Rajapaksa and First Lady Shiranthi Rajapaksa were received by Maldivian President Mohamed Nasheed and First Lady Laila Ali at the Gan International Airport. The two leaders unveiling the plaque at the foundation for the construction of an asphalt concrete road from Sunset Bridge through Maradhoo and Feydhoo in Addu city, built with aid from Sri Lanka. Addressing the SAARC conference President Rajapaksa said: The three agreements are SAARC Agreement on Multilateral Arrangement on Recognition of Conformity Assessment, SAARC Agreement on Implementation of Regional Standards and SAARC Seed Bank Agreement. President Mahinda Rajapaksa who arrived at the closing ceremony of the 17th SAARC summit, was received by his Maldivian counterpart Mohammed Nasheed. President Rajapaksa, accompanied by President Nasheed inspected the Hithadoo Convention Centre where the summit was held.
Before his departure to Male he met a group of representatives from the Congress of Religions at Temple Trees early this week. Ven Prof Bellanwila Wimalarathana Thera, Ven Dr Ittapane Dhammalankara Thera, Ven Banagala Uppathissa Thera, Archbishop of Colombo Malcolm Cardinal Ranjith, Emeritus Bishop of Colombo Rt Rev Oswald Gomis, Kurukkal S.M. Sharma, Moulavi MM Fazeer and also opened the new building complex at Police headquarters in Tangalle.
Revival of failing enterprises
President Rajapaksa at a discussion held with local businessmen said that the government had no intention to acquire private sector enterprises through the proposed legislation titled, 'Revival of Under Performing Enterprises and Under Utilised Assets.' and it was only institutions which had deviated from the specific aims and objectives laid down by the government when they were originally vested in the private sector will be subject to the new legislation to effect their revival and meet the original objectives.He also said that no enterprise or assets other than those that have been specifically mentioned in the draft legislation would be subject to the proposed law.At the meeting the businessmen pointed out to the President that a wrong impression was being created on this whole issue, adding that they were in no way against acquiring ventures that had deviated from the government's original intention when they were first handed over, and had strayed into other territory.
The businessmen were also of the opinion that laws of the country should undergo a change from time to time in keeping with the changing economic climate so that the country's economy would be strengthened.President Rajapaksa recalled his warning to enterprises that were not working towards the expected goals in his last budget, saying he had granted them one year to reform.
Objective
The President pointed out that the objective was expanding production capacity and employment generation when these public assets were vested with the private sector but were used for other purposes to derive illegal profits causing serious problems to the country and the economy.It was also revealed that certain ventures had similarly functioned for over 20 years in contravention of the laid down objectives with some even violating labour laws relating to EPF payment.The President also emphasized that there was no political motive behind the proposed legislation, explaining the dangers that would ensue if important economic decisions are to be decided on the basis of political considerations.
At the lengthy discussion on the topic, it was also pointed out that the future of the employees of enterprises to be revested will be guaranteed under the employment protection regulations.
It was also agreed by those present, of the importance of taking a decision on enterprises which are vital to the country's economy, which instead of keeping to the original aims had deviated from course bringing loss to the country and its people.
One country
In his address to students of Tissa National School, Kalutara on its 75th Anniversary, President Rajapaksa requested children to love their country with the same devotion with which they love their parents.
He said Sri Lanka could face any challenge in the future with confidence, if the children love their country with the same devotion and dedication as they love themselves and their parents.
He said that it was important to mould a strong future generation with all round skills and knowledge to face them with confidence and Sri Lanka faced multiple challenges internationally.
Rajapaksa said that education should be holistic in nature and children should not only confine their education to studies but also pursue sports and extracurricular activities as well as sports would help the child to cultivate valuable qualities, including, team work and the ability to bear both victory as well as defeat in the same stride.
He said children should not act in a selfish manner to only achieve victory but should give prominence to team work, whilst being competitive.