Despite losing 2018 Commonwealth Games bid to Gold Coast...:
Hambantota sports city project to continue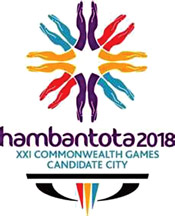 BASSETERRE: St. Kitts and Nevis. Nov. 12. – Sri Lanka, despite losing its 2018 Commonwealth Games bid to Australia's Gold Coast City, would go ahead with its new sports city project in Hambantota.
Hambantota District Parliamentarian, Namal Rajapaksa said that the original plan to construct a new sports city near the international cricket stadium in Suriyawewa would continue as planned.
In an exclusive interview with the Sunday Observer, shortly after Gold Coast ousted Hambantota by 43 votes to 27 to become the host city of the 2018 Commonwealth Games during the Commonwealth Games Federation General Assembly at Saint Kitts Marriott today, parliamentarian Rajapaksa said that he would fulfil the promise that he had made to the people. "There could be only one winner.
As sportsmen, we have to take both victory and defeat in true spirit. Hambantota made its mark to attract support of 27 countries but the majority decided that the Gold Coast bid was better. We respect that decision," he said.
However, the former Sri Lank Youth rugby captain said his team is determined in defeat, even to attract larger multisport events to Hambantota in future. "I have made a pledge to people, especially to those who are in the Southern Province.
I will fulfil that by making Hambantota Sports City project a reality," he said.
"Under any circumstance, we will not abandon the project just because our bid was unsuccessful. We would go ahead as planned and complete all stadia by 2016 to host the South Asian Games. That was what we originally planned," he added.
"I will make every effort to make Hambantota a leading sports destination in the world. We intend to complete the entire project on schedule as planned and stage a grand prix event there in 2017. The world would then realize that we could take challenges and meet deadlines," he continued.
Parliamentarian Rajapaksa added that the youth in the South, especially those who are in Hambantota district, have been eagerly looking forward to Hambantota Sports City project and that he is not going to shatter their dream just because Sri Lanka fell short of just nine votes at the Commonwealth Games Federation.
Minister of Sports Mahindananda Aluthgamage said they would extend the fullest support to make Hambantota an important sports hub. He said that Sri Lanka is not unduly worried about losing the bid. "It is not the winning or losing that matters but how one played the game. We gave a good fight to Gold Coast with an equally strong bid. But there could be only one winner," he explained.
He said the country's third international athletic stadium would be built in Hambantota as the government is keen to offer better infrastructure facilities to budding athletes in the provinces and in order to sharpen the skills of rural athletes.
It would be built in the close vicinity of the new Mahinda Rajapaksa International Cricket Stadium in Suriyawewa which was constructed to host the 2011 ICC World Cup tournament matches.
The Minister added that the construction work of the new Hambantota International Athletic Stadium, which includes a separate 200m warm up track apart from the main 400m competition track, will commence early next year. It would include all facilities to meet international standards.
All other structures in the original Hambantota Sports City project, including the indoor stadium for badminton, table tennis, netball, badminton, wrestling volleyball and boxing would be built. There will also be a special international swimming pool complex that could hold any world class meet.
Minister Aluthgamage said a new era of sports development has begun under President Mahinda Rajapaksa, with the construction of two new cricket stadiums in Suriyawewa and Pallekele and the redevelopment of Premadasa Stadium. "We also constructed a brand new sports stadium complex in Diyagama, Homagama. Never in Sri Lanka's sports history that such an amount of stadia were built to develop infrastructure that is needed for a healthy nation. We are determined to continue this trend and make a healthy nation," he said.