HIV/AIDS prevalence record low:
MSM to lead HIV/AIDS in Sri Lanka by 2015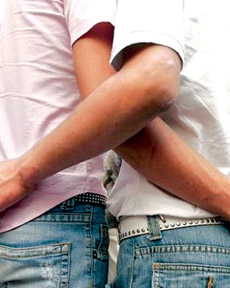 Men having sex with men (MSM) act as a bridge between safe persons and HIV infected/risky persons. HIV spreads mainly through sex workers and husband/wife relationships in the past and at present but in the future (around year 2015 and beyond) MSM will be solely the main factor in the spreading of HIV. MSM stands at No.2 in the high risk groups. Sex workers are on top of the list. Sri Lanka needs to be vigilant on the increasing number of HIV infections and need to take all available precautionary measures to keep the low HIV prevalence rate as it is, Consultant Venereologist Dr. G. Weerasinghe said at a recent media seminar held at the Sri Lanka Foundation Institute, Colombo.
According to Dr. Weerasinghe, present HIV prevalence rate in Sri Lanka is less than 0.1 percent cent but it could increased due to various factors in future. It is estimated that there are around 35,000 homosexuals (gay persons) in Sri Lanka at present. Commercial sex workers and MSM are two main potentials for expanding the HIV positive population. MSM will be the main factor in the future.
Through a power point presentation, Dr. Weerasinghe pointed out that 95 percent cent of HIV infections set in due to homo sexual relationships and 84.3 percent infections through heterosexual relationships. Another 10.5 percent infections are due to homosexual and bisexual relationships while 4.5 percent of infections through perinatal relationships. Only 0.4 percent cent infections take place through blood transfusions.
The latest statistics reveal that cumulative HIV cases in Sri Lanka as at June 30 this year as 1388. The Number of HIV positives followed up in clinics stands at 775. There are 300 HIV infected persons on ART. In Sri Lanka we have many 'feats' to be proud of with regard to HIV/AIDS.
External forces
The main factor is Sri Lanka's significantly low HIV/AIDS prevalence rate (less than 0.1) which is one of the lowest in the entire world for a long time.
There are certain factors we have to take care of in order to maintain our proud HIV/AIDS low prevalence status and there are certain internal and external forces that dislike our extremely low HIV/AIDS prevalence rate. Therefore we have to be vigilant and active when it comes to maintaining this low prevalence rate.
According to the majority of the Sri Lankan public, it is Sri Lanka's rich cultural heritage and religions that protect the Sri Lankan society from HIV/AIDS.
Prevalence
They say that Sri Lankan culture never encourages people to engage in risky sexual practices and always inspire them to protect themselves and their loved ones.
It discourages pre-marital sex. It is the same with all the religions in Sri Lanka. The culture and all religions teaches Sri Lankans to be faithful to themselves and to their spouses.
But this is not so when it comes to many other non Asian countries and their cultures.
About what we should be concerned in order to maintain our low HIV/AIDS prevalence rate ? This is the main factor Sri Lanka should be focused on at the moment. There are certain groups of persons such as migrant workers, drug addicts (who use needles to inject drugs), commercial sex workers, MSM (Men having sex with Men), LGBT ( Lesbians, Gays, Bisexuals and Trans Gender persons) in our society. The percentage/number of such persons is very low. Majority of them live invisibly while some powerful LGBT persons live openly. But all of them face the same risk when it comes to health and HIV/AIDS.
Discrimination
When they visit health institutions, the authorities should ensure that they receive the best health care service plus education without any discrimination.
This is the only way of minimising the spread of HIV in Sri Lanka. The NGOs which claim that they are engaged in HIV/AIDS prevention, homosexuals and lesbians and their organisations too have a big responsibility. It is looking after their own health and the health of their partners, families and friends. But it is pathetic to see that most of them are busy fighting for their `rights' and promoting their sexual preference. First of all it is right to safety and health they should fight for.
HIV/AIDS control only provides them a good camouflage / cover up which can be used to promote their real activities. HIV/AIDS control is the best ever cover up found by them because it always receive state sponsorship which is only a dream for gay and lesbian organisations in Sri Lanka.
These specific groups of persons face an additional risk because of their risky sexual behaviour.
It is a well known fact that commercial sex workers are at a greater risk and they need to wear condoms. But sometimes their clients do not allow them to do so. In the recent past health authorities detected nine female HIV positive commercial sex workers from the Colombo city.
Another well known fact is that the majority of MSM do not wear condoms for various personal reasons. LGBT persons face the same problem often.
Strategies
Special attention should be paid to encourage above groups of persons to use condoms all the time and come forward and get themselves tested for HIV regularly. So far the majority of HIV/AIDS awareness raising programs were not focused on them. No point of educating the same, educated, target groups such as journalists all the time.
It is some extra work for the NGOs to find out strategies and approach them, but it should be done no matter how expensive and hard it is. According to recent media reports published some NGOs promote homosexuality in Sri Lanka pretending that they are engaged in HIV/AIDS prevention.
Cultural heritage
Sometimes one can suspect whether some NGOs working on preventing HIV/AIDS or promoting it because of their suspicious behaviours and strange approaches towards the issue. Even mentioning about culture and religions is poisonous for them.
They laugh at our rich cultural heritage and religions. They faint when a news item appears on a national newspaper stating that culture and religions make a significant contribution towards preventing HIV/AIDS and even call the journalists to express their protest against such a news item !
The behaviour of external forces is not surprising at all. Everything comes in the `goodwill' wrapper.
No one suspects about anything and no sign of a plan B or a hidden agenda. Some NGOs distribute lubricants and needles (for injected drug users) ! The drug use can exchange a used syringe to a new one.
This is a strategy used to control HIV/AIDS in highly affected countries in the world where no other method works. But Sri Lanka is still in its initial stage of the disease with less than 0.1 prevalence rate.
Religions
As watchdogs of the society it is our duty to tell the public the true situation exists in the country. It is your duty to take care of yourself and your loved ones.
It is our duty to protect our culture and religions which take care of mother Lanka.
It is very easy because we are still in the very early stage of the disaster. We have a stronger weapon than any other country in the world to fight against HIV/AIDS. It is our culture and religions. Our literacy rate is over 90 percent. We do not have a heavy work load.
Only thing we have to do is living our lives as real Sri Lankans and be united against imported strategies of HIV/AIDS prevention.