No school will be closed - Education Minister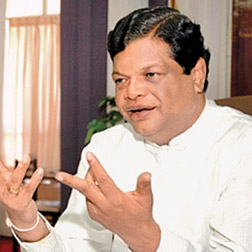 Education Minister Bandula Gunawardena said the number of small schools is growing at an alarming rate due to the competition by parents for a handful of popular schools in the country. He told the Sunday Observer that despite this disturbing trend the Education Ministry will not resort to closure of the schools, but instead a national program is to get off the ground in January next year to develop 5000 primary and 1,000 secondary schools islandwide as a pragmatic means to ease off the fierce competition for popular schools.
The total estimated cost of the project is Rs.11 billion. The primary school project 'child friendly schools' will be partly funded by the UNICEF.
"There are nearly 10,000 schools in the country with a teacher population of 217,000 and a magnanimous administrative structure overseeing their management.
Despite this apparent positive sign, the number of small schools in the country are multiplying. In 2003 the number of schools with less than 50 students stood at 1,437. This has increased to 1,552 by today, a disturbing 16% of the total number, the Minister said.
Parliamentarian
The other trend is the multiplying of bigger schools with over 2,500 student population. In 2003 these schools numbered 141 and now there are a total of 187 (1.9%).
"Parliamentarians are more concerned and make a big sound in the House about this 1.9% when 92 schools in the country have just one teacher," the minister quipped, observing that non of his parliamentary colleagues have time to discuss real issues in the education sector.
There are 168 schools of which the entire academic staff consists of just two teachers. The number of schools with three and four teachers are 254 and 375 respectively. Further, there are nearly 2,000 schools with less than ten teachers. He said this was pathetic although Sri Lanka boasts of a high literacy rate.
Revelation
Continuing the disturbing revelation the Minister said, there were 124 primary schools in the country where not a single Grade One application has been received to admit students to year 2012.
There are 1,089 schools with less than ten children, but still get applications to admit students to grade one. Twenty-five percent of the total number of schools receive less than 10 applications for grade one admissions. This is the plight of the education sector, he said.
Under the schools project implemented from next year the curriculum from grades 1-13, teacher guides and text books will be completely revised. The examination process too is going to undergo a complete revamping.
The secondary schools will be developed providing a computer lab with 50 machines, English language laboratory, science and maths labs, distance learning centres, three science labs, commerce lab and equipment for sports and aesthetic learning and libraries.
According to the Minister, 62% of the schools do not have science laboratories to perform practicals in the GCE Ordinary Level syllabus.
He said at present, of the 10,000 schools there were only 712 schools that can accommodate GCE Advanced Level science students. The number of students following science A/L are 98,181 which is 22 percent of the total A/L students.
Only 109,589 of students (25%) pursue commerce stream, the area which is responsible for the biggest job spinner in the world. In the contrary over 225,000 students, a staggering 53% pursue Arts subjects and join the long queue of unemployed.
He said out of 334 PS divisions, there were 72 without a single 1AB school - schools that has facilities to learn all four streams; Commerce, Physical Science, Bio-Science and Arts. Schools in 172 PS divisions have no proper facilities to teach A/L Science and Commerce streams.
Rich and poor
Although it has been claimed education a born right of the rich and poor alike, this is yet to become a dream come true for significant many in Sri Lanka where about 10% children still making nearly 10 km to reach a school.
Commenting on the positive side he said 56% of the children pass the Grade five scholarship exam today, as against the 39% in 2005, GCE Ordinary Level pass rate too has increased to 65% last year from 54% in 2005 as well as the GCE A/L from 59% in 2005 to 61% last year.
He said Sri Lanka with a literacy rate of 96%, computer proficiency 35-40% and 95 % pass rate up to Fifth Grade and lower drop out rate, is far ahead compared to others in the region such as Pakistan, India, Bhutan, etc.
Long queue
But, he acknowledged that Sri Lanka still has a long way to go. "We admit 350,000 students in Grade one each year and send 300,000 candidates to sit for the GCE Advanced Level at which point only 22,000 gain entry to universities.
The rest, except for a small percentage who enroll in tertiary education institutes and for other professional exams, join the long queue of job seekers."
Minister Gunawardena said the Mahinda Chinthana policy has seen these problems in a broader perspective and education is one of the top priorities of this Government.
Minister Gunawardena said the Government is hopeful, this biggest education project ever, will pave way to modernise the whole sector to give more meaning to school education and produce a school leaver who is socially responsible, educated to its true meaning as well as skilled.