India in 'U' turn rejects Wal-Mart opening
NEW DELHI, (AFP) - India suspended plans to open its $470 billion retail sector to foreign supermarkets such as Wal-Mart, in a major U turn forced by an outcry from small shopkeepers and opposition MPs.
The climbdown was a grave embarrassment for Prime Minister Manmohan Singh's government, which had announced the retail reform with great fanfare just two weeks ago.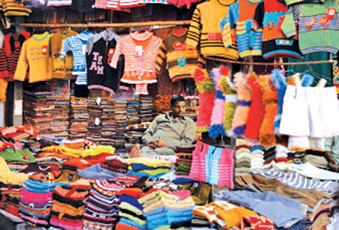 The arrival of international chains such as Wal-Mart, Carrefour and Tesco in India was expected to herald a consumer revolution with shoppers moving from small, neighbourhood stores to large, out-of-town supermarkets. But anger over the planned reforms united "mom and pop" store owners, trade unions, influential state leaders and opposition law makers who have paralysed Parliament over the issue.
"The decision to permit 51 percent (foreign direct investment) in multi-brand retail will be suspended till a consensus is developed through consultations," Finance Minister Pranab Mukherjee told Parliament.
The Federation of Indian Chambers of Commerce and Industry (FICCI), the country's leading business body, described the government's reversal as "deeply disappointing".
"It is a highly regressive move," it said in a statement. "For the economy as a whole it is imperative that the reforms like these should take place."
Observers added that the capitulation would fuel criticism of in decision and policy drift within Singh's administration amid worsening economic data and a series of corruption scandals. "This is a huge setback and will not go down well with foreign investors," said P. Phani Sekhar, fund manager with Mumbai's Angel Broking.
Sushma Swaraj, parliamentary leader of the main opposition Bharatiya Janata Party (BJP), which had spearheaded opposition to the reform, mocked the Government benches as she welcomed Mukherjee's announcement.
"Bowing down to popular sentiment is not a defeat for the government," Swaraj said. "That the government bowed down before popular sentiment is a great victory for democracy."