Sri Lanka's waterfalls and landscapes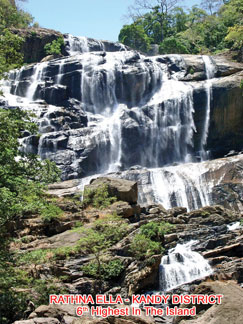 No place is boring, if you've had a good night's sleep and have a pocket full of unexposed film.
-Robert Adams, Darkroom & Creative Camera Techniques, May 1995
An exhibition of feature photographs of Sri Lankan waterfalls and landscapes by Ronali Abeywickrama will be held from December 15 -16 at the D.S Senanayake Childrenís auditorium in Kandy. The exhibition features seven out of ten highest waterfalls.
Among the waterfalls that the exhibition features include Bambarakanda , Kurudu Oya , Diyaluma , Mapalana and Kiridi ella . It also features Badulla, Kandy, Nuwara Eliya, Colombo, Ratnapura and Moneragala districts.
One of the rare exhibits is Paraviyan falls in Moneragala District. The photographer has captured the front view of the falls which is divided into two by a rock. Ahas Bokku falls in Kalutara district is a waterfall which has not been on the track of the photographers. In fact, it is rarely photographed. Rathana Ella in Kandy Districts is the 6th highest waterfall in Sri Lanka.
One of the significant aspects of Ronaliís photography is her keen eye for details and the focus.
Almost all the photographs were taken from a vantage point so that the frame would capture the maximum details and the complete focus is on the waterfall. For instance, Rathana ella is captured from such a vantage point so that majestic nature of the fall is amply displayed. The photographer seems to be well aware of the lighting condition of the atmosphere at the time the photograph is taken. It is obvious that the photograph of Rathana ella was taken on a bright sunny day. Bright sunlight has been exploited in capturing the Ramparts of the famous Dutch Fort of Galle.
What is significant in Ronaliís photography is her ability to capture the image in an unusual manner which, without doubt, is a hallmark of a highly talented photographer who does not merely capture the image before the camera but virtually paint a picture out of nature.
Although her focus is on feature photography and on the waterfalls and landscapes, she had retained her signature in them. On keen examination of the exhibits, it is obvious that Ronali has taken a great care not to waste space on the frame given the fact that background to her photography are sparingly captured so as to enhance the image.
The exhibition offers a rare collection of photographs with their diverse perspectives on waterfalls and landscapes.