Lessons from the rail tragedy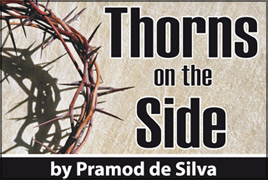 The recent tragic incident whereby a youth fell on to the railway tracks after the train steps apparently gave way has raised concerns about the safety of our public transport systems. There are many versions of the terrible accident and the youth too may have been careless if he tried to alight from a moving train as some media accounts suggest. But the truth is that there was also a mechanical/structural deficiency in the train that contributed to the fatal accident.
This is not the first time that such incidents have occurred. A couple of years ago a schoolgirl died in Kegalle when the floorboard of the bus she was travelling in gave way, dragging her under the wheels of the bus. All too often we hear of brake failures and other mechanical defects of private and public buses that lead to fatal accidents. It goes without saying that all vehicles used for public transport must be in good shape all the time.
This applies to private vehicles too, but public vehicles carry a large number of passengers whose lives depend solely on the operators of those vehicles. They thus have a moral obligation to ensure that their vehicles are always in a perfect condition on the roads.
Checks
It is reasonable to assume that thorough checks are not carried out regularly on the mechanical aspects of public transport vehicles. True, it may not be possible to check a train daily, but once a week is a fair proposition. The same applies to buses. Such a process will help identify any technical, mechanical or structural defects in buses and trains so that corrective action can be taken without delay.
There is also no 'grounding' policy in our part of the world, whereby all public transport vehicles of a similar type are not allowed to run temporarily after a serious accident until a complete mechanical 'sweep' is conducted.
We do have a system for the issuance of fitness certificates for vehicles, but there is no clear indication that it works properly. We have seen some ramshackle garages bearing the sign 'vehicle fitness certificates issued here'. The exemption of certain public transport vehicles from some of these requirements is also a wrong move.
In some countries, all vehicles (public and private) have to undergo an annual Ministry of Transport (MoT) Test which examines all mechanical aspects of a vehicle. Trains and rail tracks too are inspected regularly, because the potential for fatalities in an accident involving a passenger train is much higher.
Public transport providers must necessarily have a safety crew responsible for checking the safety aspects of their vehicles. From the effectiveness of brake pads to the structural rigidity of the footboards, they should be in charge of inspecting and repairing any mechanically unsound part. This can go a long way towards preventing freak accidents such as the recent rail tragedy.
We also lack a separate body to investigate accidents. While the police have to be involved in any accident investigation, they are not equipped to probe accidents scientifically. This is why it is essential to establish a separate body comprising transport safety experts and engineers for investigating serious accidents.
The National Transportation Safety Board (NTSB) of the US is a good example.
It has wide powers and its experts are dispatched to major accident sites (mainly plane, train and bus crashes) within hours. They work together with the police and other federal/state agencies to 'deconstruct' accidents and to recommend steps that should be taken to prevent similar accidents. Many safety improvements to planes, trains and buses have stemmed from their recommendations. The Discovery Channel, in its series Seconds from Disaster featured some of their brilliant detective work.
PSAs
Our public transport terminals and vehicles must also have Public Service Announcements (PSAs) and billboards in all three languages on safety. For example, in the UK all stations request passengers over their public address systems to "mind the gap" between the train and the platform, even though it is only a matter of centimetres. Passengers must be strictly warned not to climb on to, or alight from, a moving train (or bus). Walking on the rail track is another strict no-no.
The media too can contribute positively to such a safety awareness drive.
Public transport terminals such as train and bus stations must also have other safety features. For example, there is no uniformity regarding platform height at our train stations with the result that at some stations passengers have to climb just one step to get on board the train, whereas at others it might be three steps.
The gap between the train and the platform is also not uniform across the station network. Attention should be paid to these safety issues and rectify any shortcomings. There should also be walking and climbing assistance rails where necessary.
The main transport terminals must also be equipped with ambulances and first aid facilities. Even a delay of five minutes (spent until the arrival of an ambulance) could be a matter of life and death for an injured passenger. The staff should also be trained in first aid and simple paramedical techniques.
Safety must be a priority for all transport operators regardless of whether they are publicly or privately owned. Sri Lanka's private buses are also notorious for a woeful safety record.
Many accidents have been caused by mechanically unsound private buses. Private bus fleet owners must be held responsible for any safety lapses. It is in their best interest to subject their buses to a periodic safety review and take any corrective action.
Laws must be introduced to ensure such mandatory safety checks. However, the authorities alone cannot ensure 100 per cent transport safety.The passengers too have a vital role to play. They must adhere to all safety directives at transport terminals and inside buses and trains. They must also be vigilant about any apparent safety lapses. Passengers with babies and children must be especially careful. Safety is all about eternal vigilance and preventive action.