Learn to live in harmony:
Social, religious activities recommended for schoolchildren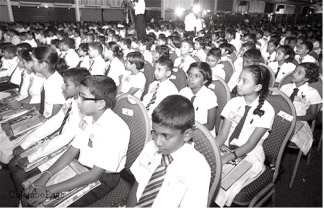 Education Minister Bandula Gunawardana called upon schoolchildren to get involved in day-to-day social and religious activities in addition to concentrating on their school education.
He said it will teach them to live in society without harming others and in harmony, especially with fellow students.
He said some parents had brought to his attention certain incidents which took place recently between students of certain boys' schools.
The Minister said parents want him to direct school authorities to take measures to prevent such incidents that took place after school sessions.
It was recently reported that groups of boys from popular schools had behaved in an unruly manner at bus stands after school sessions and even the police had to be summoned to bring the situation under control.
Meanwhile, boys from two popular schools quarrelled with each other over the final results of their annual cricket encounter. The incident was watched by many people over television.
Earlier this month, some schoolboys were taken into custody by City Police for entering girls' schools and obstructing other children.
Minister Gunawardana told the Sunday Observer that children generally live with parents and it is the parents' duty to keep close tabs on the behaviour of their children similar to the way they keenly monitor their educational activities.
The Minister urged parents to teach their children good qualities and how to accept victory and defeat alike.
He said it is the paramount duty of parents to give a quality education to children as it will help them follow the correct path in life and prevent them from being involved in unwanted activities.
The Minister said teenagers' minds are not matured and they easily get involved in wrong deeds.
"Sri Lanka is one of the few countries that gives a free education to children, but it is pathetic that many children have stopped their education halfway, especially at a tender age due to various social reasons," he said. He therefore appealed to all parents to reap the benefits of free education and give their children a good and quality education.