Major boost for tourism :
Govt designates four resort development zones
The Government has designated four areas throughout the country as resort development zones. Only the 1,800-acre Dedduwa, east of Bentota, is in the accessible, developed southwestern coast. On the northwest coast is the Kalpitiya Resort Development zone.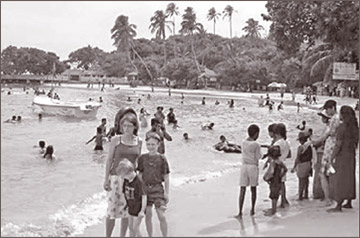 According to an HVS report last year, the Government envisioned the area would host 17 hotels with 5,000 rooms and perhaps a golf course, a water park or a race course.
Director of Media and Public Relations for the Board of Investment Dilip Samarasinghe said there had been "some talk" about such specifications, as well as casinos, but no final decisions have been made. The Government is also offering long-term leases for tourism purposes on 20 islands off Kalpitiya's 13-kilometre-long shoreline, Samarasinghe said. Two foreign companies, Sun Resort Investment Lanka and Qube Lanka Leisure Properties, each have leased offshore islands, according to HVS.
In the far northeast, the 500-acre Kuchchaveli zone is bordered on the south by Nilaveli, a traditional beach resort, and the harbour town of Trincomalee, potentially a cruise ship port.
Midway down the eastern coast, the 150-acre Pasikudah zone is also in a long-isolated area. Uga Resorts is already renovating an old hotel there and relaunching it this summer with 50 three-star Mediterranean villas starting at $50 per night.
The Board of Investment is offering concessions to foreigners and locals for investment in renovations or new builds.
A mid-scale project, one with an investment of Rs. 50 million ($400,000), entitles the investor to a one-year tax holiday and to import raw materials duty-free, said Samarasinghe. A large-scale project with an investment of more than Rs. 300 million ($2.4 million) would merit a tax holiday of six to 12 years, he added.
The country's development landscape is dominated by Lankan players.
The two largest in terms of room numbers, Aitken Spence Hotels and John Keells Hotels Group, are divisions of large, diversified conglomerates of the same names. Both have engaged in major renovations and refurbishments during the past two years.
Jetwing, a Colombo-based hotel and tour company with 12 properties in its portfolio, is looking to make a splash with an $18-million investment to build six hotels in the country by 2014, according to Jetwing Chairman Hiran Cooray.
Also, the diversified Sri Lankan business group, Hayleys, which owns or manages 350 rooms, has plans to add 400 more rooms via ground-up construction and expansion.
Two other local diversified business groups, Finco Group and Softlogic Holdings PLC, are new entrants in the hotel industry.
Finco launched its UGA Resorts in 2010 with the Ulagalla Resort in the ancient cities district. Softlogic last year bought the Ceysands Hotel on Bentota Beach for $7.2 million and will build a 220-room business hotel with Swiss-based Mövenpick Hotels and Resorts in Colombo.
Foreign companies and individuals can own property outright in Sri Lanka. Singapore's Aman Resorts already owns and operates two hotels. Newcomer Shangri-La Hotels and Resorts bought the land for the "six-star," 500-room hotel it is building in Colombo.
-Hotel News