Eight fatal accidents, in 24 hours
Eight people died in seven fatal accidents in Galkiriyagama, Gampaha, Kotadeniyawa, Ambalangoda, Kelaniya and Kurunegala during the 24 hours from Friday morning till 6 am yesterday, Police Spokesman SSP Ajith Rohana told the Sunday Observer yesterday.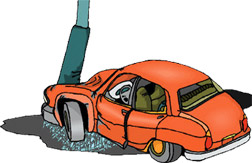 Thirty-five road accidents were also reported countrywide during the same period causing injuries to 85 people. Another 124 accidents were reported causing damage to vehicles, the spokesman said.
Police personnel deployed to maintain law and order during the festive season took in for questioning 177 drunken drivers and detected 333 cases of negligence and high speed driving, he said.
"Most of the drunken driving cases were reported from Anuradhapura while negligence and speedy driving cases were reported from Chilaw", the Police Spokesman said.
During this period police also arrested 609 people for excise related incidents while 142 people were held for dangerous drugs offences such as using heroin and other dangerous drugs.
Meanwhile, Accident Service of the Colombo National Hospital, Director Dr. Prasad Ariyawansha said that 126 patients had been admitted to the accident ward during the 24 hours from Friday morning to 7 am yesterday following road accidents, violent and domestic accidents during the Sinhala and Tamil New Year.
Two-hundred-and- twenty-three patients were treated at the Out Patients Department of the Accident service during this period, he said.
Two patients were admitted following fire crackers related accidents during the corresponding period last year. There were no patients admitted to the hospital due to fire cracker related accidents, he said.
Dr. Ariyawansha said that 43 patients had been admitted to hospital due to road accidents apart from 46 violent incidents and another 31 domestic accidents.
Police Media Spokesman Superintendent of Police Ajith Rohana cautioned the public and motorists that road traffic congestion may increase today as people visit their relatives as a custom.
The spokesman called upon motorists to abide by road rules and avoid drinking and driving. Drivers under the influence of liquor will be produced in Courts along with the vehicles, he said.