New Year celebrations:
Festivities signal a cultural bond
The Sinhala and Hindu New Year holiday weekend might have been a whirlwind experience for many. We all meticulously planned for it; spring cleaned our house, observed the rituals and traditions closely and joined in the festivities such as the New Year games and carnival.
We all get ready for New Year, anticipate its arrival and look forward to yet another year.
While countries such as Thailand, Bangladesh, Burma, Laos and the Tamil Nadu part of India have their own New Year festivities, it is Sri Lanka that really celebrates the New Year with folk games, auspicious observations and sweetmeats.
Traditionally, New Year is only seen as an integral part of the Sri Lankan culture where Sinhala Buddhists and Hindu Tamils celebrate but in Sri Lanka, those of other ethnicities also love taking part in the celebrations. More than eating sweetmeats, it is an exciting time in Sri Lanka where the heralding of the New Year is done in perfect firecracker-style, the sounds of the 'koha' (koel) bird signalling that New Year has come and the array of shopping on offer with discounts galore. Just the thought of people busying themselves spring-cleaning the house also makes their neighbours want to do the same. Painting the house in time for the New Year, having special religious rites and also participating in rituals make the New Year celebrations more memorable.
For a majority of the foreigners coming to Sri Lanka, both tourists and expatriates, it is a novel way to not only join in celebrations but also understand the unique culture and fun spirit that our country possesses.
In fact, there were New Year games held especially for tourists by hotels to make sure that they had a great time too. New-found friendships form over the tug-o-war games, people laugh after falling from the sack race and new friends come together after vying for the title of fasted bun eater.
Traditions
Tourists can be amazed at what Sri Lanka has to offer and it is also a special way to understand Sri Lankan traditions and customs. For Jennifer, who is celebrating the New Year in Kandy with her friends, she said that the streets are buzzing with activity, last-minute shoppers are frantically trying to get the best bargains before the New Year and this can be very atmospheric for any passing tourist. "For me, it's all about the smiles, the time when families get together and go shopping with their children. Most of all, it shows how Sri Lankans are serious about the New Year which is seen more as a family-oriented celebration with loved ones rather than going out to town and partying with friends."
Edward said that he loves taking part in New Year games because it is fun and unusual. "Where I come from, we have sports and general games such as musical chairs but here you see people trying to pillow fight in 'kotta pora' or climb a greased pole. But the beauty pageant aspect of the New Year games might be Western-influenced," he said with a smile.
Emma, who has been in Colombo during the festivities and she has gone in search of it. "On New Year's day, it's very quiet in the morning on the streets of Colombo because people will be at home silently observing rituals and they go to their hometowns to celebrate. Most shops are closed and Colombo feels like a dead city. So when I stay in Colombo during these days, I try my best to go somewhere to see the festivities." Since it's a holiday, she tried to see as much of the culture of the country as possible. "Sri Lankan people are naturally very hospitable so more often than not, I get invitations to all the parties and once I even judged an Avurudu Kumari and Kumariyo pageant, which was fun."
There have been games held at the leading hotels in Colombo to East coast hotels also getting foreigners to take part in celebrations. There now seems to be a shift from the times when only Sri Lankans took part and the foreigners were just spectators. "You get to sample the traditional sweetmeats which I tried for the first time and I think they are delicious," said Daisy, a Colombo resident from the UK. She said that she loves New Year time because more than shopping, it is the availability of traditional sweetmeats that can be bought at this time more than any other season.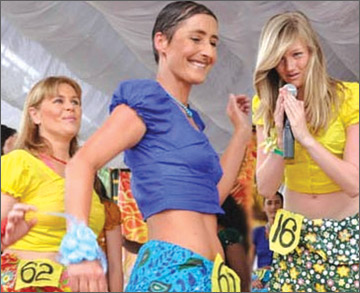 Usually, New Year games are not celebrated in the city but if more establishments make it a point to have a New Year day after the holidays to ensure that the magic and spirit of the New Year is kept alive, then it would make the season all the more worthwhile.
Another Sri Lankan expat, Tim said that he loves the New Year celebrations in Sri Lanka because his wife is a Sri Lankan. "Observing the dawn of the New Year and the customary boiling of the milk to usher in the New Year is an exciting experience in itself. Despite not being Buddhist or Hindu, I love taking part in festivities and facing a certain direction to boil milk and wearing new clothes." He said that partaking of the first meal is his favourite because the delicious assortment of the Rasa Kavili Mese complete with New Year sweetmeats such as kavum, kokis and aasmi are looked forward with glee.
"I have also learned how to play the rabana because it is an interesting instrument with a deep sound. The heralding of the Sri Lankan New Year musically with the rabana collectively brings people together to sing songs and make merry," he said.
It is a truly cultural experience to get tourists to see the New Year games and celebrate.
What is important is that by understanding Sri Lankan tradition, it does bring foreigners closer to learning more about our customs.
No matter what age group, the enjoyment of learning and playing of these age old traditions and games makes Sri Lanka a fascinating country and a much-needed place to see.